USA Luge names Olympic team nominations
Mazdzer chosen for fourth Winter Olympics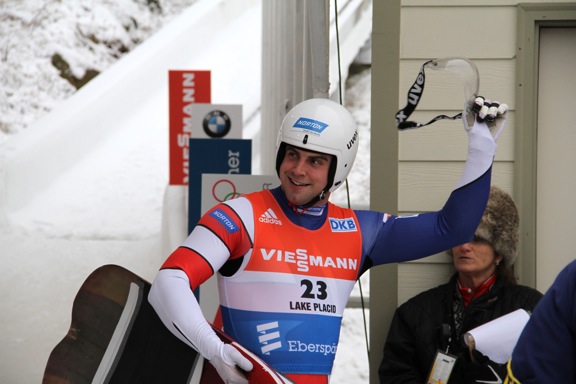 LAKE PLACID — The wait is over for Chris Mazdzer. The 2018 Pyeongchang silver medalist will get his fourth Olympic nomination after the International Luge Federation confirmed Monday, Jan. 10 that USA Luge would receive three starters in the Beijing men's singles Olympic field.
A total of seven World Cup events, starting in November at Beijing's Olympic venue at the Yanqing National Sliding Center, were used to make the determination. Each team was allowed to count their best four of seven competitions in each discipline.
In recent days, it was unknown if USA Luge would get two or the maximum three men in singles. Tucker West and Jonny Gustafson claimed two spots with Tier C results last month, while Mazdzer came close to a Tier C but did not check all the boxes. It was a moot point, however, when the FIL confirmed Monday that USA Luge would get the third men's slot.
This information completes the roster of USA Luge athletes who will be nominated this week to the U.S. Olympic and Paralympic Committee. The official release of all USA Olympic Teams will occur from Jan. 22-25.
The opening ceremony in Beijing takes place Feb. 4. With a 13-hour time change to the U.S. east, it will be Feb. 3 in the United States.
Men's luge in Yanqing will begin the Olympic sliding events, with training starting Feb. 1. Men's singles (four heats) will be contested Feb. 5-6; women's singles (four heats) Feb. 7-8; doubles (two heats) Feb. 9; team relay Feb. 10. All races are slated for nighttime starts, local time. Medal ceremonies will take place at the sliding center after each competition.
The following USA Luge athletes will be nominated to the USOPC for the Beijing Olympic Winter Games:
Women's singles: Summer Britcher, of Glen Rock, Pennsylvania and Lake Placid, a member of the 2014 and 2018 U.S. Olympic teams; Emily Sweeney, of Lake Placid, a member of the 2018 U.S. Olympic team; and Ashley Farquharson, of Park City, Utah.
Men's singles: Tucker West, Ridgefield, Connecticut, a member of the 2014 and 2018 U.S. Olympic teams; Jonny Gustafson, of Massena; and Chris Mazdzer, of Salt Lake City, Utah and formerly of Saranac Lake, a member of the 2010, 2014 and 2018 U.S. Olympic teams.
Doubles: Zack DiGregorio, of Medway, Massachusetts, and Sean Hollander, of Lake Placid.
For more information about USA Luge, visit www.usaluge.org.