Lake Placid's annual Holiday Village Stroll set for Dec. 11-13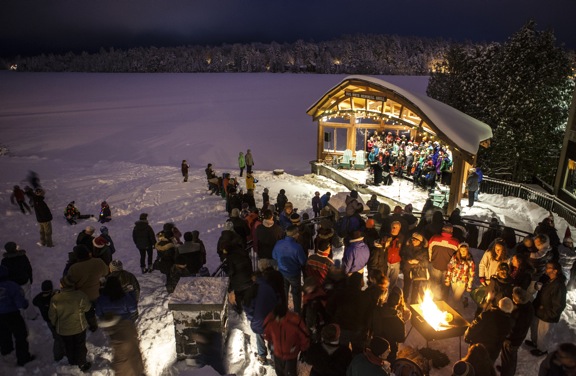 LAKE PLACID — Lake Placid's 11th annual Holiday Village Stroll is still on the calendar.
This holiday tradition will look different this year, as many norms have amid the coronavirus pandemic. All of the events will either be virtual or happen across all three days of the event, a decision organizers made in an effort to discourage groups of people from gathering in any one place, and to keep the event as safe as possible, according to Bethany Valenze, who co-chaired the organizing committee this year. Valenze is also the Regional Office of Sustainable Tourism's Lake Placid representative and events coordinator.
The schedule for the stroll, slated from Dec. 11 to 13, hasn't been finalized yet. In the meantime, Valenze offered some examples of events that will be happening this year.
The annual Jingle Bell Run, sponsored by Adirondack Health, will be virtual this year — and runners can participate anywhere, on any day over the course of the three-day event, according to Valenze. The usual holiday crafting sessions for kids will be replaced with to-go craft kits, which participants will be able to pick up at the Lake Placid Visitors Bureau inside the Olympic Center. Ornaments commemorating the stroll will still be available for purchase — the design hasn't been unveiled yet. And Santa Claus will go on parade, though not just on Main Street. He will ride a firetruck on a number of different routes throughout various neighborhoods. The routes haven't been announced yet. There will also be a scavenger hunt on Main Street.
The form for the hunt will be available for download online, and will also be available at some stores along Main Street, according to Valenze.
"Without giving it away, everything you'll be looking for will be able to be seen from the sidewalk," she said. That's to discourage unnecessary traffic into businesses, which have capacity limits imposed by the state because of the coronavirus pandemic.
Valenze said there will also be a Christmas bedtime story reading on Facebook.
Multiple Lake Placid businesses, both retail stores and restaurants, will be offering specials. A full list of those specials is available at holidayvillagestroll.com.