SAVOR THE SEASON: Moonstone Farm owners find balance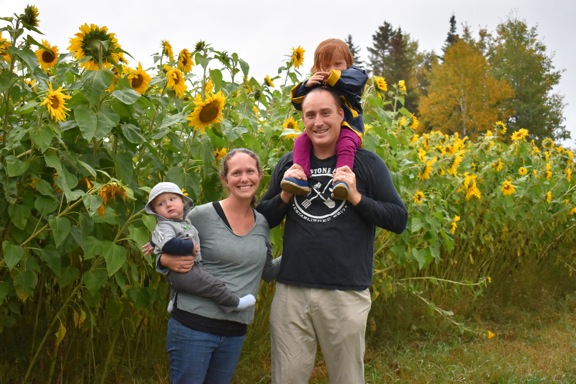 SARANAC LAKE – Dozens of birds wandered around Moonstone Farm and Forest Tuesday evening, Sept. 24, speeding around a pasture outside a small wooden coop and climbing to the top of a soil pile beside the property's 200-year-old farmhouse.
Some of the chickens stomped through puddles filled with feed and feathers. A flock of Pekin ducks passed by. Then, as the rain began to pick up, a trio of llamas parted the sea of poultry, drawn forward as if by an occult hand.
Naturally, animals are everywhere at Moonstone Farm. They cohabitate almost seamlessly, and in many ways, the mixed population works to Erin and Jake Vennie-Vollrath's advantage. The chickens produce the eggs they sell at their on-site farm store. The ducks eat slugs that may otherwise produce a parasite with the ability to kill the llamas. And the llamas are territorial, which helps the poultry. While some of their neighbors have lost chickens to coyotes, they haven't.
"The llamas run around when they sense something," Jake said.
Erin and Jake bought Moonstone Farm in 2017. It's located on state Route 3 between Saranac Lake and Bloomingdale, in the Essex County town of St. Armand. They hope to slowly scale the business larger while they're still young so when they're ready to retire, the business will be easier to run.
That's no easy task.
Jake works part-time at the local school district. Erin works full-time as an aquatic invasive species coordinator at the The Nature Conservancy, a worldwide nonprofit with an Adirondack chapter in Keene Valley. They're the parents of two young children, Anya and James.
Balancing the farm, their jobs and their family takes some effort. Jake said it often means getting up early in the morning or staying up late at night to get everything done. But it's a lifestyle they chose, and it's one not entirely unfamiliar. Jake and Erin both grew up in Wisconsin, and they were no strangers to farming.
"I grew up on a small farm in Wisconsin and worked at farms throughout high school," Jake said.
Erin's grandparents were farmers, too. Her mother also had a strong interest in gardening.
"When Anya was born, we thought about the lifestyle we wanted her to grow up in," Jake said. That's when they made the plunge and purchased the property.
Erin, carrying Anya on her hip, held out a small plastic bucket filled with pellets for the llamas as she spoke about the farm's operations Tuesday evening, Sept. 24. Anya squealed with laughter whenever one of the llamas dove into the bucket for food, and she lightly touched the top of their heads. Each time, the animals retreated for a few moments, she laughed, and they went back for more.
These animals are remnants of the farm's previous owners, Kim and Carolyn LaDuke. The LaDukes had run the farm since 1999, and Jake and Erin said their advice when they took over the farm was invaluable. Kim and Carolyn bought the farm from their parents, Ray and Agnes McCasland, who bought the property from Percy Mullen, who was given the farm by his sister in 1940. Jake said when tourists come to visit each year, some returning each summer with their families, the first thing they want to see is the llamas.
While those tourist visits are important, Jake and Erin say their biggest supporters are the local people who buy into one of the farm's CSAs and pick up produce from them every week in the summer and spring.
Eggs are a staple at Moonstone. The farm's roughly 225 chickens lay eggs year-round. They're something the couple tries to keep their farm store stocked with, and something students studying the culinary arts at Paul Smith's College use to make noodles under the "Adirondack Noodle Company" brand. They also grow micro-greens, heirloom tomatoes, spinach, squash and other produce. But what really brings people in is their asparagus.
"People call us early in the season asking about it," Jake said.
They're hoping a new venture – growing hops on site – will prove just as popular.
Last year, Erin and Jake planted five varieties of hops in a field outside of their farmhouse. Rows of tall wooden poles support dozens of plants. Hops take time to grow, and they're looking forward to seeing how this new crop turns out.
"This is the second year," Erin said. "So next year, or the year after that, we're hoping for a good harvest."
When Jake and Erin bought Moonstone two years ago, the thought of now being responsible for a farm that's been producing food for the region for hundreds of years was daunting.
Moonstone Farm is one of the oldest active farms in the Adirondacks. The original farmhouse and barn at the heart of the property were built sometime after 1810. Another barn, with milking equipment, followed in 1914.
"I think we felt a lot of responsibility for trying to tell the story of this farm, who owned the farm, and how it was used to supply food," Jake said.