Up close and personal with LeDuc and Cain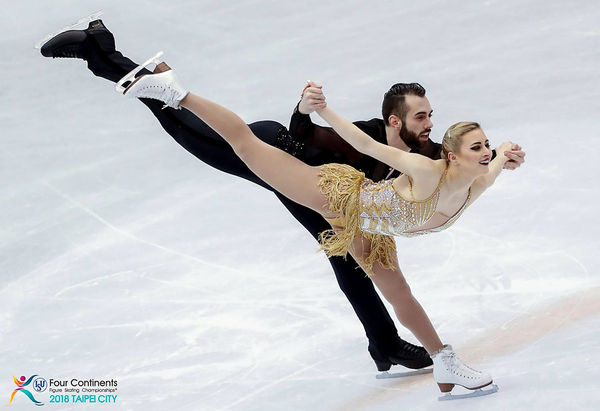 LAKE PLACID – The Lake Placid Saturday Night Ice Show series kicked off July 7 with national and international pairs skaters Ashley Cain and Tim LeDuc, who also taught a skating seminar to Lake Placid Summer Figure Skating program students before the show.
While Cain has starred in previous shows as a singles skater, this was the pair's first appearance together in Lake Placid, and the audience enjoyed their high-flying artistry and athleticism.
Cain and LeDuc have a unique backstory and have made excellent progress as a pair in the past two years.
Cain first became familiar to the Lake Placid audience as a singles skater, with career highlights that included winning silver at the 2012 U.S. Junior Championships and bronze in her first Senior International competition, the 2013 Nebelhorn Trophy in Germany. She is coached by her parents, Canadian ice dancer Darlene Cain and Australian pairs Olympian Peter Cain, who have continued to coach the pair along with Nina Mozer.
Cain and LeDuc have thrived together. Shortly after pairing up in 2016, they won the bronze medal at the Golden Spin of Zagreb event by switching a double twist to a triple twist element, a move which they had only started completing a few days beforehand. Their star has continued to rise since then, with a silver medal win at the 2018 Four Continents where they had placed ninth the previous year, and a pewter-medal finish at the U.S. National Championships.
"We're very happy (with our performances)," LeDuc said. "It's our second year together, and I think we've been able to accomplish a great deal in two years. We're very excited for our trajectory and where we can go over the next four years with our end goal being the 2022 Olympics."
"Last season was very up and down for us," Cain added. "It was a lot of growing that happened throughout as our elements were constantly changing, but we feel like we really hit our stride at Four Continents. We felt really strong and confident there with all our elements, and we think it showed.
"We had so much input from different camps, coaches, officials that kind of accumulated that allowed us to do our best at Four Continents."
The skaters are preparing for their third season together and working toward maintaining their confidence during every competition.
"Our goal for next season is to win Nationals and go to Worlds, be in the top 10 at Worlds and Four Continents, and we want to be on the podium for our two Grand Prix events as well," Cain said. "Our own personal goals are to be ready and skate with the confidence that we truly do have in us – we don't want to hold anything back. We don't want to get off the ice and regret anything that we could have done. We know it might not be attainable because there's life and whatever happens, but it is our goal to come off that ice every time and feel the way we did at Four Continents."
In Lake Placid, they skated this season's short program, "Bella Belle," by The Electric Swing Circus, and an inspirational show program entitled "Get Up," by Leah LeDuc, Tim LeDuc's sister.
The program was inspired by US Figure Skating's Get Up campaign about perseverance through adversity on the ice and off, and the message of the campaign resonated with Cain and LeDuc. Even their costumes – black onesies with fiery red, gold, and orange rhinestones – were meant to make a "powerful statement of equality."
"We wanted to have a program that could bring our story of our careers and what we've been through into a program," Cain said. "We want our partnership to be a very open book, we want everyone to know who we are and feel they can talk to us and tell us anything going on personally or talk to us about their struggles because we're open to talking about ours."
"Our goal is also setting a good example for the next generation of skaters, talking about what we've been through, so maybe other skaters can avoid what we've been through along the way; particularly in shaming things that make you different," LeDuc said. "We've both been shamed for various things that we see as enhancements or positives that perhaps others would try to deprecate us for we celebrate that now and that's the idea behind this program."
They are referring to comments that began in 2016, when Cain and LeDuc decided to become a pairs team.
"Even when we first teamed up, there were people that said I was too tall but it wasn't just me getting hate comments, Tim was getting hate comments for not being manly enough and being too passionate on the ice which obviously are huge qualities. Not sure why anyone would want to take that away from him," Cain said. "We've really taken that and tried to use it as all positive and really enhance it in our skating."
"I'm very open about being a gay athlete, being open and honest and visible about it," LeDuc added. "Visibility is a huge thing."
They share their knowledge and experiences with others both in person and on social media. While LeDuc doesn't partake in social media, Cain is quite the influencer on Facebook, Twitter, Instagram and Snapchat, and loves connecting with her followers and sharing brands that have made a difference in her life. Through her frequent posts, other skaters and fans can get a glimpse into the life of an elite figure skater and feel more connected with Cain and the sport itself.
"I've always had a huge passion for social media, I think it's a great vehicle to get your story out there, reach out to people who are struggling or just want to know you. I feel for myself I've always been a personable and open person and especially in the last year I've really grown into that and noticed I have a strong following and it's what I do with it that creates this environment where people feel comfortable," Cain said. "I pick brands and reach out to brands that I truly love and have made a huge impact in my life, so I want to share them with people because of that if I help one person find the right concealer that's enough for me!"
While in Lake Placid, Cain posted about the show as well as other activities around the skating events.
As it turns out, Lake Placid is even more significant for her than for most skaters, because it was where her father Peter Cain competed in the 1980 Olympics, and later, where he and Darlene started dating while practicing for an ice show there.
In more recent history, Cain remembers skating in Lake Placid as being the last time both her grandparents saw her skate, making it a "sentimental" place to be. She made the trip this time with her brother, his girlfriend and her family.
It was LeDuc's first time in Lake Placid, so he made the most of the trip. He went kayaking the Sunday after the show and enjoyed visiting the 1980 rink.
"It's my first time here, and I love it," he said. "Just stepping on the ice in the 1980 rink, I grew up hearing about the Miracle on Ice so getting to be in that arena was very cool."
Lake Placid was a nice break for the pair, who had previously attended several camps in Denver and Colorado Springs and taken part in monitoring sessions to prepare for the season in addition to their regular training. They plan to compete in Skate Detroit July 17-21 and participate in another camp.
"This is one of the fun things we get to do in addition to training, is to share with everyone our love of the sport and our love of performing," LeDuc said. "Obviously, Lake Placid is fantastic, I don't have to tell you that. Everyone is so friendly and welcoming, and we're glad to be a part of the show."
Next week's guest skaters will be 2018 World silver medalists Madison Hubbell and Zach Donohue. Four Continents gold medalists Kaitlin Hawayek and Jean-Luc Baker will be in Lake Placid select weekends and available for lessons.
For more information on Lake Placid Figure Skating, including the ice shows and coaching opportunities, visit www.lakeplacidskating.com.