Decker, Weibrecht greet fans at Olympic Museum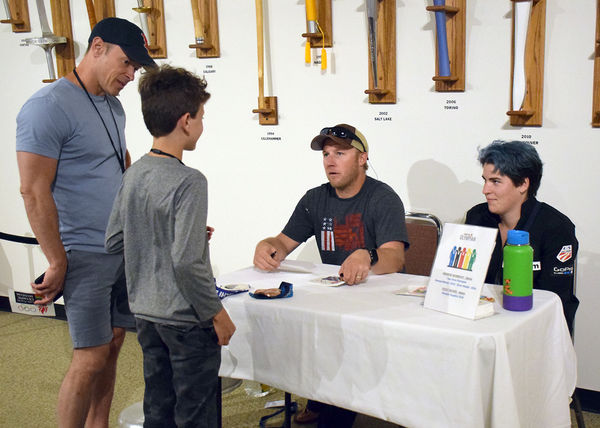 LAKE PLACID – A small crowd of kids and parents mingled about, wondering if it was OK to go up and touch the shiny things on the table. This being a museum, most people were hesitant.
But Andrew Weibrecht didn't mind, and soon kids were able to put their hands on genuine, hard-earned Olympic medals.
Weibrecht, who was born and raised in Lake Placid, was joined by U.S. Ski Team member Cecily Decker, a Saranac Lake native, at the Olympic Museum in Lake Placid Thursday afternoon. The pair were on hand for a Meet an Olympian event, where anyone could come in to shake their hands, ask questions, take photos and get an autograph.
While Weibrecht has earned podium spots at two Olympic Games in super-G (bronze in 2010 at Vancouver and silver in Sochi in 2014), Decker is an up-and-comer focused on rebuilding her strength after a nasty knee injury last year. She wants to be on the U.S. Olympic team, but that may have to wait.
"That's the goal (but) maybe not this year," Decker said. "I'm coming back from a knee injury from the beginning of last year. I fell in the first race of the year in Lake Louise (Canada)."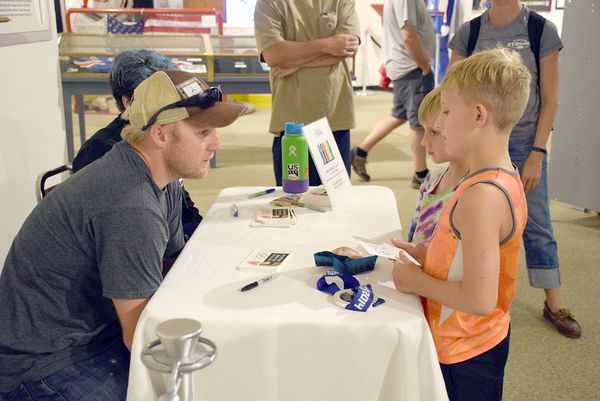 Decker grew up near the Olympic village and spent much of her youth tearing it up at tiny Mount Pisgah, the village-owned ski hill in Saranac Lake. She said it was never a mindful decision to try and make the Olympic team, she just always tries her hardest.
"I don't think it was ever a conscious thought, I just always wanted to ski and I always wanted to be good at skiing," she said. "That's starting to become more of a reality for me.
"I skied at Whiteface through NYSEF (New York Ski Educational Foundation), but I skied a lot at Pisgah too and ripped around on the T-bar there," she laughed. "I got a lot of miles in on skis, just going up and down the T-bar. It helped me get a lot of skiing in because I could go at night after school and it was just a lot of fun too."
Decker said that due to her knee injury, she's hedging her bets on making the U.S. Olympic team this year, but that's not going to stop her from setting her sights on the 2022 Winter Olympics in Beijing, China.
"I don't think it's really something that I'm going to consciously think about, because I'm always going to ski the best I can no matter what," she said. "And if that takes me there, that would be really awesome.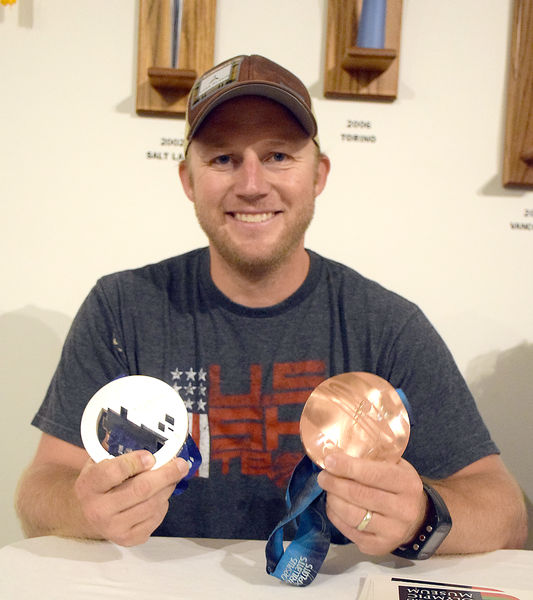 "I'm hoping it will, and I think it will someday. But I'm not going to put too much pressure on myself this year."
Despite the proximity to Olympic venues and athletes that her upbringing in Saranac Lake provided, Decker said she didn't feel pressured by the sporting greatness that most people would be in awe of.
"Not in a way where I felt a lot of pressure. I always do it because it's what I want to do," she said. "But definitely seeing all the Olympians here and a lot of people who grew up here (and) have done really well in skiing kind of motivates me.
"It's really cool to see someone from this small area with a similar background grow up to become an Olympian. I think it's just a really, really great place to train and live and just exist. I think it really does promote a good athletic atmosphere."
Decker made the C team for the United States this year after solid performances in the past. According to the U.S. Ski Team, she is ranked 75th in the world in downhill. She also has some advice for local skiers who may not see mountains such as Pisgah as a stepping stone to greatness.
"Just keep having fun and doing what you love," she said. "If you really put in the work and it's what you really want to do, then it's totally possible."
Andrew Weibrecht shows his Olympic silver and bronze medals to Bobby and Nicholas Pullen from Waterloo. (News photo — Justin A. Levine)
Lake Placid native Andrew Weibrecht holds up his silver and bronze medals during a meet-and-greet event at the Olympic Center's museum Thursday. (News photo — Justin A. Levine)