Figures revival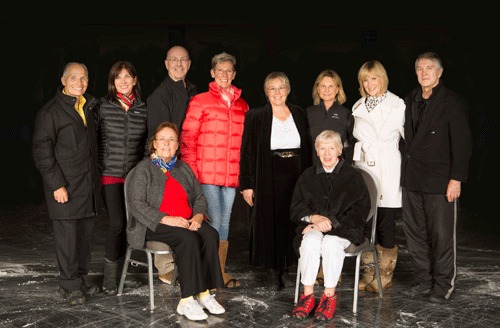 LAKE PLACID – Skaters, skating fans and skating luminaries from throughout the world celebrated "school figures" this past week at the World Figure Championship & Figure Festival.
The two events, created and organized by Peak Edge Performance Inc. of Lake Placid, were held Tuesday to Saturday, Aug. 25-29 in the historic 1932 Rink.
Figures, sometimes known as school figures, compulsory figures or "patch," in reference to the patch of ice skaters are allocated on which to practice their figures, is the original foundation of figure skating. Skaters must complete various, difficult turns and edges, all while precisely tracing the circle. An excellent figure is one where all tracings are on top of each other; less than optimal tracings are those where the turns do not line up or where the edges are not precisely placed. Compared to the modern figure skating elements of powerful jumps and dizzying, multiple-position spins, figures are subtle. The slightest shift of body weight or misalignment can throw the skater off their tracing, so absolute control is required. Naturally, this type of training helps create better skaters and instills discipline, and can be practiced over a lifetime by skaters of all ages and abilities.
The Figure Festival ran for three days starting on the 25th, allowing skaters the unique opportunity to skate on black ice – colored specifically for the event – practice their figures and learn from the best figures experts in the world.
Several participants traveled far to be here, including M.J. DeCoteau and her daughter Annie who came to Lake Placid from Toronto.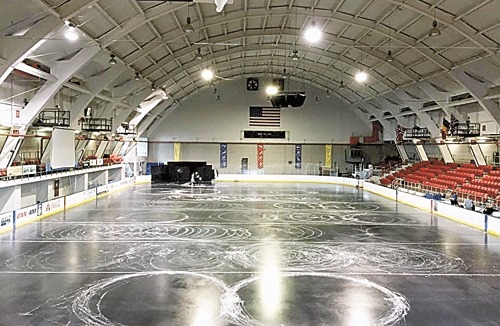 "I think figures are brilliant; it's something that I can enjoy as an adult," DeCoteau said. "Being able to give my daughter a taste of figures during this festival is wonderful.
"We wouldn't expect a ballerina to perform without barre work. Figures should not have been removed entirely from the sport just because they weren't interesting to watch (at the time). They should have been kept a part of training, in my opinion."
Kathleen Blum of Houston, Texas, remembered practicing figures in her youth. She said she enjoyed participating in the festival and stayed to watch the championship.
"It's wonderful," Blum said. "I'm a lifelong skater. I did figures in the 1970s, and this is an important part of the sport. It helps me training for my body and alignment and core training.
"The best part is the black ice. I find it hard to see the tracings at home, but seeing the figures' tracings in the ice, I feel more advanced than I thought I was. I'm hoping to take my silver and get my gold (figures) tests. I like that I can see my tracings, and with my new patch blades, I feel like I'm doing a great job skating on the black ice."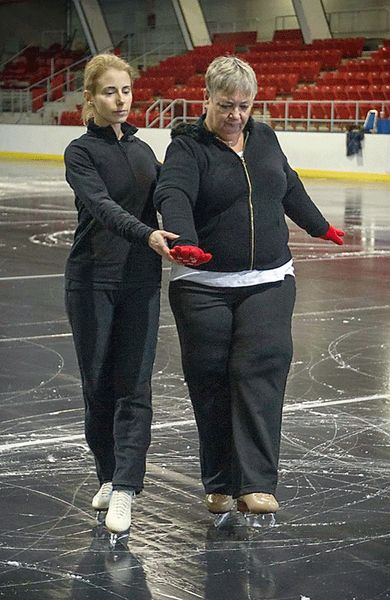 The World Figure Championship on Friday and Saturday followed the Figure Festival, boasting a field of 14 women and five men. Many of the skaters had competed nationally and internationally, and all had long, successful careers in skating.
The prestigious judging panel was comprised of 1972 Olympic champion Trixi Schuba, 1972 Olympic bronze medalist Janet Lynn, two-time world champion Tim Wood, two-time world medalist Julie Lynn Holmes, 1962 world champion Don Jackson, 1969 Canadian national champion Linda Carbonetto Villella, three-time national pairs champion JoJo Starbuck, 1963 national champion Tommy Litz, World Championship competitor Andra McLaughlin Kelly, and U.S. Junior national medalist and Olympic/world coach Slavka Kohout Button.
Longtime ABC producer/director Doug Wilson and two-time Olympic champion and skating analyst Dick Button were also in attendance. Both commentated for the live stream of the event and sold their books. Wilson hosted a "Memorable Moments of Greatness" presentation on Saturday night after the competition.
The championship and festival, organized by Peak Edge Performance's Karen Courtland Kelly and Patrick Kelly, is the pinnacle of the new sport discipline of figures. Figures was a part of the International Skating Union's competition structure as a discipline until 1990, when the ISU abolished it. The 1990 World Figure Skating Championships was the last world competition to include figures – until now.
Prior to this event, figures were seemingly erased from the sport, but traces remained. Some skaters still practiced "patch" in their rinks, often having to do so during overly crowded sessions and enduring the difficulty of having their tracings skated over by hockey players (or worse, the danger of getting hit by other skaters). There simply didn't seem to be much room – physical or otherwise – for the discipline that gave figure skating its name.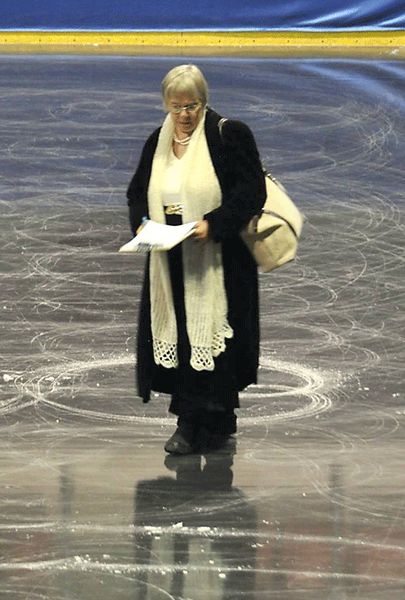 Some coaches continued to teach figures, and skaters continued to practice them. Not all remember the discipline, but some still consider figures a valuable advantage for their students that teaches body control, discipline and alignment.
Two local sisters who coach skating – Kami Healey-Netri and Tiffani Healey – participated in the championship and still teach figures.
"The name of our sport is figure skating. If we don't have the understanding of circle, lean and edge, how can we accomplish anything?" Healey-Netri said. "I have always been blessed to call Lake Placid my home. What made it extra-special is that I trained with my sister. Not sure I could've done it without her. I was very proud to stand with all these amazing men and women to be inducted into the World Figure Hall of Fame. The positive energy and love for the sport was alive and very infectious this weekend in the 1932 Rink."
Another skater with local connections skating in the championship was coach Doris Papenfuss, who was coached by veteran Lake Placid coach Jack Devitt and skated in Lake Placid in her youth. She continues to bring her students to Lake Placid today.
"I thought it was so exciting. Karen and Patrick did a wonderful job organizing it, and it was very well run," Papenfuss said. "I was thankful to be a part of it; it was an old adventure turning into a new adventure for figure skating."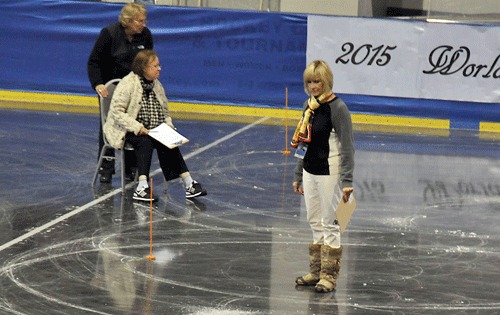 The competition was organized into rounds, with the first and second rounds taking place on Friday and the third and fourth rounds taking place Saturday. Each round was comprised of four complex figures to be skated within a certain time limit. The time limits ranged from two-and-a-half minutes to four minutes, and skaters were required to complete six tracings on each foot. They were observed only by referee assistants who assessed each participant while they skated to observe any errors, like foot touch downs or falls.
The assistant referees were overseen by chief referees Lisa Fedick and Alicia Walter. When an error was spotted, the penalty would be noted before the judges arrived, in order to preserve the unbiased judging, which was another aspect of the competition. The judges would not see the figures being skated, only the tracings left behind.
When the skaters left, the judges were brought in to evaluate the figures. They used criteria to establish a ranking that included clean edges, turns, tracings, centers, shape and alignment of circles. When they were finished, the rankings would be tabulated and the results were placed on a large board rink side, allowing the audience to see the results instantly. The rink was kept quiet during the competition, and the repetition of the moves coupled with the peaceful environment made the figures relaxing to watch, yet somehow thrilling at the same time.
Richard Swenning won the overall title in the men's competition. A professional show skater who was known for his excellence in figures, Swenning skated smoothly throughout the competition. National and world junior competitor Shepherd Clark placed second, while third place went to Stephen Thompson of Canada. Thompson flew from Belgium to see the championship, and since he was qualified to compete, decided to participate the day before the event.
"I am honored to be the first figure champion in this format that they have created here for us," Swenning said. "I just want to thank everyone who put it together and gave me that opportunity and I'm humbled by all my friends and fellow competitors. It's just been amazing; I can't say enough. Thank you."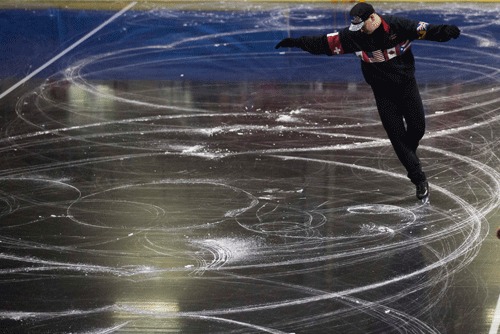 In the ladies competition, a tie for first place resulted in a "tie-breaker figure" being skated. Jill Ahlbrecht and Olympian Sandy Lenz-Jackson squared off, skating the designated tie-breaking, "right-forward-outside to left-forward-inside-paragraph loop." The two both skated well, but Ahlbrecht secured the championship title.
"Completely shocked and super-honored, but mostly completely shocked," Ahlbrecht said. "It was such an honor to skate with these other people and (be evaluated by the) judges."
The championship concluded with the induction of all competitors and judges into the new World Figure Hall of Fame, the crowning of the new World Figure Champions, and the opportunity for skaters to enjoy skating on the black ice one last time during the ceremonial social skate.
At the awards ceremony, it was announced that the event would not only be held next year but that a new organization for the sport has been formed. The World Figure Sport Organization, which includes the World Figure Sport Council and the World Figure Hall of Fame inductees from the World Figure Championship, will be the world organization for the new sport discipline of figures.
"I think this event is going to revolutionize skating, and I think this is the vehicle that is going to bring figures to the forefront," said referee Lisa Fedick. "The fact that we lost figures for so many years is a shame, and the World Figure Championship is going to change skating.
"People are doing figures again, they are enjoying it and seeing the benefits. I applaud Karen and Patrick; they did an amazing job and they will change the sport for the better. When I saw the black ice (on the 1932 Rink) I immediately teared up. I have cried probably a dozen times of happiness. The judges here are my heroes and just being in the same room with them and being able to interact with them is almost overwhelming."
Courtland Kelly was happy that the festival and championships was so well received and looks forward to the future.
"The World Figure Championship succeeded in highlighting its skaters' beautiful figure patterns on black ice and the beauty of subtlety that is figures," Courtland Kelly said. "The world was riveted by the beautiful images of the 2015 World Figure Championship, and the event's official Facebook page reached over 624,000 people and counting. There was such excitement and interest from the World skating community. We are looking forward to next year!"
For more information on the World Figure Championship & Figure Festival, visit www.worldfigurechampionship.com.