GUEST COMMENTARY: Wildlife refuge operator responds to accusations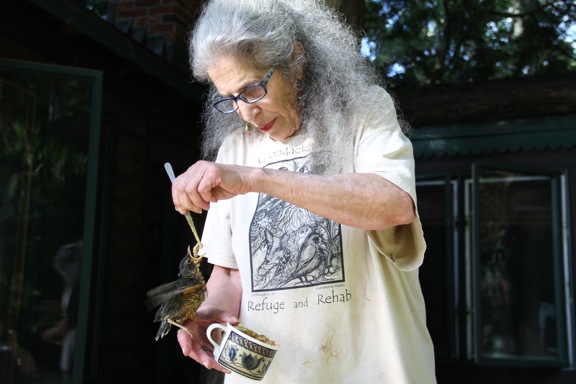 Edward Buliver Lytton once said, "The pen is mightier than the sword."
In this current wave of "multiple" violations (some carried over from before) I am told I've committed which ended up in two prominent publications, not entirely accurate, I choose to offer a rebuttal to the articles, without any counsel.
My first reaction was analogous to being tackled by a bear; I got the wind knocked out of me.
I reeled for a while, but with the help of my wonderful supporters and friends, I rebounded and now feel empowered to defend my actions.
First let me say, I am "guilty" of many violations as defined by the state Department of Environmental Conservation and U.S. Fish and Wildlife Service.
Here's the problem, plain and simple: I cannot confine my thinking to a box, and the bureaucracy cannot think out of it, and I know this because I've asked them to try.
Please don't get me wrong, I like both Chris Dwyer and Valerie Slocumb, as I've been dealing with Valerie for years.
To me, there are current violations mixed in with past violations which have already been addressed, at the cost of 10s upward of $100,000 and continuing by having several different structures added as well as renovated.
This is so we are able to continually separate the animals for purposes of quarantine of animals coming in with questionable symptoms, listless, shocky, raptors described as being very nice by the public, etc., as well as ones alert but hit by cars. Others are orphaned or perhaps we need to examine the area of question more carefully so as not to kidnap the young from their parents. The last resort would be euthanasia, either by ourselves at the vet's suggestion when there is no quality of life.
Cat-grabbed babies are heartbreaking.
An example of DEC and USFWS accusing me of housing "healthy" releasable animals with rehab in public view was when, in fact, I did house animals together, but that was after they'd been announced non-releasable by our vets and out of quarantine and needed space and knew they were non-releasable. We ran out of space, but since then, we had two new structures put up to the tune of over $50,000, and this still continues.
Our costs of renovation thus far have exceeded $100,000, all made possible by mostly private donations.
We delight in animal releases. We post it on our Facebook page, and every habitat awareness day we love to have a release where we speak of habitat conservation.
There are time constraints after they've been placed in one of these categories. Both DEC and USFWS favor the expression, "In a timely manner." Well, my question and answer to that is "Does nature behave in a timely manner?" Ask wildlife rehabilitators.
Let me add that neither DEC nor USFWS get back to us in a timely manner, but then they blast us with violations after avoiding us.
In my opinion, nature has been in quite a chaotic state, with the wildlife suffering the consequences, which leaves we wildlife
rehabbers in a very tough spot given the "rules."
Let me emphasize that we – the Adirondack Wildlife Refuge – are barely funded for our continuous expenses. Only so far as 15% of our total outcome of expenses are covered by the ZBGA (Zoos, Botanical Gardens and Aquariums) grant if applicable, as compared to the millions Gov. Andrew Cuomo doles out to other attractions.
Ecotourism is by far one of biggest attractions, with people wanting to "see a bear, wolf or moose." At the AWR, we not only provide wildlife for the viewing public but constant tours and explanations as to where these animals belong in the ecosystem and their purpose.
Our services include a 24/7 volunteer hotline, as well as my affiliation to North Country Wildcare, which the DEC dispatch utilizes constantly. When allowed, we have wildlife rehabilitation, which we hope to resolve soon by having a licensed young rehabber on staff who's done it under me for several years.
We run by suggested donations only, or, in many cases, in-kind donations.
We love to rehabilitate mangy bear cubs and everything else, and in the past couple of years have been asked to pick up a cub for the DEC because of lack of their manpower over the weekend; otherwise a cub is just dropped here by an Environmental Conservation officer.
We've been called out for a possibly rabid fox at the boat launch in Lake Placid because DEC dispatch could get no one else on a Sunday night.
Plus, fishers with leg-hold traps on their heads and a fox caught in a leg-hold traps.
And there are the mangy foxes traveling around tourist attractions in Lake Placid and having the hysterical callers diverted to us.
Many birds are sick and/or dying of pesticide use, lead, starvation and West Nile virus.
There were 13 barred owls hit by cars in one season, and some were starving.
It is with a heavy heart that I surrender what has meant more to me in my lifetime for over 40 years. However, knowing it is time to pass the torch so the AWR can continue with the best team I've ever had brings joy to me, and I will now focus on fundraising and the artists' community which we are forming.
The list of educational programs and outreach we do is far too long to add to this list.
The USFWS often places files in the wrong place, and then they accuse me of not sending them in.
However, in this case they were correct. My paid staff at the time neglected to send in the annual report for MBP/ SPDAVE.
An unannounced very contaminated juvenile bald eagle was brought in and left without proper reporting. My bad. Soon after, it was brought to Cornell by me and sadly euthanized because it could not be saved.
When we first obtained Sylvia, the bald eagle, I was told by the USFWS that her permit was held up because I failed to pay the $75, later only to be discovered that it had been sent to the wrong region and electronically deposited. So you see, mistakes are made on both ends, the difference being that they have a staff, and we are the power of five when we're lucky!
Impose a fine on me, Wendy, for whatever violations (not the old ones forwarded over). I, not the refuge, will be responsible for paying it back.
Whom will it hurt to remove the birds? Let's start with the Kayla Hanczyk Memorial Center. The 25-year-old girl who died of cancer was so connected to the Earth and its wonders, naming the wolf as her spirit animal, had support and love from family and friends. Her sister-in-law had intended to raise money for food for the wolves here, but the cost exceeded $40,000, so the AWR decided on erecting the Kayla Hanczyk Memorial Center so her beautiful spirit could live on. Built solely by her family and friends, the dedication ceremony will hopefully be in May.
Thank you and God bless!
(Wendy Hall operates the Adirondack Wildlife Refuge in Wilmington with her husband Steve.)