State tree cutting reined in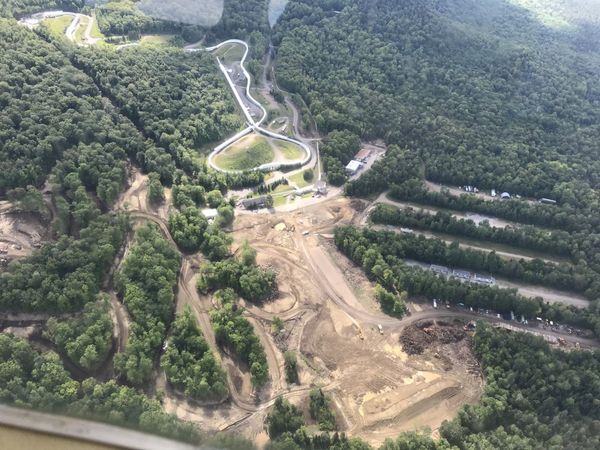 It was bound to happen one of these days. State agencies have been playing a little fast and loose with New York's constitutional protections for the Adirondack and Catskill Forest Preserves for a long time. The state consistently lets itself off the hook for violations it would punish a private citizen for.
"The lands of the state, now owned or hereafter acquired, constituting the forest preserve as now fixed by law, shall be forever kept as wild forest lands. They shall not be leased, sold or exchanged, or be taken by any corporation, public or private, nor shall the timber thereon be sold, removed or destroyed."
So says Article 14 of the state Constitution, the famous "forever wild" clause enacted in 1895.
Note the words "public or private." The writers of this clause were thinking it could be violated by a public entity as well as a private one.
And so it has been. Last week, New York's highest court, the Court of Appeals, sided with environmental group Protect the Adirondacks and ruled that the state Department of Environmental Conservation violated Article 14 by cutting thousands of trees for a wide snowmobile trail in the central Adirondacks.
Since the public owns the Forest Preserve, it has been made available to the people for backcountry recreation, as it should be. That requires trails and other facilities, which requires cutting some trees. That has always been allowed — but to what degree?
The DEC ran into that problem in 1930 while planning a bobsled run for the 1932 Winter Olympics in Lake Placid. The Association for the Protection of Adirondacks (one of Protect's predecessors) sued, and the court found that the state's plan to cut 2,500 trees on 4.5 acres of state land in the Sentinel Range was unconstitutional. The Lake Placid Organizing Committee instead scrambled to build a bob run on private Lake Placid Club land, on a mountain they named after prominent club member Henry Van Hoevenberg.
That case, and the recent one, show that lawsuits are a critical check to make sure state officials follow the law — and that they are also one of the few ways we have to determine how much is too much.
In 2019, again at the Olympic Sports Complex at Mount Van Hoevenberg, the state Olympic Regional Development Authority started cutting trees for a massive expansion. The year before, ORDA had said its plans would require no cutting in the state Forest Preserve — just on town of North Elba easement land — but that was changed with DEC permission, but without public notification. DEC said ORDA could cut 3,528 trees for new cross-country ski racing trails.
At least two environmental advocacy groups found out and expressed opposition. In response, ORDA quietly negotiated with Protect the Adirondacks and the Adirondack Council and pared its cutting plan down to 1,500 trees. Neither group was happy, but both agreed not to sue — as long as the DEC and ORDA would help to prepare and support a constitutional amendment. An amendment is a huge lift: It must pass two consecutive sessions of the state Assembly and Senate, and get approved by the majority of New York voters in a statewide referendum. There have been 19 Article 14 amendments since 1895. We haven't seen one yet regarding Van Hoevenberg. Is another lawsuit coming?
If a DEC forest ranger catches a camper cutting a single branch off a tree for firewood on state land, the ranger can issue that camper a ticket and fine. But what penalty did the DEC issue to the state Department of Transportation in 2005 when the DOT cut thousands of trees on the side of Route 3 between Tupper Lake and Saranac Lake — well beyond its right of way and into the Forest Preserve? Could the state fine itself, move money from one budget area to another? That would make little sense, but couldn't the decision makers face disciplinary action?
Perhaps worse was the apparent hypocrisy the state showed when people asked if they could take the timber for firewood. The DEC said no because that would violate Article 14's ban on removing or destroying Forest Preserve timber — but instead it said it would chip the trees and/or make them into picnic tables for state campgrounds. A state agency could remove and destroy trees, but not the people.
ORDA also chipped the trees it cut on state land at Van Hoevenberg, spreading the chips on the woodland trails. That seems to be clearly destroying state timber.
And that's just the big trees. For years the DEC has followed an internal rule that any tree smaller than 3-inch diameter at breast height is not "timber," and therefore can be cut without fear of Article 14 for DEC purposes — although we're not so sure they would let citizens cut them. That was the crux of the recent snowmobile trail case. It made the difference in whether 6,100 trees would be cut, or 25,000.
The court decided that trees under 3-inch diameter are still trees, and that 25,000 trees is "significant" and "material" enough to be disallowed.
DEC cutting for hiking trails is still considered too small to stop. Protect notes that just 13 trees were cut to build a new 1-mile trail up Coney Mountain near Tupper Lake, whereas a Class II snowmobile trail requires cutting hundreds, perhaps 1,000 trees per mile.
Still, it's only the state that can cut even a few small trees on state land — not because the law says so but because it has been allowed, through interpretations of the law's intent. For everyone else, Article 14 forbids it. It would be great to develop some more legal clarity on this.
We're not against cutting trees, nor against granting state agencies a few Article 14 exceptions to do it strategically on state land, but it needs to be done in a more open, lawful manner, with accountability for when it isn't. State officials have often been too loose with doing what they think is best. Eventually, a court was bound to decide that the Constitution's language is as strong as it sounds.