Local agriculture industry will survive the pandemic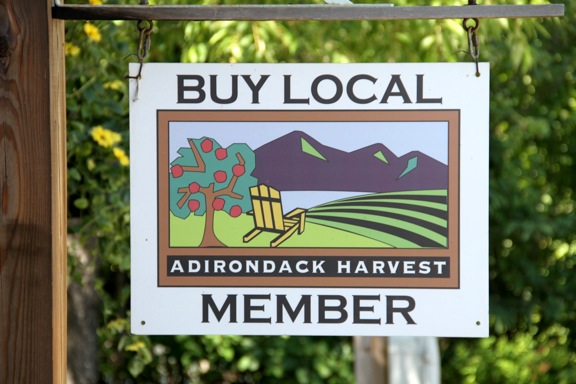 We continue our Savor the Season series this week in the Lake Placid News– as we have at the beginning of every season since the summer solstice of 2018 — and if there's one word to describe agriculture in Essex County during the coronavirus pandemic, it's "resilience."
When a trail or a backcountry road is abandoned, what happens? Nature takes over. With COVID-19, we've been forced to abandon everyday life — the simple things we once took for granted. Dropping by the Keene Farmers Market on a Sunday to get some produce and chat with friends. Dining at a local restaurant to celebrate a family milestone. Enjoying a day of fun and food at the Adirondack Harvest Festival at the Essex County Fairgrounds in Westport.
While all of these things changed during the pandemic, none of them went away completely. We've simply adapted. Health precautions were put in place, making it challenging — even uncomfortable — to celebrate local food and drink. Wear a mask. Stay 6 feet apart. Wash your hands. Do as much as you can outdoors, including eating at a restaurant. Order take-out — a lot of it. And celebrate the autumnal equinox with a "free-range" Adirondack Harvest Festival.
The agriculture and hospitality industries in the North Country have been resilient.
Yet the pandemic isn't over. Small businesses — especially restaurants — are suffering. And it's going to be a long winter. The toughest times may still be ahead for many of our neighbors.
All we can do is stick together, support each other, like the many individuals, businesses and community organizations that have donated or raised money and collected food items for local food pantries. The need is ongoing. For more information, contact the food pantry coordinators below to see how you can help.
– Lake Placid Ecumenical Food Pantry, basement of St. Agnes Catholic Church, Hillcrest Avenue, Linda Young (coordinator), 518-523-9620
– Jay/Wilmington Ecumenical Food Shelf, Haselton Road, Wilmington, Don Morrison (coordinator), 518-946-7192
– Town of Jay Food Shelf, Supervisor's Office, Jay Town Hall, 11 School Lane, AuSable Forks, 518-647-2201
– Town of Keene Food Pantry, Keene Library (use back door), Route 73, Keene, Vinny McClelland (coordinator), 518-441-7654
We'd like to give a shout-out to our friends at Adirondack Harvest, a program of the Cornell Cooperative Extension of Essex County. We get a lot of our Savor the Season story ideas from their list of food and drink producers around the region. Their website — https://adirondackharvest.com — includes an interactive map where you can find farms, farmstands, farmers markets, etc. New this year is a page on COVID-19 services.
On that page, Adirondack Harvest uses the word "resilience" to describe how local businesses are adapting during the pandemic. Here you can find consumer resources, including pickup/delivery for local food and groceries; farms that have community-supported agriculture (CSA) programs; restaurant take-out and delivery options; special events; farmers markets; etc.
The page includes a link to the Essex Farm Institute's recommendations for helping local agriculture.
– Buy local food (CSA, farmers markets, food co-ops and delivery/curbside pickup services).
– Put your dollars to work (buy farm credits and gift certificates, consider non-tax-deductible donations and support AdkAction's emergency food packages and Hub on the Hill's delivery).
– Put your voice to work (call elected officials to have them support aid for local farms and small businesses).
– Stay in touch with what is happening.
This is a transformational time for local agriculture — for food and drink producers, restaurants and consumers. The landscape continues to change. On the bright side, we've found a renewed need for local products. When many store shelves were bare at the beginning of the pandemic, people traveled to farms, farmstands and farmers markets to get their produce. We hope that continues.
In the meantime, nature has taken over that trail of local agriculture we've gotten used to over the years. But instead of overgrowth, there's a new pathway — building back better. It isn't quite finished yet; we have more seasons of COVID to endure. But there is hope — and the promise that this pathway will always lead us to local farms.