'Miracle' team's 1980 feats overshadow the 'red hat' controversy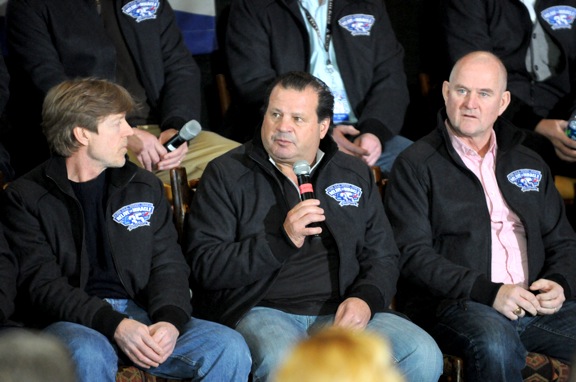 That's it! Bring out the asterisk! And put it at the end of the 1980 U.S. Olympic hockey team — not because of gambling or doping or cheating — but because 14 of the 20 players had the nerve to stand on the same stage with President Donald Trump at a political rally in Las Vegas on Feb. 21 while they were in town to celebrate the 40th anniversary of the "Miracle on Ice" game. And most of them wore Trump's red "Keep America Great" hats.
Hogwash! No asterisk, thank you very much.
"I didn't think it was possible to tarnish the reputation of the 1980 Olympic hockey team. Until today," wrote @ProfJeffrey on Twitter.
"It broke my heart to see them there today behind this racist criminal," wrote @Christin210 on Twitter.
"You are dead to us, there will never be a miracle again just a disgusting embarrassment," wrote @ChicagoMattP1 on Twitter.
And these are tame compared to other tweets.
Rep. Elise Stefanik posted photos of the team onstage with Trump on her Facebook page.
"Thank you, President Trump, for honoring the historic 1980 Miracle Team for the 40th anniversary of the Miracle On Ice!" she wrote.
She garnered some positive comments.
"That's our President Trump always honoring those who deserve it," wrote JoAnn Leavitt on Stefanik's Facebook post.
Some loved it. Some hated it. Some were outraged, and others were outraged by the outrage. That's par for the course in American politics.
We didn't like seeing the team used as political props in Las Vegas, no matter what politician was onstage. But would the outrage have been as loud if it were Barack Obama in 2012 instead of Trump in 2020? Probably not.
Good news! This outrage is temporary. It doesn't take away from the hockey team's accomplishments in 1980. It doesn't take away what they gave us that year, a time when Americans were suffering from a "crisis of confidence," as President Jimmy Carter said in his famous speech on July 15, 1979. They gave us hope, self-confidence and a reminder that anything is possible. That can never be taken away.
As far as we're concerned, what happened in Vegas can stay in Vegas. After the memory of the Trump rally fades, we'll still love this team as much as ever. And we'll welcome them to Lake Placid for the annual fantasy camp in the spring.
Assuming the Trump rally was a mistake — and there are plenty of Republicans out there who think it was not — it won't tarnish the team's reputation in the long run.
After all, on the grand scheme of things, this event was really not that important. We have much bigger problems: crime, war, famine, a health care crisis, climate change, pandemics, pollution, etc. Let's redirect the energy some have used to put down 1980 Captain Mike Eruzione and his teammates and use it to solve these problems instead.