Building an Olympic legacy in Lake Placid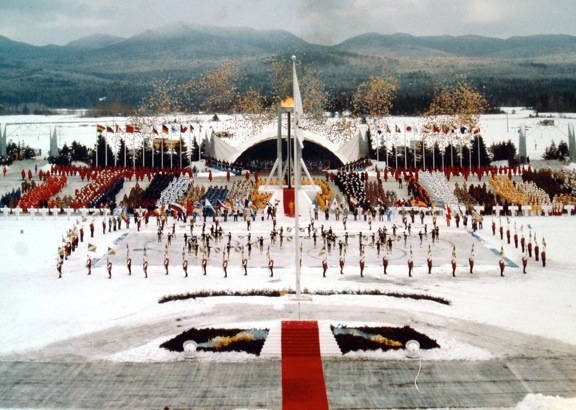 As we celebrate the 40th anniversary of the 1980 Olympic Winter Games, we look back at Lake Placid's Olympic roots, reflect on the programs and venues currently being used to groom aspiring Olympians and see a bright future for the region's participation in the Olympic movement.
For more than 100 years, the people of Lake Placid and surrounding communities have worked hard to build an Olympic legacy. To say we're proud of their achievements is an understatement.
It's easy to say "the governor loves Lake Placid" when we see the millions of dollars governors such as Andrew Cuomo and George Pataki have given the state Olympic Regional Development Authority to improve the Olympic venues. But not even the most powerful person in the world handed Lake Placid the Winter Olympics in 1932 and 1980 out of pure fondness for this resort town.
Lake Placid residents have worked diligently to create an international winter sports presence here. Blood, sweat and tears – and plenty of locally sourced funding – have gone into this process.
It began with the Lake Placid Club in the winter of 1904-05 and then the Lake Placid Skating Association, including philanthropist Henry Uihlein II, which organized the first international sporting event in Lake Placid in February 1920 that pitted the best male and female U.S. and Canadian speedskaters against each other on Mirror Lake.
It continued with sending two Lake Placid speedskaters to the first Olympic Winter Games in 1924 in Chamonix, France, including Charles Jewtraw, who won the first gold medal of any Winter Olympics.
Then Godfrey Dewey of the Lake Placid Club traveled to the 1928 Olympic Winter Games in St. Moritz, Switzerland, to study how the event was organized and gauge if Lake Placid could do the same. He was convinced that residents could indeed host a Winter Olympics, so he gathered support locally and within U.S. Olympic circles, helped bid on the 1932 Olympic Winter Games and was in Lausanne, Switzerland in April 1929 when the International Olympic Committee awarded Lake Placid those games.
Lake Placid residents successfully organized and hosted the 1932 Winter Olympics, which included the construction of the arena and bobsled run. Despite the financial stresses caused by the Great Depression, Lake Placid Olympic organizers were able to secure funding for venues.
After the 1932 games, Lake Placid made use of those venues, hosting events at the arena, bobsled run and ski jumps. New venues were created over time, including the Whiteface Mountain Ski Center in Wilmington.
Locals never lost track of their ability to host international winter sporting events and hung on to the prospect of someday hosting another Olympics. They offered to host the Winter Olympics in 1940 and 1948 and bid on the games multiple times until this village was tapped for the 1980 games in 1974. Teams of volunteers would travel to IOC meetings to make their bids.
Lake Placid residents had to relearn how to put on Olympic-sized international events when this village hosted the 1972 Winter World University Games. They applied those lessons to create the Lake Placid Olympic Organizing Committee and spent more than five years preparing for the 1980 games. That included new venues, such as a luge run, cross-country ski stadium and biathlon range at Mount Van Hoevenberg, two new ski jumps, a new speedskating oval and a new Fieldhouse with rinks for hockey and figure skating.
That was the last small-town Olympics, and people are still surprised that the people of this village were able to successfully organize and host the games.
Yet Lake Placid was not done with international winter sports. On the contrary, the state of New York created ORDA in 1981 to manage the Olympic venues for tourism. That included hosting World Cup events for a variety of sports such as luge, bobsled, skeleton and freestyle skiing.
Sports development programs such as the New York Ski Educational Foundation and schools such as Northwood School and the National Sports Academy groomed aspiring Olympians. The U.S. Olympic Committee established an Olympic Training Center here in the 1980s. USA Luge and USA Bobsled & Skeleton call Lake Placid home, using the combined bobsled-skeleton-luge track at Mount Van Hoevenberg, finished in 2000 for the Winter Goodwill Games. The Empire State Winter Games celebrated its 40th annual event here this year, attracting more than 2,000 athletes.
It's important to note that Lake Placid and surrounding communities have sent at least one athlete to every Winter Olympics since the first one in 1924.
We're reminded of what it takes to be an Olympic champion when we listen to the interview Lake Placid Olympic Museum Director Alison Haas conducted in 2015 with U.S. speedskater Eric Heiden, who won five gold medals during the 1980 Olympic Winter Games:
"Your goal when you're racing the clock is to cross that finish line with nothing left," Heiden said. "If you can do that, you are successful. If you cross that finish line with something left in the gas tank, you did not skate a good race."
Lake Placid continues to skate a good race, leaving nothing in the gas tank when it comes to building its Olympic legacy.
Does it get help from the state government? Yes. But what's wrong with that? Lake Placid's success is the region's success, and nearby communities benefit as well.
For the people who are critical of the millions of dollars being spent at the Olympic venues for upgrades, we wonder what their solution would be. Do we just let these venues – built more than 40 years ago – crumble? Do we let them get so out of date that no international sports federation wants to race here? Do we just give up on the Olympic legacy? And move on to what? What is the alternative to investing in these venues? Our economy is built on tourism, and in order to prosper, we need infrastructure investment to attract visitors.
This region is deeply rooted in the Olympic movement – which helps the region's economy – and it will be for many years. It will continue to groom aspiring athletes and host national and international events. With the state's multi-million-dollar investment in the Olympic venues – with construction taking place at Mount Van Hoevenberg and the ski jumps- and future improvements at Whiteface Mountain and the Olympic Center, this village is uniquely positioned to host Olympic-style events.
Lake Placid is currently preparing for the 2023 Winter World University Games, and it could one day host the Winter Youth Olympic Games. As for a third Olympics, what's the saying? Never say never?