ON THE SCENE: Victor Herbert — more than 'Babes in Toyland'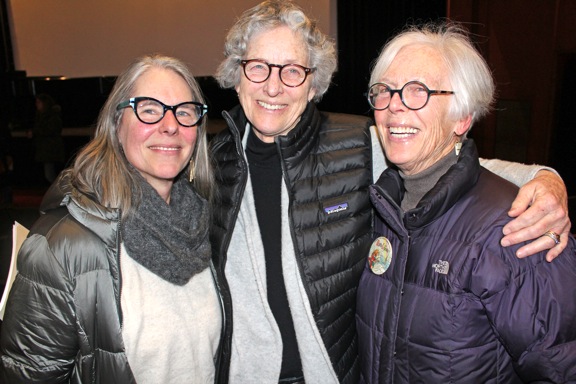 Early 20th century composer and conductor Victor Herbert is best known for such operettas as "Babes in Toyland." Yet, any musician who gets a royalty check when their music is purchased or performed owes Herbert their most profound thanks. So too, anyone who loves movie soundtracks owes Herbert their praise as he laid the foundation for that art form as well.
The Lake Placid-North Elba Historical Society lecture that featured Victor Herbert attracted a broad audience to the Lake Placid Center for the Arts on Wednesday, Feb. 5. Thoroughly researched and presented by the society's president Parmelee Tolkan, her talk featured musical performances by baritone George Cordes and pianist Elizabeth Cordes, directors of the High Peaks Opera.
Victor Herbert (1859-1924), of Irish heritage, was an American composer, cellist and conductor who was born on the island of Guernsey in the English Channel. He was initially raised in the home of his inspirational multi-talented grandfather, following the death of his father when he was 3 years old. In his teens, his mother and grandfather decided he should go to Germany for schooling, where Herbert received his initial musical training on the flute, piano and piccolo before settling on the cello. At 18, he took up musical theory and composition at the Stuttgart Conservatory, receiving a diploma in 1879.
During his high school years, and throughout university, Herbert received engagements as a cello soloist with several major German orchestras. His work was needed as his grandfather had died, and with his death, he lost a valuable patron. Following graduation, Herbert toured for four years before returning to the Stuttgart to study composition, harmony and orchestration under the conductor of the Royal Court Orchestra. While there, he met his future wife, the lead soprano of the Court Opera, Therese Forster. Life for Herbert would never be the same.
"The erstwhile bon vivant and playboy of Stuttgart was a goner," said Tolkan. "He started courting Therese with poems and passionate letters, and they were married in Vienna in August of 1886. At that time, Therese was an international opera star specializing in the German repertoire. She was approached by the fledgling Metropolitan Opera in New York City to perform for the 1887 season, including the role of the Queen of Sheba on opening night. It's unsure if Victor was hired as a cellist for their orchestra as a condition of her employment, or on his own merits."
To New York City they went, and his future unfolded. Forster was a star and in such demand that she sang with four other opera companies that season. The following summer, she performed back in Vienna, returning to New York to eventually work for another company and then, at the height of her career, retire to devote her energies to having a family and promoting her husband's career. One of the leading ladies of Herbert's operetta credited Forster for "creating Victor Herbert."
Herbert was no slouch. He composed for cello and orchestra, played with the Metropolitan's orchestra and began touring as a soloist. He served as an assistant conductor in many music halls, orchestrated other composers' work, gave private lessons on the cello, hired out as an accompanist, and was on the faculty of the National Conservatory of Music all the while seeking to direct a major orchestra. His timing was perfect as interest in music was exploding in America with a desire to promote local talent of which Herbert was now considered. He had the skills, training, connections and genial personality to fit the need.
In 1893, Herbert was commissioned to create an operetta, a piece so well received that the door was flung wide open to what would become his signature career, ultimately creating 43 along with two full-length operas, music for 10 plays and 31 compositions for orchestra. He went on to conduct the Pittsburgh Symphony for six years. Following that gig, he packed 4,000 music halls night after night with his "Boston Pops" style productions and operettas, several taking place in Saratoga Springs, his gateway to the Adirondacks and Lake Placid.
"Victor Herbert was a wonderful composer," said George Cordes. "He was one of the giants of American musical theater. He was one of the top composers of American operetta and almost considered as great a composer of marches as Sousa. We've done a lot of operettas over the years and always loved Victor Herbert. We feel he's at the same level as Gilbert and Sullivan, Johann Strauss, and other great composers of the day."
In addition to launching what would become a stellar career as a composer, conductor and entertainer, Herbert, working with John Philip Sousa, Irving Berlin, and others, led the drive to establish copyright laws to enable composers, songwriters and others to earn royalties when their artistic endeavors were performed or replicated by others through establishing the American Society of Composers, Authors and Publishers. He also composed the first musical score ever created for a movie. In doing so, he used the score to reflect and reinforce the dynamics and story of the film, laying down a solid foundation for thousands of future composers to follow, learn from and build upon.
"Herbert brought a lot of passion to everything he did," said Elizabeth Cordes. "When you listen to 'Babes in Toyland' and the 'Naughty Marietta' and realize that they were sung by one voice and then transposed to other voices to take advantage of what he wrote is a testament to the beautiful melodies that he created."
"I enjoyed Parm's presentation, but it left me wondering, did his wife really give up her career willingly to support his?" said Patricia Martz. "Did she really enjoy just taking care of him and making him famous? I'm having trouble believing that."
"As a little girl, I learned every song, so this presentation brought back nice happy memories," said Karen Davidson. "Now I know more about him and will pay more attention."
Tolkan said that former town historian Mary MacKenzie led the effort to get the street named after Victor Herbert, previously called Lake Avenue. Herbert bought several camps on Lake Placid to be used by family and colleagues.
"I remember his daughter Ella Bartlett very well," said Tolkan. "I was sent over to say hello to her every summer by my grandmother, who lived in one of the Victor Herbert camps. By then, he had been gone so long; he died in 1924. The legacy of ASCAP is staggering; that's why there is a statue of him in Central Park. I think also amazing is he wrote the first score for a film. I think the Sinfonietta should get a copy and play it."