SAVOR THE SEASON: Fall is for apples and potatoes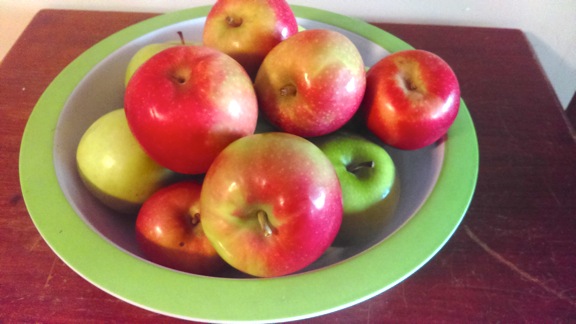 The fall season brings apples to the great state of New York.
The state fruit is grown in abundance throughout the Adirondack region and offers so many opportunities for experimentation in cooking.
Use apples in pies, chutneys, baked goods, sauces, soups or just simply enjoy them in their glorious simplicity right off the tree.
One of my favorite recipes using apples is fast and delicious, hailing from the legendary and celebrated "New Basics Cookbook" by Julie Rosso and Sheila Lukens, 1989. My copy was given to me by wonderful work friends at Self Magazine upon my departure for Vanity Fair Magazine as the inscription reminds me. What I love the most about this recipe is that it comes from a book that reminds me of great friends, and it is simple and fast for our sometimes time- starved world.
—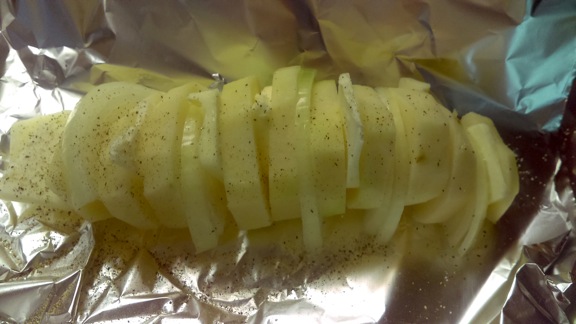 Chunky Applesauce
2 cups McIntosh apples
2 Granny Smith apples
1 cup of water
Juice of 1/2 lemon
1/2 cup sugar
1/2 teaspoon cinnamon
Peel, halve and core the McIntosh apples, and cut into 6 wedges.
Halve and core the Granny Smith Apples; cut them into 1 inch chunks
Combine the apples, water and lemon juice in a deep microwave safe 2 1/2 quart casserole.
Toss the sugar and cinnamon together in a small bowl and stir this into the apple mixture
Cook in the microwave for 5 minutes, uncovered. Stir, pressing the apples into the liquid. Cook for another 5 minutes.
Using a potato masher, coarsely mash the apples, stirring them into the liquid. Allow the applesauce to cool to room temperature, serve, or cover and refrigerate. Enjoy!
—
Potatoes
The Empire State Potato Growers Inc. is a nonprofit grower association that represents 150 commercial potato growers in New York state.
New York farmers grow about 20,500 acres of potatoes for seed, fresh and processing. New York's potato growers are 13th in the nation in production. Fall is typically harvest time for potatoes, so I thought I'd share one of my family's favorite preparations.
When I was growing up in the northern suburbs of Chicago, steak on the grill or other grilled meats were made even more special or celebratory when "Sanford Potatoes" were on the menu. They were dubbed such then and still today as my grandmother Sanford always did them this way. Pretty packages of foil wrapped potatoes, onion and butter cooked slowly on the perimeter of the grill as steak, chops or burgers sizzled on center stage. Slow cooking, frequent turns and a little patience resulted in a delicious melding of flavors, slightly steamed, a little smoky barbecue taste, and slightly charred on the edges. Perfection.
The foil wrap baking method is certainly something that translates well to a camping adventure, too. These potatoes are definitely on my top 10 list of family treasures.
—
Sanford Potatoes
4 potatoes, peeled (About fist sized is good. Any variety but New will work well. I use Russet if I have them on hand.)
2 medium-sized yellow onions, peeled, halved, and sliced thin
1/2 cup butter, cold, sliced in 1/8th pieces, about
Fresh chives, green onion or scallion tops
Heavy-duty foil, 4 generous sheets, about 10″ square (If you don't have heavy duty, just use 2 sheets of regular.)
Slice the potatoes in 1/4-1/2″ pieces. Carefully transfer each one onto the center of a foil sheet as you finish each one, holding together to maintain shape
Insert into each potato alternating slices of onion and butter.
Salt and pepper to taste.
Now wrap the potato in the foil by bringing 2 sides of the sheet together, and rolling/folding it to create a package. Roll the ends several times to finish. The idea is to seal the packet so that the butter and juices don't escape while cooking.
Cook on perimeter or top grill shelf of preheated medium grill (not too hot!), about 40 minutes, turning every 5-10 minutes, for about 40 minutes. Keep the grill mostly covered. You can do these in the oven as well, at 350 for about 40 minutes. But, they're not quite as tasty.
Serve one potato packet on each person's plate, or you can transfer contents to a serving dish to pass. Garnish with chives, green onion or scallion tops to add a zest of flavor and color.