ON THE SCENE: Our youth are taking on climate change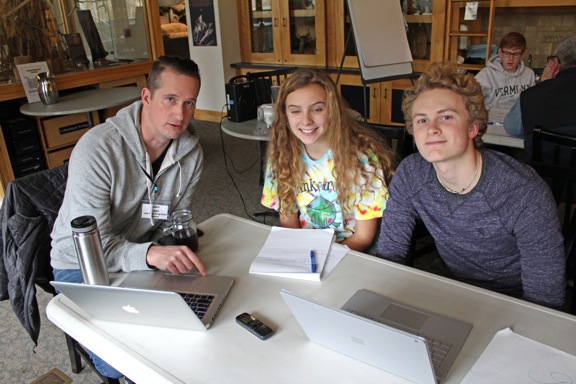 How would you feel about advising your son or daughter to take pictures of snowbanks, ice on the lakes and winter activities so they may one day use them to illustrate what winter looked like to their grandchildren?
That's the advice that Paul Smith's College professor of natural sciences Curt Stager gave the more than 200 students gathered at the Wild Center in Tupper Lake on Wednesday, Nov. 7 at the opening session of the 10th annual Adirondack Youth Climate Summit. He began by making three points: climate change is real, we cause it, and it's here. The impact of a warming climate is being felt across the globe in expanding deserts, more extreme and violent weather and rising seas.
Stager shared a graph that illustrated the dramatic rise of carbon dioxide in the atmosphere since 1960, pointing out that the three lead contributors are the burning of fossil fuels for generating electricity (31 percent), by industry (21 percent), and transportation (27 percent). He said that carbon dioxide acts like a blanket trapping the sun's warmth in the planet, resulting in the warming of the atmosphere, land and oceans.
Stager went on to outline the ramifications of our use of fossil fuels, which include plastic waste spreading across the planet pole to pole, the decimation of species diversity, the dying off of coral and the growth of invasive species. Illustrating how pervasive pollution has become, he noted that plants absorb carbon released into the atmosphere. When we eat plants or animals that feed on plants, we absorb carbon atoms into our bodies, atoms that were initially released into the atmosphere by the fossil fuels we burn; our bodies, in effect, are becoming storage units for pollution.
Three-quarters of the way through his presentation, Stager shifted to what's possible.
"What I've shared with you can be a little bit depressing when you look at all the changes we are doing to the Earth," said Stager. "It's important not to stop there once you realize that. The next thing is to realize we did that unintentionally. We didn't know what we were doing, except now we do. We should be taking the next step, which is empowerment. Think of what we can do with purpose, knowledge and good ethics."
Thirty-two student teams, five from colleges and the balance from high schools from throughout New York state and a few beyond, came to the Wild Center to plan initiatives they could implement in their home communities for reducing our carbon footprint. Difficult though Stager and other presenters' messages were, the students heard that if we get focused on radically reducing our use of carbon, we have a good chance of mitigating the worst possible outcomes, and their collective effort can make a significant difference.
Zach Berger, a Lake Placid High School student, came up with the idea for a youth climate summit in 2008, an outcome of his being one of six students invited to attend a national climate conference held at the Wild Center. Berger felt youth should have a voice, so he proposed to the Wild Center that they organize another summit, but this one with students as the primary attendees.
The Wild Center agreed and helped bring together teachers and students from Saranac Lake and Tupper Lake to help plan the event. Over the years, the Wild Center and the students have fine tuned their model and posted a Youth Climate Summit Toolkit on their website that has been used to create more than 60 other youth summits around the world.
"The brilliance of this program is that it's student-driven," said Stephanie Ratcliffe, executive director of the Wild Center. "They have taken on leadership, accepted that climate change is a problem that needs new thinking, and are rising to the challenge. These kids are still in high school, and they are committed."
The Youth Climate Summit was held over two days with regional schools driving in each day and teams from farther afield finding housing in Tupper Lake and nearby communities.
On the first day, they attended workshops on climate justice, climate podcasts, how to be a catalyst for community action, how to start an energy efficiency action plan, building climate resilience, civic engagement and the like. These workshops were punctuated with additional plenary presentations and opportunities to explore the Wild Center.
On day two, the student teams spread out through the Wild Center to develop their action plans. Late morning, they took a break to check out poster sessions provided by a variety of local environmental action agencies as well as several of the participating schools that have attended over time. During this session, several schools shared what they had attempted to achieve the previous year, their successes and shortcomings, and what they learned.
The student teams then regrouped and fine tuned their plans, some making adjustments based on what they heard during the poster sessions. After lunch, they shared their proposed projects with the assembled gathering. Ideas and energy were not in short supply.
Lake Placid Central had three teacher-led student teams at the summit, one mentored by Tammy Morgan, another by Tom Dodd, and the third by Jason Leon, whose team is working on the youth component of the Climate Smart Communities initiative to reduce greenhouses gases and improve climate resilience, which the Lake Placid Village Board had adopted. Leon is a Lake Placid Elementary School teacher and a trustee on the village board.
"As a first step we want to create a baseline as to what the school is doing when it comes to environmental issues," said Hayden, a member of Leon's team. "We want to have that done by March."
"Our long-term project is to make a drum composter for our school as its very efficient," said Brooke, a member of Dodd's team. "Our short-term goal is to get more people involved in composting at our school by educating people on the benefits of composting and then teaching more students how to compost."
Down in Keene, they too were starting with the school, and at the same time identifying potential community-based strategic partners that range from the Ausable Club and Keene Valley Congregational Church to the two libraries, town board and several environmental agencies based in the community.
"We are creating a program to make our school more sustainable," said Cal, a member of the Keene Central School team. "We are planning outreach with local, not for profits, businesses, and elected officials as well as people within our school. We are going to be presenting new solutions, technologies and practices our community can adopt."
"We've had a great time learning and taking everything in," said Charlotte, a KCS junior. "Climate change has always been a growing issue in my life. Now is an opportunity for teenagers to say this must happen. We are the future generation. We are the people are going to be impacted. We can't vote, but we can gather people together and tell adults that this matters to us. We need a fix. We need to start now."
"Climate change is the biggest crisis of our time," said Jen Kretser, education director at the Wild Center. "It impacts everything; it's not just an environmental crisis. So many of the problems we see now, whether its hunger, poverty, refugee migration, or environmental justice are getting so much worse because of the impact of climate change. Young people are worried about their future, what kind of jobs will they have, what work will they do, and what the environment and society's going to be like for themselves and their kids. They want to know how we can create a fossil-free society in a just and sustainable society."