Lake Placid emergency room to close Aug. 20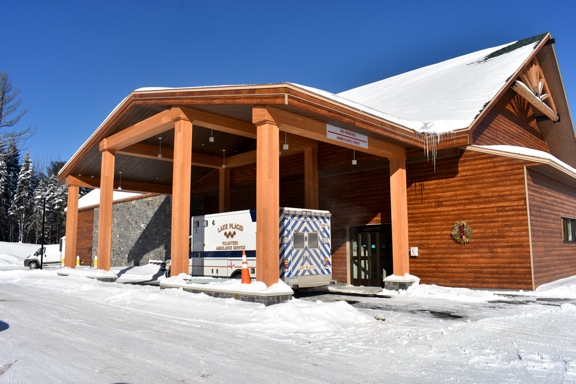 LAKE PLACID — Lake Placid's part-time emergency room will close on Aug. 20.
The final closure date was announced on Monday evening by Adirondack Health, which operates the emergency room at the Lake Placid Health and Medical Fitness Center as well as facilities in Saranac Lake, Tupper Lake and Keene.
Adirondack Health's dental facility in Lake Placid will also close permanently, according to a news release from the health network. Adirondack Health also continues to explore selling its Mercy Care nursing home in Tupper Lake.
The next-closest emergency room to Lake Placid is at Adirondack Health's Adirondack Medical Center in Saranac Lake, roughly 10 miles away.
"The closure of the part-time emergency department will not result in the elimination of any jobs at Adirondack Health," the news release reads. "Full-time, part-time, and per diem employees will have the opportunity to work at Adirondack Medical Center in Saranac Lake, or in outpatient departments across the health system."
The remainder of the Lake Placid Health and Medical Fitness Center will continue to operate — including the physical therapy and rehabilitation, medical fitness, primary care, laboratory, medical imaging, and the Lake Placid Sports Medicine orthopaedic surgical practice.
A spokesman for Adirondack Health was not immediately available to answer questions and deferred to the health network's news release.
The state Department of Health confirmed on Monday that it gave Adirondack Health authorization to close the Lake Placid emergency room and the dental facility this past Friday.
The health department has rejected repeated Freedom of Information Law requests from the Enterprise over the past few months seeking the health network's emergency room closure plan. The health department has said that it does not release such documents before a decision on whether approve or deny the plan has been made. Asked for the closure plan on Monday, the department directed the Enterprise to submit another FOIL request.
Adirondack Health announced its intention to close the Lake Placid ER this past October in an open letter to the community, which was published in the Enterprise. But Adirondack Health couldn't close its ER without receiving authorization from the state health department.
Adirondack Health submitted a closure plan to the state Department of Health on Oct. 6. Last month, it also filed a certificate of need with the health department to support its closure plan. This final filing on June 15 came one week before a new law went into effect that would've mandated a community impact study, according to the Albany Times-Union newspaper.
At a North Elba Town Council meeting in June, Essex County Public Health Director Linda Beers said she'd fielded a "letter of support" from Hudson Headwaters Health Network CEO Tucker Slingerland expressing interest in repurposing Adirondack Health's ER in Lake Placid as an HHHN-operated primary care center.
–
Mounting challenges
–
The ER and dental facility closures come as the health network faces mounting financial challenges that mirror those of many rural health care facilities across the country.
"It's difficult to reduce or eliminate service lines," Adirondack Health President and CEO Aaron Kramer said in a statement Monday. "But sometimes it is necessary to preserve the sustainability of the overall system. We appreciated the community's understanding and unwavering support while we worked through this process with our state partners. We have now moved past the question of 'if' we can transform the Lake Placid emergency department space and are focused on 'how' we're going to do so."
Adirondack Health — one of the largest private employers in the Tri-Lakes region, supporting hundreds of jobs — suffered a financial shortfall of more than $14 million last year alone, according to the network's finalized financial statements.
The health network also cited "persistently low patient volumes and acuities, increased expenses, and staffing challenges" as reasons for wanting to close the emergency room in an open letter to the community published in the Enterprise last fall. During the first six months of 2022, Lake Placid's emergency department averaged fewer than eight visits a day, Kramer said this past October. In 2019, Kramer said the department averaged 9.9 visits a day. The low patient volumes translated to a $2.2 million loss for Adirondack Health, according to the open letter.
This low patient volume was not new. Back in 2014, when Adirondack Health got state health department approval to convert its 24-hour-per-day emergency room to a 15-hour-per-day emergency room, the health network cited low patient volumes as the reason for the change. The emergency room resulted in a loss of nearly $588,192 in 2012 and $896,325 in 2013, Adirondack Health officials said at the time.
The dental facility in Lake Placid's Outpost Plaza shopping center has been closed since June. In an email to the Enterprise last month, Adirondack Health spokesman Matt Scollin cited financial "stressors" and staffing issues as Adirondack Health's reasons for seeking authorization to close the office, saying that the dental practice typically adds $350,000 to health network deficits each year. The hospital had also been searching for a new dental hygienist to work at the facility for the last three years.
Adirondack Health has always operated on razor-thin margins. Adirondack Medical Center in Saranac Lake, the network's main hub, treats far fewer patients than metropolitan hospitals. Adirondack Health Chief Financial Officer Robert Laba told the Enterprise in 2020 that rural hospitals face higher costs for materials because they purchase less and don't get the same volume discounts as others. They also have a larger population of older and low-income patients on Medicare or Medicaid, which have lower reimbursement rates than private insurance. The coronavirus pandemic brought additional challenges, such as state guidelines requiring that hospitals expand their capacity to meet an expected influx of patients with COVID-19, while at the same time asking the network to stop elective surgeries — a major money-maker for the hospital — for three weeks. While other upstate hospitals furloughed or laid off staff during the early days of the pandemic, there were no involuntary layoffs or furloughs at AMC — though employees were offered voluntary furlough options, and a few people did take them, Scollin said at the time.
–
Local leaders react
–
One of the most vocal opponents of Adirondack Health's closure plans was Wilmington town Supervisor Roy Holzer.
Without the emergency room in Lake Placid, Wilmington's volunteer ambulance squad will need to travel farther to emergency rooms in Saranac Lake or Elizabethtown. Holzer, who spent five of his 25 years with the Wilmington Volunteer Fire Department as an EMT, lamented the health department's decision on Monday.
"Clearly, I'm disappointed," Holzer said.
Holzer added that he'd hoped the health department would ask Adirondack Health to try other things. He also noted that with the state pouring hundreds of millions of dollars into renovating the region's Olympic and winter sports venues, he felt the state could've extended a financial lifeline to Adirondack Health to keep Lake Placid's emergency room open.
"We're going to continue to provide residents and visitors with the best ambulance service we can provide with our limited group of volunteers, and we're going to try to rise to the occasion," he said. "There's nothing else we can do at this point."
He hopes that in the future, an urgent care facility might open up in Wilmington.
Lake Placid village Mayor Art Devlin said given the information they've been given over the last four to five months, it's become clear that this situation is no longer about saving Lake Placid's emergency room but about helping the hospital survive.
"I don't think any of us can dispute that it's the logical and right thing to do," Devlin said of the emergency room closure. He said that if an injury is very severe, generally patients are transported to AMC anyway.
Devlin added that this emergency room closure will impact the village's police department and ambulance service. The ambulance service may need to add an extra team or purchase an extra ambulance because of the additional travel time, he said. The police department, no longer able to transport people who may need medical assistance or attention to Lake Placid's emergency room, may need to send officers to Saranac Lake or call for an ambulance. That would take officers away from the village, Devlin said.
However, Devlin is hopeful that Hudson Headwaters, if it does fill the space in the emergency room, could fill the void.
"I think that it's a very viable possibility that they would come in and open a clinic," he said.
North Elba town Supervisor Derek Doty echoed Devlin, saying that he felt the town is "very fortunate that there is an active emergency room 10 miles away."
"The overall health of the hospital, as a whole, is our major concern now," Doty said.
However, Doty added that he hopes the loss of the dental facility would be "addressed very soon."
The dental facility — which was the only local dental provider that served patients with Medicaid — had around 2,000 active patients. Many of those patients have either been referred to Alice Hyde Medical Center in Malone, more than an hour away, or have been told to contact their insurance companies to see if there are other local dental facilities that will take their insurance.
"I think we're fortunate that the Department of Health and Adirondack Health have come to a decision," Doty said. "Lingering wouldn't help any of us. Now it's time to move forward."