Placid Xpress to restart Monday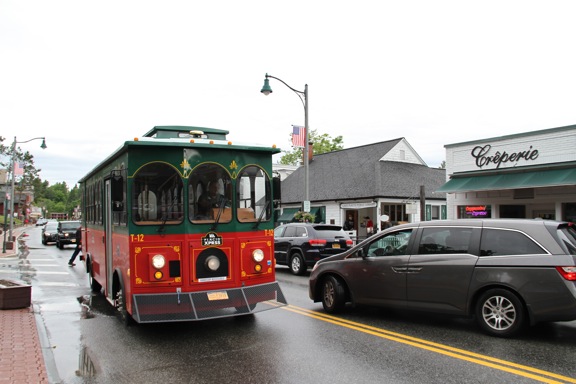 LAKE PLACID — Service aboard the Placid Xpress is slated to restart on Monday, April 12.
The free trolley, operated by the Essex County Public Transportation, has been out of service since mid-March of last year. Service was suspended when Essex County halted the operation of all of its bus routes because of the coronavirus pandemic.
This past September the county started operating its Lake Placid shoppers line, which brings riders by appointment to grocery stores and a pharmacy in Saranac Lake and Lake Placid. The Placid Xpress has remained offline.
"We are starting partial reopening on April 12," Transportation Coordinator Doreen Abrahamsen said Friday, April 2. "That will be five days a week for the Placid Xpress. We aren't expanding to seven days until May."
The service will run Monday through Friday to start, according to Abrahamsen. The trolley usually runs through the heart of the village, with the Olympic Jumping Complex at one end and the Price Chopper at the other. All the schedules will be updated on the county website, www.co.essex.ny.us, under the Department of Transportation. The times on the schedule, for the Placid Xpress, may be somewhat fluid because of the impact of construction on Main Street, traffic, information-collecting for contact tracing and other factors. Main Street will be reduced to one-way traffic as construction crews work on portions of the road. Construction is expected to start on Monday and continue, off and on, for the next two-and-a-half years.
"We're just asking for everyone to be patient, work with us," Abrahamsen said. "We're trying to meet everybody's needs and keep safe, and transition in a way that's safe for everyone."
All riders will have to wear masks and provide their contact information for contact tracing purposes. Riders will also be asked to use hand sanitizer when boarding. Rider capacity is still limited to 50%, according to Abrahamsen. Capacity under that restriction varies depending on the bus/trolley.
The Placid Xpress carried 75,259 riders in 2019, according to Abrahamsen. That dropped to just under 18,000 riders in 2020 because the service only ran for two-and-a-half months.
The county plans to restart service for other bus routes, too. Abrahamsen said the Champlain South and Champlain North runs will also begin limited service on April 12.
Essex County's new hiker shuttle service may also start this summer. The service, which was announced last year and put on hold because of the pandemic, is expected to connect riders to major mountain trailheads on state Route 73.