Lake Placid will miss you, Pav
Mark Pavelich dies at age 63, remembered as 'vital member' of 1980 Olympic hockey team
The Coneheads, from left, 1980 U.S. Olympic hockey players John Harrington, Mark Pavelich and Buzz Schneider pose during the 2017 Miracle on Ice Fantasy Camp in Lake Placid. (News photo — Andy Flynn)
Members of the 1980 U.S. Olympic hockey team answer questions from the audience at the Lake Placid Conference Center in February 2015 during their 35th anniversary reunion. In the front row, from left, are Mark Wells, Mark Pavelich, Eric Strobel, Mike Eruzione, Dave Christian and Rob McClanahan. (News photo — Andy Flynn)
From left, 1980 U.S. Olympic hockey players Mike Ramsey, Mark Pavelich and Mike Eruzione pose during the 2018 Miracle on Ice Fantasy Camp in Lake Placid. (News photo — Andy Flynn)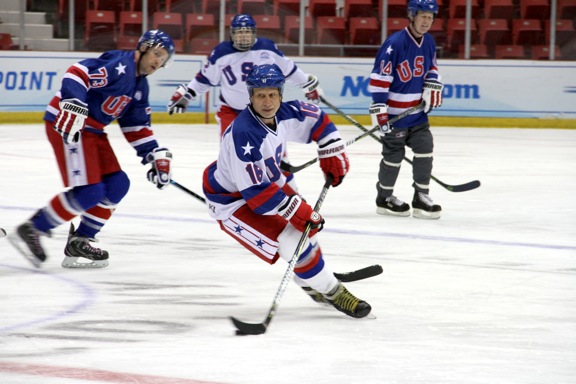 LAKE PLACID — There will always be a home for No. 16 — Mark Pavelich — in New York's Olympic village, as his number from the 1980 U.S. Olympic hockey team will eventually get retired at the Olympic Center's Herb Brooks Arena.
"Pav," as his teammates called him, died Thursday, March 4 at the age of 63 at the Eagle's Healing Nest in Sauk Centre, Minnesota, a treatment center for mental illness. The cause and manner of death are still pending.
Pavelich was undergoing treatment at the home as part of a civil commitment for assaulting his neighbor in Cook County, Minnesota, in August 2019, the Minneapolis Star Tribune reported. Pavelich thought the man had spiked his beer.
He was charged with felony assault but Judge Michael Cuzzo found he was incompetent to stand trial because he was mentally ill and dangerous. According to the judge's order from December 2019, a psychologist found Pavelich was suffering from delusions and paranoia. Another psychologist found he suffered from a mild neurocognitive disorder due to traumatic brain injury, likely related to repeated head injuries.
Pavelich played center on the 1980 team, known for its 4-3 "Miracle on Ice" win over the Soviet Union before beating Finland for the gold medal. Pavelich, who sold his gold medal for more than $250,000 in 2014 — two years after wife Kara died in an accidental fall — was credited with two assists in the Miracle on Ice game, including the one for team captain Mike Eruzione's game-winning goal.
"People who remember the Soviet game on the Friday night, Feb. 22, for all the hosannas that Mike Eruzione got, you watch that film and along the side boards, the guy that did all the dirty work and fought and fought and fought, and centered the puck to Eruzione, was Mark Pavelich. So, in a very real sense, you can say that the miracle wouldn't have happened without him," former New York Daily News Sports Writer Wayne Coffey told the News on Tuesday, March 9.
Coffey wrote the New York Times bestseller, "The Boys of Winter: The Untold Story of a Coach, a Dream, and the 1980 U. S. Olympic Hockey Team."
When the 1980 team held a reunion in 2015 to celebrate the 35th anniversary of the Miracle on Ice, Pavelich returned to Lake Placid for the first time since the 1980 Olympics. He joined the other 18 surviving members of the team and watched, from a stage in the 1980 Rink, as teammate Bob Suter's number was retired on a jersey and raised to the rafters. Suter died from a heart attack in September 2014.
Pavelich's number will join Suter's, according to Elise Ruocco, spokesperson for the state Olympic Regional Development Authority. The jersey has already been designed. It is not possible now, as there is construction in the rink with the overhaul of the Olympic Center, but it is expected to happen at the next Miracle on Ice Fantasy Camp. This year's fantasy camp, scheduled for May 2-6, was recently canceled and rescheduled for next year.
"We are very saddened to learn about the passing of Mark Pavelich," Ruocco wrote in an email. "Our hopes are to permanently raise his jersey in the 1980 Herb Brooks Arena at next year's Miracle on Ice Fantasy Camp, which is tentatively scheduled for May 1st – 5th, 2022, where Pavelich's original 1980 Olympic teammates can be here to honor his legacy."
The 1980 Olympic coach, Herb Brooks, died in a car crash in 2003; the Herb Brooks Arena was named after him in 2005 for the 25th anniversary.
Coffey was also in Lake Placid in 2015 covering the reunion for the Daily News, saying Pavelich made history of his own by showing up. He's always been known as the most reclusive member of the 1980 team.
"I think it's very fair to say that Pav, as everyone called him, was as private a person as there was on that team but also as beloved as anyone on that team," Coffey said. "His teammates really revered him and were in awe of his hockey talent."
Born on Feb. 28, 1958, Pavelich grew up on the shores of Ely Lake in Eveleth, Minnesota, in the Iron Range.
"If you remember his game, you could tell the guy grew up playing pond hockey because it was completely free-flowing and intuitive and you just never knew what he was going to do next. And that was really the quirky genius of him," Coffey said.
Pavelich starred at Eveleth High School and was an All-America selection at the University of Minnesota Duluth before earning a spot on the Olympic team.
The 5-foot-8, 170-pound forward spent five seasons with the New York Rangers and played briefly for the Minnesota North Stars and San Jose Sharks, finishing with 137 goals and 192 assists in 355 NHL regular-season games. He had a five-goal game for the Rangers on Feb. 23, 1983, in an 11-3 victory over Hartford.
"As a kid growing up in Hibbing I used to go to the arena and hang out with gear in hand waiting to see if I could skate with the teams that rented the ice," former Minnesota and NHL player Pat Micheletti tweeted. "Mark Pavelich always let me join with the Eveleth guys. He taught me so much about the game."
The Rangers said in a statement they were saddened by Pavelich's death.
"His determination, passion and dazzling playmaking ability earned him the adoration of Rangers fans during his five-year tenure in New York," the team said.
After the Olympics, Pavelich played in Europe for HC Lugano in Switzerland and returned to the U.S. National Team for the 1981 World Championships. He then followed Brooks and Olympic Assistant Coach Craig Patrick to New York in 1981 when they began coaching the Rangers.
"Pavelich in New York City," Coffey said, "I mean that is the worst match ever. All this guy ever wanted to do was hunt and fish, and he wasn't going to be doing it on 33rd and 7th Avenue."
On Monday, March 8, Rangers teammate Tom Laidlaw was a guest on WFAN's Carton & Roberts show to talk about playing with Pavelich.
"He was a great guy," Laidlaw said. "He was a Minnesota kid who didn't care about New York City; he would always wear corduroy pants and a flannel shirt to practice, and he would just put on a jacket and tie to go to games to meet dress code.
"Great teammate, incredibly hard worker who wanted to be good at what he did. Tough, too, so when you hear everything about him, it's a sad story."
In the spring of 2015, ORDA began hosting the annual Miracle on Ice Fantasy Camp, which was held the following four years and had to be canceled in 2020 due to the coronavirus pandemic.
Pavelich attended the fantasy camps in 2016, 2017 and 2018, and he competed with the campers and some of his 1980 teammates during games.
"The Lake Placid Olympic Sites are saddened to hear about the passing of 1980 Olympic Hockey Team member Mark Pavelich," ORDA published on its Facebook page. "Pavelich was a vital member of the Gold Medal-winning 1980 Men's hockey team. He recorded 1 goal and 6 assists for a total of 7 points playing in all 7 games during the Olympics. … Rest easy and skate fast, Mark."
While on the 1980 team, he was part of "The Coneheads" line with fellow Iron Rangers John "Bah" Harrington and Buzz Schneider. The effective trio was named after the "Saturday Night Live" sketch.
Star Tribune columnist Patrick Reusse spoke with Schneider and Harrington for his March 6 column about Pavelich's life and the lighter moments the public didn't see.
"Pav was a great prankster," Harrington said. "The one we all remember is when he had been out partridge hunting, wounded one, kept it alive and brought it to practice. He put the bird in John Rothstein's locker, John opened the locker, the bird came out with a startle, and Rothstein almost keeled over."
During Pavelich's recent birthday, members of the 1980 team sent him text messages "with congratulations, encouragement and wise remarks," Schneider said. "He responded with good humor.
"We've had regular phone conversations. He was sounding good. This is tough for all of us. And you talk about the Coneheads. There was the main Conehead … Pav."