ORDA lowers Mount Van Hoevenberg season pass prices after public outcry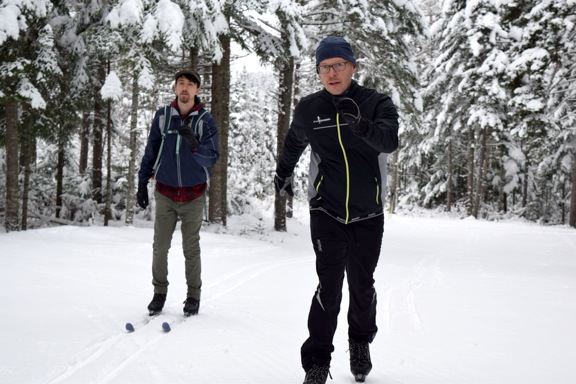 LAKE PLACID — Season passes for cross-country skiing at Mount Van Hoevenberg went on sale last month at a higher price than last year. Faced with local backlash over the increase, the state Olympic Regional Development Authority announced that the prices would be dropped.
ORDA, which operates the Lake Placid area's Winter Olympic sports venues as well as downhill ski areas in North Creek and the Catskills, announced the start of early-season pass sales last month at $325 for one adult, an increase of about 80.5% over last year's early season rate. And the senior discount (65-69) was scrapped. In October, the early-season pass prices were set for $120 for seniors (70+), $150 for teens (13-19), $120 for youth (7-12) and $20 for children 6 and under.
The price changes were made because of the number of new amenities at the Olympic Sports Complex at Mount Van Hoevenberg, according to ORDA. The state has invested tens of millions of dollars into the facility, and it has been under construction for months. That includes new snowmaking capabilities for the Mount Van Hoevenberg trails.
The backlash from local residents and some visitors was swift. An electronic letter campaign to ORDA CEO Mike Pratt was launched on social media just before Halloween in part to ask that ORDA again offer an affordable family season pass rate, which had been eliminated on the initial pricing rate sheet.
"This pricing is insane," Lake Placid resident Amanda Cash wrote on social media last month. "It will now cost a typical local family like mine somewhere in the range of $900-$1000 to purchase season passes for ourselves and our 3 kids. Those 'perks' are a joke. ORDA, you are pricing yourselves out of the market and alienating local people. Do better."
"This is soo sad," wrote Bruce Beauharnois. "Used to be a great way for our family to spend the weekend… gonna be packed Cascade I guess." Cascade Ski Center is a privately owned cross-country ski venue near Mount Van Hoevenberg.
"We are teachers, we are adjunct college professors, we are Corrections officers, we are service and retail workers, we are farmers and independent contractors. WE ARE PUBLIC SERVANTS," wrote Jayne Battin. "If we lived elsewhere, we would have more money to travel elsewhere with our families for vacations."
On Wednesday, Nov. 18, ORDA officials said they had reversed course on the price hike. In an email blast co-signed by Assistant Manager Rebecca Dayton and Nordic Program Manager Kris Cheney-Seymour, the authority announced that after hearing the community's concerns, it planned to lower the pricing.
"As family, you have pointed out your concerns with our pass prices and we have heard you," the email to customers reads. "We are immediately adjusting the pass pricing, dropping the adult price by $100, returning the senior 65-69 pass to the lineup, and reducing the family pass by $200. These new prices will be available through December 16."
Those who have already purchased passes will offered "a partial refund or credit for the difference," according to ORDA.
"Our community club and youth skiing programs will continue to include a season pass for the participants and we're looking forward to seeing everyone out on the trails," the email from Dayton and Cheney-Seymour reads.
With the new early-season rates in place, the season passes — through Dec. 16 — will be $225 for adult (20-64), $175 for seniors (65-69), $70 for 70+, $150 for full-time college student, $120 for teens (13-19), $70 for juniors (7-12), $20 for 6 and under and $540 for a family pass.
Starting Dec. 17, season pass rates will be $325 for adult (20-64), $225 for seniors (65-69), $120 for 70+, $150 for full-time college student, $120 for teens (13-19), $70 for juniors (7-12), $20 for 6 and under and $740 for a family pass.
In a statement Thursday, Nov. 19, ORDA spokeswoman Elise Ruocco explained that the season pass prices were adjusted in light of the many updates at the complex.
"Prices had been adjusted for the 20/21 season to account for the increased value of the many new and exciting changes that are coming to Mt. Van Hoevenberg this year," Ruocco said. "However, we recognize the need to offer a tiered opportunity to buy into the season pass as we have historically offered."
"We look forward to seeing all of our dedicated skiers at Mt. Van Hoevenberg this season," she added.
Construction of a new, 30,000-square-foot base lodge is expected to be complete sometime this month, though it likely won't open to the public right away, Pratt said last month. A new snowmaking reservoir and new ski trails are being built at the complex, and a new trailhead with connections to Cascade and Porter mountains has been built there.
The authority unveiled another new attraction at the complex — a mountain coaster that follows the path of the 1980 Olympic bobsled track — at a ceremony last month. In the weeks since, likely in part because of capacity limits due to the coronavirus pandemic, tickets for the ride have been sold out multiple times.
Season passes can be purchased at mtvanhoevenberg.com/tickets-passes/cross-country-season-passes.
——
(Lake Placid News Editor Andy Flynn contributed to this report.)