Preview of this week's Lake Placid News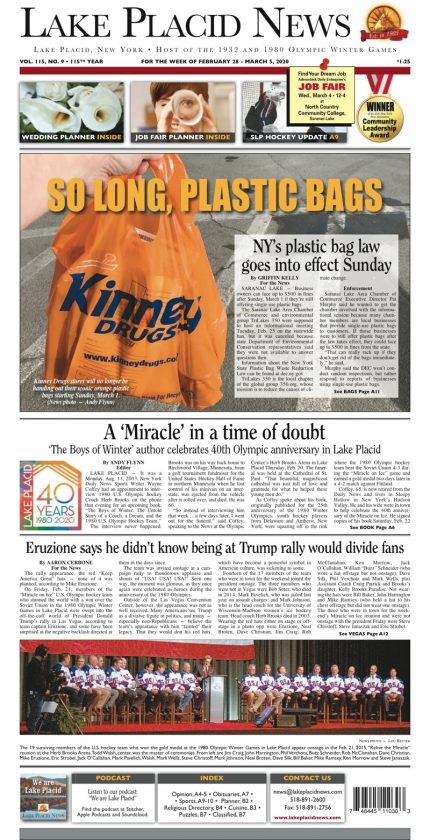 LAKE PLACID — In this week's Lake Placid News, we start with Sunday's launch of the New York State Plastic Bag Waste Reduction Law.
On March 1, businesses that have traditionally packed the products you buy in plastic bags will no longer be able to issue plastic bags. Paper bags, yes, but the state Department of Environmental Conservation is urging consumers to bring their own bags to all stores.
One of the biggest national stories this past week that means a lot to Lake Placid residents is the controversial appearance of the 1980 U.S. Olympic hockey team at a political rally for President Donald Trump on Feb. 21 in Las Vegas. They were in town to "Relive the Miracle" with a variety of appearances, and since 14 of the 20 players joined Trump onstage, it has brought a wave of backlash against the team. We have a report on the event, the reaction and the team's response.
We're beginning to wrap up our coverage of the 40th Olympic anniversary events, and Editor Andy Flynn stopped by the Olympic Center's Herb Brooks Arena to speak with Wayne Coffey, author of "The Boys of Winter: The Untold Story of a Coach, a Dream, and the 1980 U.S. Olympic Hockey Team." He was in town to sign books on Saturday, Feb. 22, the 40th anniversary of the Miracle on Ice game. He goes into detail on what it took to write the book, first published in 2005.
Andy was also at the Lake Placid Center for the Arts on Feb. 17 and reports on the forum designed to explore Lake Placid's Olympic legacy from the athlete's perspective. Four Olympians and two Youth Olympians spoke to the crowd.
The village of Lake Placid and town of North Elba Tuesday, Feb. 25 held a public hearing on the new proposed short-term rental law, and they got a lot of feedback from dozens of people in the community. Staff Writer Elizabeth Izzo was there and reports on the hearing.
Elizabeth was also at Northwood School's new Innovation Hub on Main Street Monday, Feb. 24 for the open house, and she has details of this new facility.
For this week's Up Close, Elizabeth presents a profile on the new High Peaks Community Band.
In other news, the Lake Placid Central School Board of Education is supporting the state Olympic Regional Development Authority's upcoming construction along Cummings Road, with some conditions; the state Department of Transportation has responded to a letter signed by more than 40 locals calling for a "public review" of the village's proposed Main Street overhaul; and more than 5,000 people have signed a petition asking ORDA to buy out the former Big Tupper Ski Area.
In addition to columns from Naj Wikoff (On the Scene) and Martha Allen (Martha Sez), we have an update from the Ausable River Association.
—
SPORTS
Amid all of the fanfare generated by the 40th anniversary of the 1980 Olympic Winter Games in Lake Placid, the local high school hockey team was busy closing out its regular season as the top team in Section VII. The Saranac Lake Placid boys team picked up some momentum heading into the playoffs with a 4-2 victory over Beekmantown.
The United States Junior luge team, which includes two youngsters from Lake Placid, competed in the Junior World Championships last week in Oberhof, Germany. Sean Hollander and Duncan Segger each turned in good showings in Germany, further staking their claims as future stars of the USA Luge program.
On the World Cup luge circuit, the U.S. team was among a chorus of nations that decided to withdraw from the latest event in Winterberg, Germany. It was widely agreed that conditions were unsafe for the competition.
On the World Cup bobsled tour, Kaillie Humphries raced to a gold medal at the world championships in Altenberg, Germany. It was her third career title, and first racing for the American team.
In other sports news this week, skating correspondent Christie Sausa was in attendance Saturday, Feb. 22 for Olympic speedskating medalist Dan Jansen's inspirational event at High Peaks Resort, and skiers with connections to the New York Ski Educational Foundation program are seen taking the podium.
—
BUY A COPY
Copies of this week's Lake Placid News are on stands now. A more convenient way to read is by purchasing a one-year subscription; we'll mail it to you. Call now at 518-891-2600.