Jansen inspires Lake Placid crowd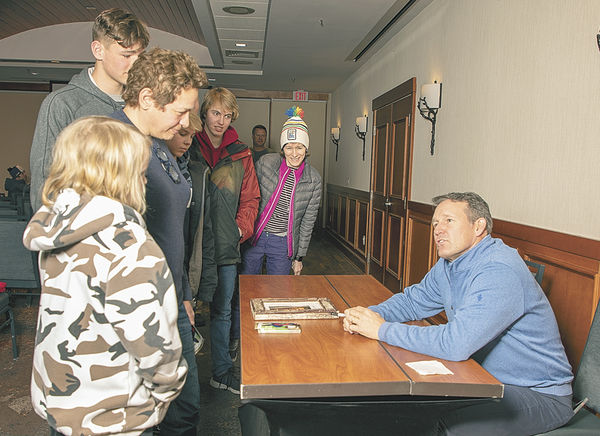 LAKE PLACID — There are only a few speedskaters who have commanded the public's imagination in the last 50 years.
There is Apolo Anton Ohno, a short track skater known not only for his eight Olympic medals in the 2002, 2006, and 2010 Olympic Games, but for winning the reality TV dancing show "Dancing with the Stars." Then there is Eric Heiden, star of Lake Placid's 1980 Olympics, who skated away from the Games with five gold medals in long track speed skating and into legendary status.
But the story of Dan Jansen, four-time Olympian and 1994 Olympic gold medalist, is uniquely poignant; the talented athlete triumphed through personal loss and competitive struggles to become one of the legends of speedskating. He shared his experiences Saturday, Feb. 22 at the High Peaks Resort.
Although he didn't spend too much time in Lake Placid, the 1980 Olympics in particular had an impact on him.
"The 40th anniversary celebrations are special for me because honestly, these games were what made me want to be an Olympian," he said. "I was 14 and I was already, I think, national champion in my age group, but it was pretty far (away)."
Watching the 1980 Olympics, while most were captivated by the Miracle on Ice hockey game, Jansen was most impressed by Heiden's races.
"I would say the 1,500-meter race was the scariest for me because he almost fell," he said "It was a pretty bad slip, but it just showed you how strong he was, and then winning the last 10,000-meter race and setting the world record was just outrageous."
A talented skater, Jansen qualified for his first Olympics at age 18.
"I was fortunate and blessed to compete at four different Winter Games," he said. "When I look back, I think the first one was the most innocent because I had no expectations."
He finished fourth that year.
The next Olympics, the 1988 Games in Calgary, Canada, would be the Games that would follow him in his career. What many didn't realize was that his sister Jane had been diagnosed with leukemia and had been struggling for the year before his second Olympics.
"She went through a year that I can't even put into words," he said. "God knows why but these two worlds, my training for the upcoming Olympics and winning the world sprint championships the week before and Jane's literal fight for her life, came together on the very same day, Valentine's Day, Feb. 14, 1988, the day of the 500-meter race, which I was favored to win."
He spoke to Jane for the last time that morning, and he was to race that evening. He and his family decided that as a fellow skater, she would have wanted him to race, but 100 meters into the 500-meter race, he slipped and fell. Four days later, in the 1,000 meters, he was in the lead on world record pace and fell again.
"We all fall down, we all get knocked down, we all go through times in our lives we don't have answers for, not always in front of the world, but we all go through them," he said. "I think looking back on that whole year from Jane's diagnosis to her passing and my falls, the biggest things I learned: the greatest thing may happen, the worst thing may happen, but try to learn from it and then you can move forward."
After the Games, he wasn't sure if he wanted to continue, but his father's words came to him.
"He said, 'There's more to life than skating around in a circle,'" Jansen said. "Then 10 years later, after Jane's death and two falls in the Olympics, that belief I had in my dad and the understanding came back. Winning was never as important after that. Being my best was always important. I wanted it, but I didn't need it."
He later skated in the 1992 Olympics in Albertville, France but never reached the podium.
Many skaters would most likely just give up after all this difficulty. But Jansen's incredible spirit kept him going, and his father once again inspired him the day after the race.
"He told me three words that I would take to my grave — 'You're my Hero' — and for that to come from my hero, made everything OK."
With only two years until the next Games, Jansen knew he wasn't finished, and his results reflected that — he kept getting better, winning World titles, setting records, but he still didn't get the Olympic medal. That would change in the 1994 Olympics in Lillehammer, Norway.
In his first race, the 500 meters, he finished in eighth place, but in the 1,000-meter race, with everyone in the arena pulling for him, Jansen finished in 1:12.43, enough to win gold.
"I honestly felt before I stepped to the line, I'm not saying I didn't want this because I did, but I was OK with whatever happened," he said. "I knew I couldn't have been any better than I was at that time in my life."
Jansen took a victory lap after the race with his young daughter Jane, named for his late sister, and skated into history as one of the most successful speed skaters ever. Despite his long quest for the Olympic gold, Jansen feels that it's not all about winning.
"In terms of what winning means, that sometimes it's all people care about, and you have to look at the Olympics differently. There are maybe 10 or 15% of the athletes at any Games who have a legitimate chance for medals. The other 85 are like I was at my first Games, you're so proud to be representing your country."