Eruzione says he didn't know being at Trump rally would divide fans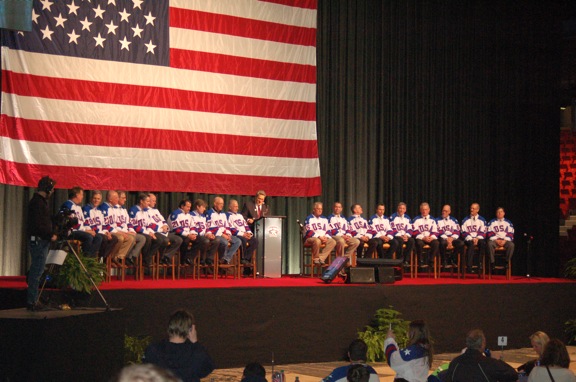 The rally appearance, the red "Keep America Great" hats — none of it was planned, according to Mike Eruzione.
On Friday, Feb. 21, members of the "Miracle on Ice" U.S. Olympic hockey team who stunned the world with a win over the Soviet Union in the 1980 Olympic Winter Games in Lake Placid were swept into the off-the-cuff world of President Donald Trump's rally in Las Vegas, according to team captain Eruzione, and some have been surprised at the negative backlash directed at them in the days since.
The team was invited onstage at a campaign rally to thunderous applause and shouts of "USA! USA! USA!" Seen one way, the moment was glorious, as they once again were celebrated as heroes during the anniversary of the 1980 Olympics.
Outside of the Las Vegas Convention Center, however, the appearance was not as well received. Many Americans see Trump as a divisive figure in politics, and many — especially non-Republicans — believe the team's appearance with him "tainted" their legacy. That they would don his red hats, which have become a powerful symbol in American culture, was sickening to some.
Fourteen of the 17 members of the team who were in town for the weekend joined the president onstage. The three members who were not in Vegas were Bob Suter, who died in 2014; Mark Pavelich, who was jailed last year on assault charges; and Mark Johnson, who is the head coach for the University of Wisconsin-Madison women's ice hockey team. Head coach Herb Brooks died in 2003. Wearing the red hats either on stage or offstage in a photo opp were Eruzione, Neal Broten, Dave Christian, Jim Craig, Rob McClanahan, Ken Morrow, Jack O'Callahan, William "Buzz" Schneider (who wore a hat offstage but not onstage), Dave Silk, Phil Verchota and Mark Wells, plus Assistant Coach Craig Patrick and Brooks's daughter, Kelly Brooks Paradise. Not wearing the hats were Bill Baker, John Harrington and Mike Ramsey (who held a hat to his chest offstage but did not wear one onstage). The three who were in town for the weekend's Miracle on Ice reunion and were not onstage with the president Friday were Steve Christoff, Steve Janaszak and Eric Strobel.
Eruzione has since said he is not a political guy and that the hat did not represent to him what it does to others. He said if he had known how wearing the hat would affect others he might not have done it.
He is one of the few team members who is on Twitter, and he told Washington Post reporter David Nakamura he has been affected by what he is reading there. He told his wife people think they are a "disgrace" and asked Nakamura, "You going to light into me, too? We're getting killed!"
The team had been flown out to Nevada for a Miracle on Ice reunion, similar to the 35th anniversary reunion they had in Lake Placid five years ago. The organizer was the same, Jeff Holbrook, a managing partner with Potentia Athletic Partners. This time, however, they would reach bigger crowds at more events at a destination easier to get to than Lake Placid. After a special "Relive the Miracle" event Saturday afternoon, the players were honored by the Vegas Golden Knights NHL hockey team in the evening during a game against the Florida Panthers. On Sunday, they were honored at the Las Vegas Motor Speedway before the Pennzoil 400 NASCAR race.
In an interview with Nakamura, Eruzione described how the team ended up onstage. On Friday, the players had the chance to meet the president backstage before the rally, and while taking photos, Trump invited them to join him onstage.
Eruzione said their response was "Sure."
They were handed the red "Keep America Great" hats, and Eruzione said he never thought twice about putting his on. He knows Trump is controversial but said he did not understand how divisive his presidency has been.
With the team onstage, Trump led the crowd in loud boos at the "fake news," criticized a foreign language film winning Best Picture at the Oscars and shouted, "12 more years!" for his presidency.
"To us, this is not about politics or choosing sides," @1980MiracleTeam tweeted. "This is about proudly representing the United States of America. Whether your beliefs are Democratic, Republican or Independent, etc. we support that and are proud to represent the USA."
Eruzione is a member of the Trump National Golf Club in Jupiter, Florida. He told the Post he voted for Barack Obama in 2008 and Trump in 2016. He also once appeared on the season finale of Trump's former reality show "The Apprentice" in 2006.
—
(Lake Placid News Editor Andy Flynn contributed to this report.)