Athletes describe their Olympic roots in Lake Placid
Holding her 2014 bronze medal, Olympic luger Erin Hamlin takes a photo of Olympic hockey player William "Buzz" Schneider with his 1980 gold medal and Olympic luger Gordy Sheer with his 1998 silver medal Monday, Feb. 17 at the Lake Placid Center for the Arts. (News photo — Andy Flynn)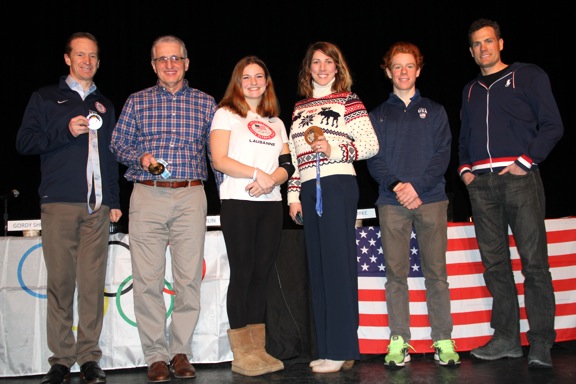 LAKE PLACID — Four Olympians and two aspiring Olympians — ranging from ages 16 to 65 — shared stories about their relationship to this village's Olympic legacy Monday, Feb. 17 at the Lake Placid Center for the Arts.
The event — "Lake Placid's Olympic Legacy: An Athlete's Perspective" — was part of the 40th anniversary celebration of the 1980 Olympic Winter Games.
—
Buzz Schneider
The highest-profile athlete was William "Buzz" Schneider, 65, a member of the U.S. Olympic hockey team that won a gold medal in 1980. Coached by Minnesota's Herb Brooks and joined by 19 other young players — most in college at the time — he scored the first goal against the Soviet Union in the famous "Miracle on Ice" game.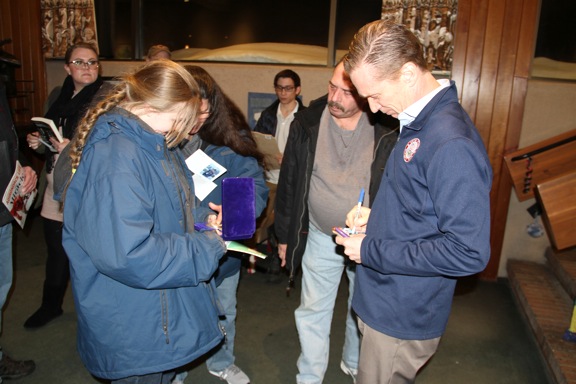 "It's special coming back, and what we did here is really special for all of us players and Herb Brooks, and we never really realized the impact that we were doing around the country when we started our quest for a gold medal," Schneider said.
It's hard to find a 1980 U.S. Olympian who doesn't have a fondness for Lake Placid, but Schneider's goes deeper than most; he travels here a lot.
"I think I've been back to Lake Placid more than I've been to my hometown in northern Minnesota," he said.
Schneider, who grew up in Babbitt, Minnesota, was the only member of the 1980 hockey team to take part in events for Lake Placid's 40th anniversary celebration. He was in Las Vegas this past weekend with 16 other members of the team to celebrate the 40th anniversary of the Miracle on Ice. They attended a public reunion event and the Vegas Golden Knights game Saturday, Feb. 22.
Every spring for the past five years, Schneider has attended the Miracle on Ice Fantasy Camp with a lot of his teammates. He was even a guest speaker at the Olympic Center three years ago when the state Olympic Regional Development Authority replaced the black, light-bulb-lit scoreboard from the 1980 games with a modern one with LED large-screen TV panels.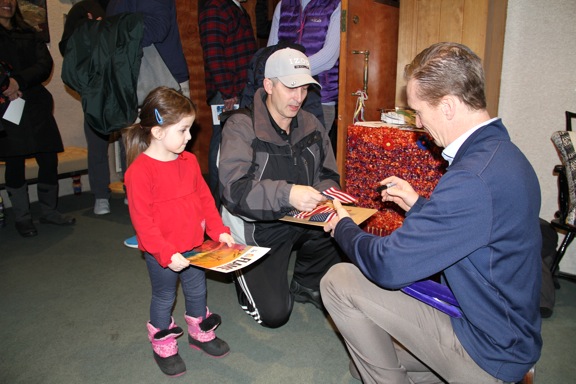 Life changed for the team when that original scoreboard read "4-3" in favor of the U.S. as ABC Sports TV announcer Al Michaels ended his countdown of the Miracle on Ice game and shouted, "Do you believe in miracles? Yes!"
Herb Brooks retreated to the locker room as the U.S. athletes celebrated on the ice. Telegrams of congratulations soon arrived from all over the world. They were one game away from a possible medal and had to play Finland two days later.
"We remember going into the locker room the next day, there were sticks on the table for us guys to sign, and we were signing them, joking around," Schneider said. "There's telegrams on the wall. Herb comes in and takes his hand and knocks all the sticks off the table. He says, 'What's wrong with you guys? You guys haven't won a damn thing yet. We're going out and have a hard practice.' So that's how he'd prepare us."
Brooks made sure he was distant from the moment he formed the team in the summer of 1979 until they reached their goal of winning the gold medal. He was the bad cop, and Assistant Coach Craig Patrick was the good cop.
"Herb's the best coach I've ever played for," Schneider said of Brooks. "He was very, very fair, very honest, nothing malicious or maligning or anything like that. He wanted to win. He pushed you. He knew what buttons to push, personal buttons. He wanted you to be the best you could be, and he stressed teamwork. And everything he'd done was in the framework of the team. (He was a) very unique and very special man, and we still love him."
While in Lake Placid, the hockey players didn't know how much the Miracle in Ice win and their gold medal meant to the country. They were isolated, trying to stay focused on winning hockey games. But their achievements lifted spirits of Americans during a difficult time in the country's history — inflation, oil shortages, the Soviet invasion of Afghanistan and the Iran hostage crisis. The 1980 hockey team — and Eric Heiden's five gold medals in speedskating during those 1980 Winter Olympics — rekindled feelings of patriotism. Olympians like Schneider proved that dreams can come true if you work hard enough.
"We never realized what happened until we left Lake Placid," Schneider said. "We ended up going to the White House. I remember, we ended up taking a bus from the Air Force base to the Capitol, and people on the street are yelling at you by your first name. I thought, 'Wow, what's going on?' I went from nobody to somebody in two weeks."
—
Gordy Sheer
Gordy Sheer, 48, represents the past, present and future of Lake Placid's Olympic legacy. A three-time Olympian in luge — spanning a 17-year career — he won a silver medal in doubles with Chris Thorpe during the 1998 Olympic Winter Games in Nagano, Japan. They, along with the 1998 bronze-medal-winning doubles team of Mark Grimmette and Brian Martin, were the first athletes to earn medals for USA Luge.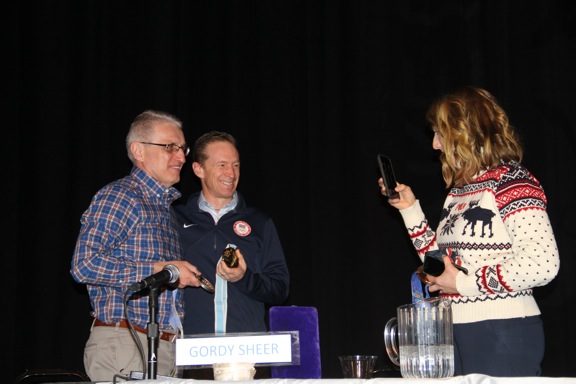 Sheer is also the current director of marketing and sponsorships for USA Luge, based in Lake Placid, and that means he helps the team with current and aspiring Olympians.
"I told my mother at a very early age that I was going to go to the Olympics," Sheer said.
Sheer grew up in White Plains, just north of New York City. He witnessed the 1980 Olympic torch run near his hometown when it traveled north along the Hudson River toward Lake Placid. He still has a candle that he lit with the Olympic flame. He also saw some of the luge competition at the 1980 games and was "captivated" by it.
Later, during a family ski vacation to Lake Placid, he saw the USA Luge van with a phone number on the side of it: 1-800-USA-LUGE. It seems advertising works. He called the number.
"Two weeks later, I was here for a grassroots camp, and that was sort of how it started," he said.
Sheer trained on the luge track that was built for the 1980 Olympics, and it was there — on the only luge track in the U.S. at the time — that he won a place on the Olympic luge team for the 1992, 1994 and 1998 Winter Olympics. That track was demolished to build the current combined track for luge, bobsled and skeleton in time for the 2000 Winter Goodwill Games.
"What we achieved wouldn't have been possible without having the facility, the access, the Olympic Training Center, the support of the town, all those things that you don't get anywhere else in the world of sliding," Sheer said.
—
Erin Hamlin
When Erin Hamlin, 33, of Remsen, won the bronze medal during the 2014 Olympic Winter Games in Sochi, Russia, she was the first singles U.S. luger to medal in any Winter Olympics. While she honed her skills in Lake Placid during a 19-year luge career, she was introduced to the sport at age 12 in Syracuse one summer day.
"It was just one of those random things to do on a summer afternoon that my parents had asked about if I wanted to try. I said, 'Sure, why not?' Not really having any idea of what I was signing up for. … It ended up be a long, very successful career."
Starting luge at such a young age, Hamlin said she had to grow up really fast, "and you learn a lot of self-discipline and just a good work ethic that I think follows you wherever you go."
Hamlin said it was ironic that her career was in luge, a dangerous sport that takes people out of their comfort zone.
"Most people, when they hear that I am a luge athlete," she said, "they immediately think you're a daredevil and an adrenaline junkie, and I was not."
Hamlin represented the U.S. luge team at the Winter Olympics in 2006 (Torino, Italy), 2010 (Vancouver, Canada), 2014 and 2018 (Pyeongchang, South Korea). In South Korea she was chosen to carry the American flag and lead the U.S. Olympians during the opening ceremony.
—
Tim Burke
Tim Burke, 38, competed for the U.S. biathlon team in four Winter Olympics — 2006, 2010, 2014 and 2018 — and was introduced to Nordic skiing through his family growing up in Paul Smiths.
"There's not so much going on in Paul Smiths," he said. "My parents got tired of us running around inside the house in the winter, so they kicked us out and (we) just (started) skiing in the yard there."
Burke had an older brother and sister who were involved in skiing.
"As younger siblings often do, I followed them into the Nordic program and started skiing for the local ski club in Saranac Lake and competing at Dewey Mountain," he said.
Eventually, he joined the New York Ski Educational Foundation, which is based in Wilmington and introduces youth to all disciplines of Nordic and Alpine skiing and snowboarding. He was 12 years old at the time, and that's when he first started training at Mount Van Hoevenberg.
"I remember skiing around, and I would see the older biathletes out there on the range shooting," he said. "And as a 12-year-old boy, I realized, 'Wow. I could ski around and shoot things here? Sign me up.'"
Burke started competing on the World Cup tour in 2004, and over the years he slowly improved his biathlon skills. His breakthrough, however, came during the 2009-2010 World Cup season.
"I knew leading up to that season I had made a lot of improvements, but I didn't quite know how exactly I would stack up," he said.
In the first stop on that season's World Cup tour, Burke finished second in the 20-kilometer individual competition. He took a third-place finish in the second World Cup race, and with consistent top-10 finishes — despite never finishing first — he ended up with the most points and wore the overall leader's bib just before Christmas break.
"It was overwhelming, but something that I look upon as definitely one of the proudest moments of my athletic career."
Burke was the first U.S. biathlete to wear the overall leader's bib.
"It really changed the way, at that time, that other countries looked at our team," he said. "Before then, we were a country that we participated but we weren't always necessarily competitive. To have someone there that was wearing the yellow bib, I think it really did change the way that we were looked on on the world stage, and I think it really helped the other athletes on the team after that –that it wasn't just me. Many of my teammates went on to have World Cup podiums and World Championship medals."
—
Van Ledger
Lake Placid's Van Ledger, 17, represented the U.S. biathlon team in January during the 2020 Winter Youth Olympic Games in Lausanne, Switzerland.
"It was the most fun I've ever had because here in the U.S., biathlon isn't really a huge sport," he said. "Being in Lausanne, where there's athletes from all over the world … it was awesome just to see really the scope of the sport."
Ledger began competing in cross-country ski events at age 10, tried biathlon for the first time when he was 12 and began training in biathlon at 13.
"I've been downhill skiing since I could walk, pretty much," Ledger said, adding that he "absolutely hated" getting on cross-country and Telemark skis at first. "As I got older, it got more and more fun to push yourself along really fast."
A senior at the Lake Placid High School, he races for NYSEF.
"NYSEF has been huge," he said. "Now biathlon is my main priority, but I go around and still Nordic ski and do the purely Nordic side of things.
Ledger is a member of the 2020 Mid-Atlantic Junior National Team and will compete in his third Junior National Championships for cross-country skiing in March in Truckee, California.
—
Maddy Cohen
Maddy Cohen, 16, lives in Keene Valley and is a senior at the Lake Placid High School. She represented the U.S. bobsled team in January during the 2020 Winter Youth Olympic Games. The competition was held on the bobsled run at St. Moritz, Switzerland, host of the 1928 and 1948 Olympic Winter Games. She finished 14th in the monobob — one-person bobsled — competition.
Cohen said she enjoyed racing on the natural bobsled track at St. Moritz as opposed to artificial refrigerated tracks like the one at Mount Van Hoevenberg.
"(It) made it insanely smooth," she said. "I went down the first time, and I was trying to figure out what was so different on the track, and I was halfway through and I was like, 'Whoa, there's no noise.' The artificial tracks are so jolty, and the St. Moritz track was so insanely smooth … especially compared to Lake Placid, which is my home track. It's like a washing machine on my head."
Cohen began sliding in the junior bobsled program for USA Bobsled and Skeleton at Lake Placid and learned how to drive monobob during a driving school last spring.
Women's monobob will debut on the program for the 2022 Olympic Winter Games in Beijing, China, but Cohen most likely will not be there competing for the U.S. She plans to go to college next year.
"Ultimately, I'll choose education over sliding. … I can take a couple of years off, and I think I'll be OK."
Cohen has applied to colleges within a three- to four-hour drive from Lake Placid.
"So I can keep on sliding," she said.