A 'Miracle' in a time of doubt
'The Boys of Winter' author celebrates 40th Olympic anniversary in Lake Placid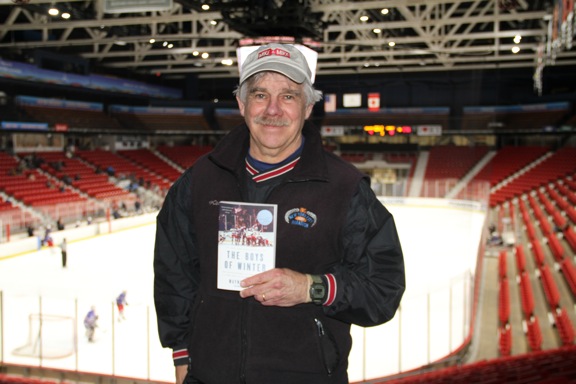 LAKE PLACID — It was a Monday, Aug. 11, 2003. New York Daily News Sports Writer Wayne Coffey had an appointment to interview 1980 U.S. Olympic hockey Coach Herb Brooks on the phone that evening for an upcoming book, "The Boys of Winter: The Untold Story of a Coach, a Dream, and the 1980 U.S. Olympic Hockey Team."
The interview never happened. Brooks was on his way back home to Birchwood Village, Minnesota, from a golf tournament fundraiser for the United States Hockey Hall of Fame in northern Minnesota when he lost control of his minivan on an interstate, was ejected from the vehicle after it rolled over, and died. He was 66.
"So instead of interviewing him that week … a few days later, I went out for the funeral," said Coffey, speaking to the News at the Olympic Center's Herb Brooks Arena in Lake Placid Thursday, Feb. 20. The funeral was held at the Cathedral of St. Paul. "That beautiful, magnificent cathedral was just full of love and gratitude for what he helped these young men do."
As Coffey spoke about his book, originally published for the 25th anniversary of the 1980 Winter Olympics, youth hockey players from Delaware and Amherst, New York, were squaring off in the rink where the 1980 Olympic hockey team beat the Soviet Union 4-3 during the "Miracle on Ice" game and earned a gold medal two days later in a 4-2 match against Finland.
Coffey, 65, is now retired from the Daily News and lives in Sleepy Hollow in New York's Hudson Valley. He and his wife were in town to help celebrate the 40th anniversary of the Miracle on Ice. He signed copies of his book Saturday, Feb. 22 at The Bookstore Plus and the Mirror Lake Inn, where they were staying.
The latest edition of the book, published for the 40th anniversary, includes a new afterword by 1980 U.S. Olympic hockey player Ken Morrow, who is currently the director of pro scouting for the New York Islanders NHL team.
"When people commemorated the tenth anniversary of our victory over the Soviets at the 1980 Olympics in Lake Placid, I was a little surprised and thought it was very nice that everybody remembered," Morrow wrote. "When they commemorated the twentieth anniversary, I was that much more surprised. Now here we are at 40 years of a never-ending miracle, and my surprise has gone the way of eight-track tapes."
—
As Coffey shared stories — the first time he's given an interview about the book in the 1980 Rink — he said he was surprised by the way the players shared their doubts and insecurities about the Olympics.
"To me, the beauty, the purity, of this event is that even though everyone else was turning this into this mega sporting event, these guys were trying to go out and win a hockey game," Coffey said. "But the bigger backdrop, and I'm really convinced that that's why 40 years later it still resonates so much, is that this was as troubling a time in American history that we've had in a while."
Inflation. Recession. Energy crisis. The aftertaste of the Vietnam War and President Richard Nixon's Watergate scandal. The U.S. was spiraling out of control in the summer of 1979 when Brooks began building what became the 1980 Olympic hockey team. It's what President Jimmy Carter called the American "crisis of confidence" during a televised speech on July 15 that year.
"It's clear that the true problems of our nation are much deeper, deeper than gasoline lines or energy shortages, deeper even than inflation or recession," Carter said. "And I realized, more than ever, that as president I need your help. So I decided to reach out and to listen to the voices of America."
To identify the nation's hopes, dreams and visions for the future, Carter spent time at Camp David talking with people from almost every segment of the American society. When he left, he talked to even more people.
"It has been an extraordinary 10 days, and I want to share with you what I heard," Carter said.
—
"The Boys of Winter" — a New York Times bestseller — has received glowing reviews, even from people who were at the Miracle on Ice game.
"A wonderfully detailed enrichment of the greatest sports moment of the twentieth century," wrote Al Michaels, the ABC Sports announcer who is credited with dubbing the game the Miracle on Ice when he shouted at the end, "Do you believe in miracles? Yes!" In 2005, Michaels said Coffey "artfully takes a twenty-five-year-old story and advances it to the present with an enhanced appreciation of that stunning, breathtaking, still too-amazing-to-believe accomplishment."
Coffey weaves stories about the players and coaches with the narrative of the Feb. 22, 1980 game, organizing the book by First Period, Second Period and Third Period. The foreword is by 1980 goaltender Jim Craig. The prologue that details Brooks's life from the vantage point of his funeral is titled "The Last Reunion." And there are two afterwords, one by Coffey and the new one by Morrow.
But this book almost never happened. Coffey's editor pitched the idea, and it didn't resonate with the author at first.
"I initially sort of tried to talk him out of it," Coffey said. "I mean, it was an incredible moment, but we know so much about it and so much has been covered. We know it was the greatest sports moment of the century. And I was so wrong. Oh my gosh, was I wrong."
After thinking about it, Coffey had a hunch that there's a deeper story here.
"And that deeper story … was all about these journeys."
—
It began as a speech on how to solve the country's energy crisis, but President Carter made his July 15, 1979, address to the nation about something deeper, something that was at the root of America's problems, something more serious than energy or inflation.
"I want to talk to you right now about a fundamental threat to American democracy," Carter said. "The threat is nearly invisible. In ordinary ways, it is a crisis of confidence. It is a crisis that strikes at the very heart and soul and spirit of our national will.
"We can see this crisis in the growing doubt about the meaning of our own lives and of a loss of unity of purpose for our nation. The erosion of our confidence in the future is threatening to destroy the social and the political fabric of America. The confidence that we have always had as a people is not simply some romantic dream or a proverb in a dusty book that we read just on the Fourth of July.
"It is the idea that founded our nation and has guided our development as a people, confidence in the future has supported everything else, public institutions and private enterprise, our own families and the very Constitution of the United States. Confidence has defined our course and has served as a link between generations."
—
As Coffey dug deeper into the story, he found "The Boys of Winter" a worthy project, profoundly worthy.
"I just kept on getting this incredible material from these guys and about how this came to be and how they felt along the way and all of the doubts," he said. "It's easy to forget, but there were a lot of bumps along the road here and one of the biggest ones was the 13 days before that Friday night in Lake Placid."
Coffey was talking about the Soviet Union's 10-3 win over the U.S. team on Feb. 9, 1980, at Madison Square Garden in New York City.
"Of all the ingenious things Herb Brooks did that year, and he did a ton of them, I think maybe that was the pinnacle because he scheduled that game when he did knowing exactly what he was doing and what he hoped happened," Coffey said. "He hoped his team would get the ultimate wake-up call, get a thorough butt kicking."
That loss benefited Brooks in his coaching by achieving two things, according to Coffey. First of all, it showed the U.S. players that if they got a chance to face off against the Soviets in Lake Placid, it would be one of the biggest challenges of their lives. Secondly, human nature would take over and the Soviets would get over-confident.
—
Confidence, as President Carter reiterated over and over in his speech, was something Americans didn't have much of in 1979.
"We've always believed in something called progress. We've always had a faith that the days of our children would be better than our own. Our people are losing that faith, not only in government itself but in the ability of citizens to serve as the ultimate rulers and shapers of our democracy.
"As a people, we know our past, and we are proud of it. Our progress has been part of a living history of America, even the world. We always believed that we were part of a great movement of humanity itself called democracy, involved in the search for freedom. And that belief has always strengthened us in our purpose."
—
While researching for the book, Coffey made sure to visit the places important to the Miracle on Ice story. He spent time in Lake Placid, talking to people who helped organize the 1980 Olympics. He visited FCI Ray Brook, the federal prison that was built as the Olympic village to house the athletes in 1980. He spent time in Massachusetts, Wisconsin and Minnesota to talk to the players from those states. And he traveled to Russia.
"I made a decision early on that I really needed to try to get as much of the Soviet perspective as I could because one of the old cliches in sports writing is that the losing locker room is always better than the winning locker room," Coffey said. "So here I come halfway across the world. (Soviet Head Coach) Viktor Tikhonov was still coaching."
So Coffey and his interpreter, a sports writer in Russia, went to a hockey rink to interview Tikhonov.
"Here's the most decorated coach in the history of international (hockey), won more gold medals, more world championships than anybody, and this guy he doesn't know is coming to talk to him about the worst moment of his coaching career. He was incredibly gracious and honest and just mind-blowingly honest."
People remember the turning point in the game, the last second of the first period when Mark Johnson tied the game 2-2 with a goal against Vladislav Tretiak, regarded as the best goalie in the world. Tikhonov was so angry, he replaced Tretiak with backup goalie Vladimir Myshkin for the rest of the game.
"Tikhonov admitted that — he just said, 'I let my emotions get carried away, and it was the greatest mistake of my coaching career,'" Coffey said.
Coffey also interviewed Sergei Makarov, a forward who went on to have a successful career in the NHL, and asked him about his Miracle on Ice experience in context with his team's win at Madison Square Garden.
"He said a few dirty words, and then he said, 'What can change in two weeks?' And even Viktor Tikhonov said … 'The players assured me that the 10-3 game would not be a problem.' They would not take the U.S. team lightly. He said, 'It turned out to be a very big problem.'"
—
America's problems in 1979 went from bad to worse. President Carter hoped his "Crisis of Confidence" speech would make a difference by rallying U.S. citizens, steering them away from their reliance on material wealth and toward a greater good — for themselves, their fellow Americans and the their country.
"Just as we are losing our confidence in the future, we are also beginning to close the door on our past. In a nation that was proud of hard work, strong families, close-knit communities and our faith in God, too many of us now tend to worship self-indulgence and consumption. Human identity is no longer defined by what one does but by what one owns. But we've discovered that owning things and consuming things does not satisfy our longing for meaning."
By the end of 1979, as Lake Placid was finishing its preparations for the 1980 Olympic Winter Games, the U.S. faced a crisis in Iran. The American embassy in Tehran was overtaken on Nov. 4, and 52 diplomats and citizens were taken hostage.
Then on Christmas Day, the Soviet Union invaded Afghanistan, prompting Carter to suggest U.S. athletes boycott the 1980 Olympic Summer Games in Moscow as a protest.
On Feb. 22, the Adirondack Daily Enterprise published its first color ad — a full-page Afghanistan flag with these words in Russian: "Russians, hands off Afghanistan." In six languages, the ad suggested people carry the page around Lake Placid as the Soviet Union was about to play the U.S. on the ice that evening.
"Carry it with you, display it to all media, especially in the presence of athletes representing the Soviet Union," the ad stated. "Make your silent protest felt 'round the world — demand that the U.S.S.R. get out of Afghanistan now!"
All these problems loomed as the Olympics began in Lake Placid in February 1980.
—
"And then there's this hockey game," Coffey said. "People were kind of down. Collectively, the national consciousness was sort of at a low ebb. And then these guys come along, and they didn't make the bigger problems go away, but they sort of restored the belief that if you stick together and you work really hard and you believe somehow that you can do the impossible, you know what, maybe you can. To me, that's the ultimate power in this (story)."