SAVOR THE SEASON: The Good Bite uses local ingredients for meal kit service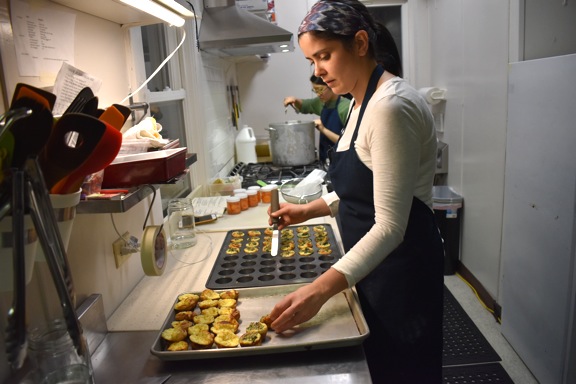 LAKE PLACID – The savory smell of fresh chicken broth wafted from a tall silver pot in the far left corner of The Good Bite Kitchen at 2501 Main St.
The light brown liquid bubbled quietly beneath dim hood lights as owner Kayte Billerman moved from one station to the next, moving aside jars of carrot slices and transferring a tray of cheddar-apple scones to a cooling rack.
Billerman came to a stop before a notebook scrawled with countless recipes. She took a moment to look at her notes before snatching up a tray with dozens of tiny quiches the size of silver dollars. She pulled an oven door open, and the tray of quiches disappeared from sight. Then it was on to the next recipe.
Running this vegetarian restaurant-turned-meal-delivery service wasn't her first choice in life. When Billerman left her hometown of Lake Placid to go to college, she was initially eyeing a different kind of career.
"I thought I'd work in marketing or advertising, in an office in a big city," she said.
Billerman quickly brushed her hands on her apron, crossed her arms and leaned against the kitchen counter. She smiled.
"I realized the office life wasn't for me," she said.
Billerman was born into a family that loved to entertain. Growing up, she remembers her mother's organized, pragmatic approach to cooking meals. She described her mother, fondly, as a "casserole queen."
"She had a great influence on my cooking. She always loved to cook. She had it all planned out," Billerman said.
So when Billerman realized after a stint at a marketing agency that she wanted to do something else, she remembered that love of entertaining she shared with her family and moved to Colorado, where she enrolled in a vocational program.
"I thought I would do more of a private chef-caterer kind of thing," she said.
She took a class specializing in vegan cuisine. Billerman liked the idea of making everything from scratch with whole foods. After a year in Colorado, she moved back home with an idea of what she wanted to do with her life.
"I knew I wanted to start something with that kind of food here and see how Lake Placid would take it," she said. "I started at farmers markets. I used rental kitchen space and went to Saranac Lake and Lake Placid farmers markets, selling hummus, grain salads and pestos – pre-packaged things people could take home and eat, or use to complement their meals."
She spent time at those markets standing alongside local farmers, getting to know more about the wealth of local ingredients grown in the area.
Eight or nine months later, a new opportunity arose. A friend's mother had underutilized storage space, with a door and stoop on Main Street. That family offered Billerman the spot.
"I thought, 'No, I don't want to have a restaurant on Main Street,'" she said.
But then Billerman took a business class offered by the Adirondack Economic Development Corporation and worked out a business plan. She realized she could run a restaurant on Main Street and keep it at a smaller scale. She borrowed money from the AEDC and with help from her father, she transformed the old storage space into the Good Bite Kitchen, a sleek, minimalistic restaurant that sat just six people.
"We did a lot of takeout," she said.
The business attracted a lot of regulars in its first five years, Billerman said. She sourced her ingredients from businesses run by the same local farmers she used to stand beside at farmers markets and churned out countless quiches, soups, salads and other vegetarian fare every day. If she ran out of ingredients, that was OK with her.
"I always wanted to keep it small," she said.
But every year, business kept growing – until year six. Suddenly, there were more restaurants on Main Street, and nearly all of them had two things her compact space didn't have: Alcohol and bathrooms.
"While it was great having those regulars come back, I saw that people off the street weren't coming in as much," she said. "I kind of saw it coming, and I knew I needed to step away for a second and look at it from a different perspective."
Last year, Billerman left Lake Placid and stayed with a friend in Nashville, Tennessee, leaving The Good Bite Kitchen in the hands of her sister, who used the space as a restaurant that specialized in grilled cheese. The friend she was staying with had a subscription to a national meal kit service that delivered ingredients and a recipe to her doorstep.
Billerman had a thought. "I said, 'Why can't I do this in Lake Placid?'"
So The Good Bite Kitchen was reborn, this time as a meal delivery service with a brick-and-mortar presence.
"It all just kind of gradually happened," she said. "I had that idea in my head that this was something special."
Unlike many national meal kit services, which ship raw ingredients alongside recipes, Billerman preps and pre-prepares meals that subscribers finish off. Those subscribers have the ability to choose the size of the meals and the frequency they receive them. She packages everything in reusable containers and hand delivers to customers in Lake Placid, Saranac Lake, Keene, Wilmington and Upper Jay.
Last week, Billerman prepared Thai pulled pork over coconut rice, with pickled carrots and herbs; chicken piccata meatballs with roasted potatoes and asparagus; and lasagna rolls with butternut squash and spinach, and caesar salad.
All of the food is prepared with ingredients that are either locally sourced, or sourced within New York state.
"I order ingredients twice a week via email and the farms deliver them," she said.
Billerman orders vegetables frequently from Juniper Hill Farm in Wadhams, occasionally buys whole pigs from Mace Chasm Farm in Keeseville and beef from Asgaard Farm & Dairy in AuSable Forks.
And she gets her grains and beans from Regional Access, a distributor based in Ithaca.
"They're right here. It's delicious and fresh," she said. "We know where it comes from, and we know what they're putting into it. I try to get as much as I can locally, because it supports them, and they support me."
Billerman said a lot of restaurants choose to buy ingredients from a single big distributor because it's easier, and it's often less expensive. But buying locally is important – and in her opinion, ultimately results in food that tastes better.
"The vegetables last longer. They're fresher," she said. "They really do have a big difference in taste, I think."
The Good Bite Kitchen is susceptible to the same challenges of other businesses throughout the Tri-Lakes. Finding staff is difficult, Billerman said, and the number of customers ebbs and flows depending on the time of year. Generally, she serves anywhere from 20 to 40 customers each week.