SAVOR THE SEASON: Traveling macaron maker makes a Keene Valley visit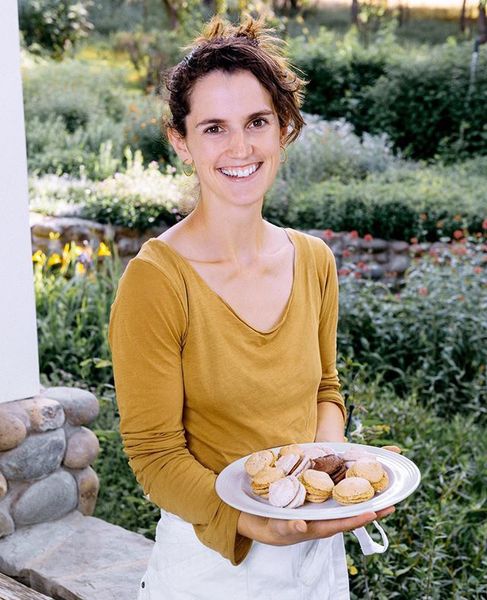 KEENE VALLEY – Margaret Waterhouse wanted a challenge.
When the Davis, California, native started baking French macarons in high school, it wasn't because they were her favorite dessert. For her, the lure of the colorful, delicate meringue cookies was in their deceptive simplicity – and the technical skill required to pull them off. She wanted to see if she could do it.
Far from her mind was the thought that someday she'd be in the middle of the Adirondack Park, using fungus as a filling for her macarons.
Waterhouse arrived in Keene Valley earlier this month and took over the Rooster Comb Inn for a little over a week while the owner, Magdalena Janek, took a vacation.
While there, Waterhouse set up a pop-up macaron operation, selling the sweet treats on the neighborhood social media network Nextdoor and at a booth at Green Goddess Natural Foods in Lake Placid.
Her stint at the Rooster Comb Inn was the latest stop in a cross-country baking tour she's taking with her 3-year-old son Daniel. So far they've traveled from California to Portland, Maine, and Washington, D.C. At every stop she's been immersing herself in local flavors.
Macarons, Adirondack style
When she turned her gaze to the Adirondack landscape, there was plenty of flavor inspiration to be found.
"The goal was to make everything with locally sourced ingredients," she said.
Waterhouse managed to pare her ideas down to three different concepts: a hazelnut macaron filled with chocolate, honey and chaga, a virtually tasteless fungus that grows on the bark of birch trees and is considered to be medicinal in nature; a pistachio macaron filled with lemon-maple cream cheese; and an almond macaron with peaches and Pound Cake, a soft cheese from Sugar House Creamery in Jay.
The latter proved the most difficult to pull off. She looked everywhere for locally grown peaches but couldn't find any.
The answer was closer than she could've imagined. A neighbor in Keene Valley came to the rescue.
"I found someone with a backyard tree and got some of her peaches," Waterhouse said. "It just worked out."
Recipes in mind, Waterhouse took over the kitchen at the Rooster Comb Inn and started making macarons.
Light meringue circles with a delicate crisp shell, some spotted brown and white, were stuffed with thick slices of soft cheese and mounds of fresh peach flesh. Others she filled with a sweet brown paste, a creamy concoction that's two-thirds cocoa powder, a third of honey to taste, and a healthy sprinkle of powdered chaga.
Another batch was filled with a cream cheese filling flavored with lemons and grade-A maple syrup from Oak Ridge Mapleworks.
Janek, who is a friend of Waterhouse, put out a call for orders on Nextdoor. They came quickly.
"People received it really well. Even after I sold out, I still had orders coming in, and I had to turn people away," Waterhouse said.
Return to Adirondacks
Waterhouse's stop in Keene Valley wasn't her first time visiting the Adirondacks. Six years ago, she followed her ex-partner to the area and worked at North Country Creamery in Keeseville as a cow milker. She fell in love with the Adirondacks, particularly Keene Valley, where she spent most of her time.
The sense of community that can be found in Keene Valley is what she loved most about living here.
"People actually know each other. This is the only place I've lived, ever, where people actually know a lot about each other. Sometimes it's a little too much," she said. "But people take care of one another and look out for one another. There's this element of, 'We're all in this together.'"
She said she also loves "the vibrancy of the local farms."
"I was excited to come here and get raw milk and local cheeses," Waterhouse said. "There's a lot to love."
Waterhouse's hometown of Davis, California, also has deep roots in agriculture. The city was even named after Jerome Davis, a prominent local farmer. She grew up as the daughter of a man who worked in wine. From a young age, she was steeped in "slow food," a movement promoting traditional cooking with local ingredients that grew in response to the popularity of fast food.
Waterhouse said she has always been passionate about "small agriculture," and connecting the dots between farms and the food on her plate. By the time she was 10 years old, she was making her own meals. And she encourages others to do the same.
Waterhouse is chronicling her cross-country adventures online. Her travel schedule and photos of her creations will be available on Instagram at @wmargaron and on Facebook at facebook.com/wmargaron.