SAVOR THE SEASON: Goat farming in the Adirondacks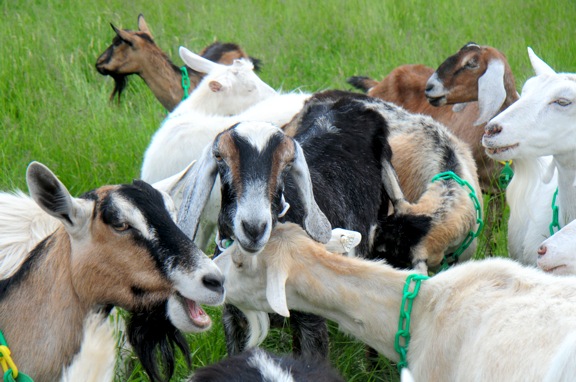 AuSABLE FORKS – They don't eat tin cans.
In fact, goats are actually picky eaters, according to Asgaard Farm & Dairy co-owner Rhonda Butler.
"They like good grass. They like to eat things in the woods like bark off the tree and bushy limbs," she said. "The idea that they'll just eat old hay or tin cans … if you put them in a mixed pasture, they definitely go for the good stuff."
Asgaard Farm, nestled against a backdrop of the Adirondack High Peaks and down a secluded road near the hamlet of AuSable Forks, is among the North Country's only goat dairies, and one of only a handful that exist in New York state. The farm boasts a flock of roughly 80 milkers, kids and male goats for breeding.
Running a goat dairy isn't easy. But it's a life that Butler and her husband David Brunner chose.
Butler and Brunner bought Asgaard Farm more than 30 years ago. At the time, the couple was living in New York City. They found themselves visiting the North Country frequently to visit Brunner's family in the Lake Placid area.
"We kind of tripped over this property when it was for sale in 1988," Butler said.
Butler, a Tennessee native, and Brunner, who grew up in Ohio, saw buying the farm as a way to reconnect with where they came from.
"We were returning to our roots in a way. We were looking for a farm that could be a working farm," Brunner said.
In the early years of their ownership, the farm was a place where the two could take their daughter, Joanna, and get away from the city to decompress. Over the next 20 years, they slowly restored the buildings on site and the surrounding fields, which had been built and owned by painter Rockwell Kent.
"When Rockwell Kent established the farm, it was primarily a Jersey cow dairy," Butler said. "He bottled the milk and sold it, delivered it to the surrounding area."
"He had a fairly full range of dairy products that he processed here and delivered locally," Brunner added, showing a collection of old packaging from Kent's time there.
Kent lived at Asgaard from the late 1920s to 1971, when he died in Plattsburgh following a stroke. The farm was recently nominated to the state and national historic registers.
The goats came into the picture when the couple's daughter was around 10 years old. For whatever reason, she wanted a pet goat. So the family went to a farm in Peru and picked out two.
"We fell in love with them, and that just snowballed into a goat dairy," Butler said.
The family's two pet goats were bred, and when they had kids, eventually they started milking them.
Asgaard's goats are generally bred in late November or December. The "dam," or mother, typically has a gestation period of five months. The kids are born in mid-March or early April. That's around the time the farm hosts its annual Kidding Day, when they invite the community onto the property to check out the newborns.
Butler and Brunner typically pick the kids in advance they're going to keep based on the mother's milk production. The rest get sold.
The kids drink their mother's milk up until they're eight to 10 weeks old, Butler said, when they start grazing in the fields or "browsing" – foraging through the woods for tree bark or bushy limbs.
"We rotate them around," she said. "They don't stay in the same place for more than two days."
If a goat stays in the same paddock for a long period of time, certain issues arise.
"They constantly need things to eat," Butler said. "If they stay in the same place for a long time, parasites are also a real threat."
Goats stay outside out in the fields for most of the day – unless it rains.
"They hate the rain," Butler said. "It's unclear why. Sheep and cows seem to tolerate the rain fine. It's thought that it has to do with their evolution and parasite avoidance. Parasites do proliferate in the rain."
Goats hate the rain so much, they may attempt to bust out of their paddock to get into the barn. If they can't escape, "they'd just suffer. They'd be miserable," she said.
Beyond keeping goats out of the rain, providing something for them to jump on is important.
"From the time they're born, they naturally like to jump and climb," Brunner said. "We've bought in the past the round spools that they put wire on, and those things have been very useful for them."
When the goats reach 80 to 85 pounds, they're big enough to breed.
The goats at Asgaard are milked twice a day, something of a spectacle for first-time observers.
White wooden doors to the milking room, a pristine area with concrete floors, swing open. Twelve goats enter at a time, single-file, and neatly take their place one by one without much prodding. An automatic milking machine gets the job done as the goats enjoy a snack, and the milk gets funneled into another room, where the cheese-making process begins. The milking process for a single group of goats takes minutes.
Brunner said the farm's creamery was built later in their ownership, and the dairy was up and running by 2003.
"We had lots of milk, so we started playing around in the kitchen making cheese, and some of it turned out to be pretty good," Butler said.
When they started, their offerings included just three cheeses.
"We were selling fresh chevre and one of the buche cheeses, and feta," she said.
Somewhere around 2005, they accidentally made a soft-ripened cheese. A small batch of cheese was put away.
"It was in this interior room that was dark and insulated," Butler said. "We sort of forgot about it, actually. I remember going in there one day and finding it. We tasted it, and it was good – surprisingly good.
"That was the moment that I thought, 'On my goodness, this is not your run-of-the-mill, simple cheese.'"
Their product line grew to five main cheeses, and the farm now offers flavored versions of the chevre. They also use the goat milk to make handcrafted caramels and soap, and they sell grass-fed beef, pork, chicken and eggs. The property also includes a farm store and a farmstay opportunity.
For more information about Asgaard Farm & Dairy, visit online at asgaardfarm.com.