UP CLOSE: Burdick is new LPCS athletic director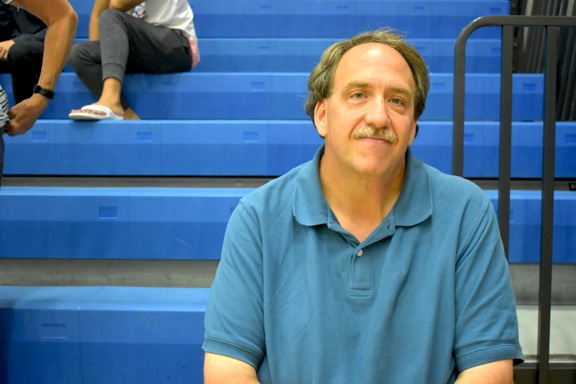 LAKE PLACID – John Burdick walked from the gymnasium to his office. The Lake Placid varsity volleyball team had just finished a scrimmage against Saranac Lake. Within the few feet from the gym to the coach's office, he was stopped by three student athletes with whom he had a rapport.
"Mr. B." – as they called him – updated them on how their younger siblings had done in math class last school year.
Burdick, a longtime teacher and coach, recently took the position as the new athletic director for the Lake Placid Central School District.
The position was previously held by Donna Moody, who had been a coach, physical education teacher and athletic director in the district over 31 years.
Moody is actually the one who got Burdick, a math teacher at the Lake Placid Elementary School, into district sports. She noticed his enthusiasm at his daughter's games and figured he'd fit right in as a coach.
"I came to games because I was watching my daughter (Courtney)," he said. "Donna saw how involved I was as the loud parent and knew I was teaching, so she asked me if I wanted to pursue coaching.
"At the time, I went to all of Courtney's games. She did not allow me to coach her, so I coached levels below her and gradually worked my way up as she got out of those programs. I never did coach her directly. That was her wish."
For the past 15 years, Burdick has coached basketball, softball and soccer.
The main challenge for Burdick in his new role as athletic director is finding adults and students to participate in sports.
"I think typical challenges with any athletic director are finding enough quality coaches and keeping their certifications up to date," he said. "The state continues to add layers of responsibilities for coaches to stay certified, especially those who are not teaching. So that's one challenge. There's also been a kind of a natural national drop off in the number of athletes that are competing. The percentages are dropping, not significantly, but when you take two kids out of a class of a smaller school, you know, that can have an impact. So I think maintaining those numbers and maintaining the interest is kind of a continuing need for all coaches especially in the smaller schools."
Connecting with kids while they're young will keep them in the athletic program, Burdick said.
"I think it all starts at the youth programs. One of the things that I hope to continue, and most of our coaches are wonderful at it, is I feel the varsity coach should be the manager of the entire program and that starts at the youth level. Some of our coaches are amazing and do some amazing things and work with our youth all the time. I just think if we continue to do that and build on it, that's how you keep numbers up."
A lot of what an athletic director does in 2018 is attached to communication and administration skills, Burdick said.
"There's a lot more reliance on the social media aspect – emails, group texts, different levels of social media," he said. "I think that's continuing to grow. The other piece is there are a lot of different mandates by the state, and that's kind of changed what athletic directors need to do. They've added certainly a layer of paperwork that wasn't part of the deal 50 years ago."
Burdick originally moved to Lake Placid in 1985 when he got a job working for Stewart's Shops.
"It wasn't my intention," he said. "I had gone to college initially for teaching, got sidetracked and worked for Stewart's. That's how I ended up in the community. I went over to this shop here in Lake Placid and was a store manager there for 16 years. Then I went back to school to finish my master's (degree). It was very fortunate I could stay here in Lake Placid and teach."
In his 33 years in Lake Placid, Burdick said the biggest change he's seen is school enrollment. It's gone down. He said it's not unique to Lake Placid, but it is definitely noticeable.
"I think my daughter's class, which was 10 years ago, graduated in the 70s," he said. "A typical graduating class now is probably in the mid-40s to 50. That's been significant, and that's the whole area that's the biggest change, I think, which has made some programs have to trim down. There are fewer [junior varsity] teams. That's more of a continuing trend, and there are more merging teams, too. We have quite a number of sports that we've merged with Saranac Lake. Keene has joined us with some kids. That probably will continue to grow."