GIVING BACK: Cutting board maker works full-time for others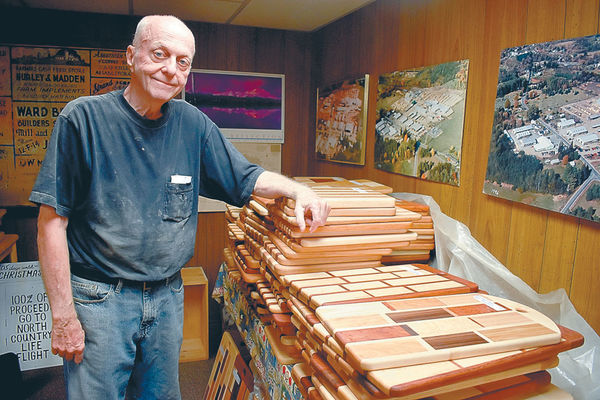 JAY – Sid Ward has about 20 different signs sitting in his basement. They all say something like "100 percent of the proceeds go toward the Jay Volunteer Fire Department," or "the Wells Memorial Library," or "the Keene Valley Congregational Church."
"We're in a poor neighborhood," Ward said. "Libraries are poor. The churches are poor. Fire departments are hurting. So I've expanded to 12 or 13 sale events a year. They loved to have me come because I set up my tables and trailer and put out about 500 boards."
Ward has made and sold cutting boards for the past two decades. He sells the boards throughout the year, and all of the money goes toward local charities and organizations.
Ward and his wife Jan spend the winter in Florida, so from March through September, he's busy at work. He makes 10 cutting boards a day, seven days a week. That's 300 a month.
"It is full-time work," he said. "I'm working more than 40 hours a week in retirement."
When the News visited his home and workshop recently, Ward had just finished a batch of cutting boards. They lay drying against his fireplace.
Ward said he grew up in the middle of his family's lumber yard, Ward Lumber in Jay.
"When I was young, I used to go over to the mill-workshop where they made windows and doors and things," he said, "and because my grandfather ran it and three of my uncles worked there most of the time, I became right at home around the equipment."
He grew up, went to college and came back to the lumber yard, where he worked until he retired 20 years ago.
"Now our two sons own the business," he said. "One owns the retail, and the other owns the sawmill."
Ward coughed a little as he said that last thought.
"Too much dust from the shop this morning," he said.
It's true. While Ward's shop is clean enough to navigate and everything has a place, piles of sawdust stack up underneath saws and sanders like dunes on a beach.
The shop is modern. It might look like a high school technology classroom, but his practices are progressive and eco-friendly.
"None of the wood is wasted here," he said. "All the extra pieces I trim off go toward other cutting boards, or I can sell a bucket of scrap pieces to the thrift store. My son comes by every now and then to take wood and sawdust for his wood boiler. So nothing isn't used."
All of the wood Ward uses to make his cutting boards are from the Adirondacks except for the Brazilian cherry – that's from Brazil, of course.
He doesn't just make one board, either. Some are round and more suited for serving cheese. Others have grooves to keep meat juice from getting all over your counter. Some are shaped like moose, cats, fish, pineapples and maple leaves – while not the most practical, they sure look impressive. One design almost resembles a De Stijl painting with different sizes and shades of rectangular wood.
"I call that the 'quilt board,'" he said. "It's mixed pieces. All the quilters love it."
After he's glued all the wood together, shaped the boards and sanded them multiple times, he applies a walnut oil finish.
"It's all natural," he said. "It's not like your Chinese import that has a varnish on it that you're not sure what it is. You can cut that stuff, and it comes off into your food. A lot of tender love and care goes into mine."
He works almost every day, constantly buys lumber and gives the proceeds. How does it stay operational?
"My wife writes the check," he said. "We're fortunate that we can do it. I don't drink. I don't smoke. I don't gamble. I don't have a drug problem. I don't have a four-wheeler or a boat. I spend all my time in my shop. I don't have time for any of those things. My only bad habit is buying lumber."
At 76 years old, Ward suffers from arthritis in his knee and said only physical complications would keep him from making cutting boards.
"Somebody asked me, 'Why don't you quit doing it?'" he said. "I could, but what group do I tell I'm no longer making boards? My local fire department? The church next door? The thrift shop? The Riverside Thrift Store behind the Methodist church sells a board an hour."
One person stuck out in Ward's mind as to why he continues to make the boards – Sister Yvonne Cusson of the Holy Name Catholic Parish in AuSable Forks.
After selling the boards, Ward wrote a check to the church. The first year Ward donated money, Cusson went to shake his hand. He asked if he could get a hug instead. That was the exchange for the next 10 years – a check for a hug. Before Cusson passed away of ALS in 2016, Ward said he might be finished making cutting boards. Cusson couldn't talk at the time, so she wrote on a whiteboard instead.
"Please keep coming," her message said. "We need you."
Ward put an arm around her and said, "For you, Sister Yvonne, I'll keep going."
Some people asked why Ward was making donations to a Catholic church when he is actually a Methodist.
"Those folks are friends of mine," he said. "They've been customers in our business over the years, and many were employees. Some of our best employees go to Holy Name. You know, I'm working for God, not for any certain group."