World Cup luge returns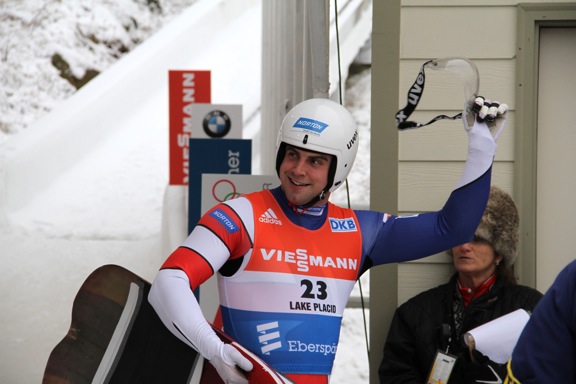 LAKE PLACID – USA Luge fans will once again be able to see 2018 Olympic silver medalist Chris Mazdzer compete at the Mount Van Hoevenberg sliding center this winter as the World Cup luge race returns Saturday and Sunday, Dec. 15-16, according to state Olympic Regional Development Authority and USA Luge officials.
"We're excited to have World Cup luge racing return to Lake Placid for a fourth consecutive winter," ORDA President/CEO Mike Pratt said in a press release Tuesday. "It's the track staff's commitment to offering the best track and condition possible that continue to make the track at Mt. Van Hoevenberg a destination for these world-class athletes and the sport of luge."
Over the past two seasons, Tucker West, of Ridgefield, Connecticut, has won two medals on the Lake Placid track. He will be joined by Mazdzer, of Saranac Lake, who won the silver medal in the men's singles event in February during the 2018 Olympic Winter Games in Pyeongchang, South Korea.
USA Luge's Erin Hamlin, of Remsen, retired after competing in this year's Olympics, four years after earning the 2014 bronze medal in Sochi. Yet her 2018 Olympic teammates, Emily Sweeney, of Suffield, Connecticut, and Summer Britcher, of Glen Rock, Pennsylvania, are planning to return to the World Cup circuit in the fall.
"We are once again looking forward to partnering with the FIL and ORDA for the 2018 Viessmann World Cup in Lake Placid," USA Luge president/CEO Jim Leahy said in the release. "Competing on home ice is something we highly anticipate. Having events here is very important for the growth of our sport in the U.S. and for our team's visibility. We know that from the racing conditions at the venue to the activities that make for a great event, ORDA will create a memorable experience for our athletes and fans. Thanks to the FIL for continuing to have faith in our organizations."
There will be races for men and women's singles, doubles and sprint format.
Additionally the 4th annual Running of the Balls benefit will also be held at 3 p.m. Saturday, Dec. 15 after the last run of the doubles' competition. During this USA Luge fundraiser, more than 1,000 lacrosse balls will be released down the one-mile track, and people "adopt" balls that are numbered.
Television coverage of the World Cup will be provided by NBC. NBC Sports Network will air two hours of coverage on Sunday, Dec. 16 starting at 4 p.m. The Olympic Channel will also cover the race, with the complete schedule to be announced in the fall.
For more information about USA Luge, visit www.usaluge.org.