Short track action speeds through Lake Placid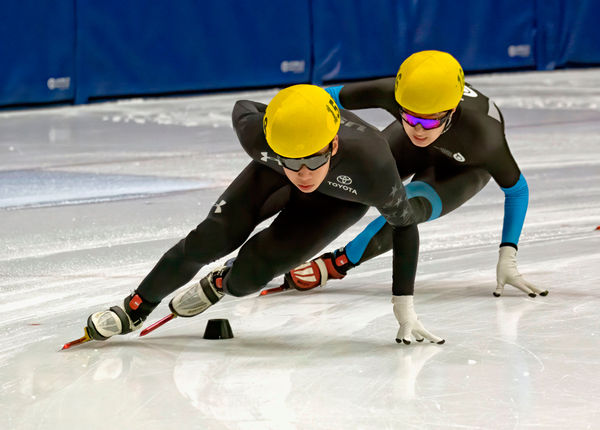 LAKE PLACID – Combining the thrill of NASCAR racing, the precision of cycling and the speed and agility of hockey, short track speedskating is one of the most extreme sports on skates. Fifty competitors representing three countries – the United States, Canada and Hong Kong – sped into the Olympic Center's 1932 Jack Shea Arena for three days of exciting races Feb. 14-16 at the U.S. Short Track AmCup 3.
Unlike long track metric racing, in which skaters race in pairs, short track skaters race in groups of up to seven, all jockeying for position. Falls are common, and pads line the boards to protect the skaters. They also wear cut proof suits and helmets to minimize the danger of impact with each other.
In Lake Placid, skaters had to make it through the competitive quarterfinal and semifinal races in each distance to qualify for the final round in the 500, 1,000-, 1,500- and 3,000-meter distances. The event also included 2,000-meter relays, in which teams helped propel each other around the rink, making for an even more exciting competition in which fans cheered like they were at a football game.
Winning the ladies division overall was Ayisha Miao Qi of Canada (102 points), followed by Kamryn Lute of the USA (55 points) and Emanuelle LeClerc of Canada (26 points). Training in Quebec, 13-year-old Qi is originally from China, and has been a skater to watch since her arrival there several years ago, winning a gold medal in the 1,000-meter last year at the 2019 Quebec Games.
"I really like that little town. There were posters everywhere to make you excited, and the people are nice," Qi said. "I really enjoyed the competition because it was very well organized, but most of all I appreciated making many new friends during the event which made my first trip to the USA unforgettable. I'd love to come back to Lake Placid again to visit."
The men's division winner was Jonathan So, second was Benjamin Thornock and third was Wesley Park, all of the U.S. So trains in Salt Lake City, and was one of the youngest skaters on the U.S. National Short Track Team during his first season with them last year. Since then, he has skated in World Cup events, and the Lake Placid AmCup was a good opportunity to hone his competitive skills.
"I felt pretty good about my races," So said. "It was nice to get a good feeling with the ice and get some confidence in myself, and I also really enjoyed racing my teammates from Salt Lake City."
This was So's first time in Lake Placid, and he appreciated skating here.
"(The 1932 arena) was a nice rink with more people than I expected, so the environment was really nice," he said. "The ice was good and I'm hoping they make Lake Placid an Olympic destination again."
While So's competitive season ended with this meet, he noted that he will still be "training hard and building a good base for next season."
Lake Placid hosting another such event in the future seems likely since part of ORDA's renovation plans in the Olympic Center involve modifications that will allow the facility to host more elite short track events in the future.
The next speedskating event in Lake Placid is the second annual Eric Heiden Challenge on the Oval, in which participants race every event Heiden won gold in at the 1980 Olympic Games.
For more information on elite events like AmCups, visit www.usspeedskating.org. And for more information on local speedskating events, including the Heiden Challenge, visit www.lakeplacidspeed.com.