LOOKING AT THE MIRROR: Thinking of Mirror Lake protection on Earth Day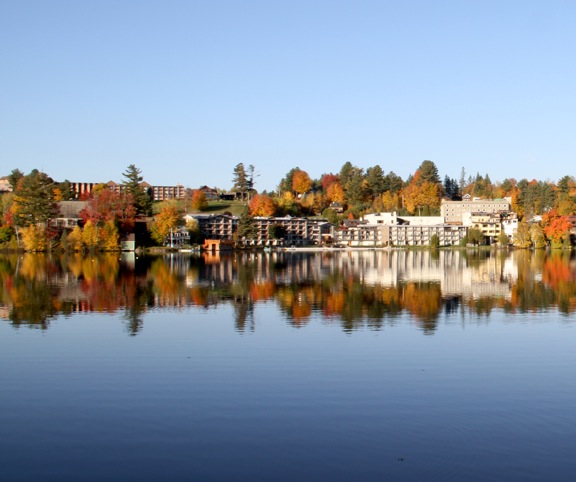 When I was a kid (you know how this goes), I had to ride my bike 10 miles to school. The roads were curvy, well-traveled roads with no shoulders, and it took me an hour.
Well, I did do that, once. It was April 22, 1970, and my usual carpool was observing the very first Earth Day. It was a beautiful, spring day in Baltimore, Maryland, and our band of seven was surprised how easy and pleasant the ride was. And yet, we never did it again. Granted it was a fairly risky undertaking, and our parents were probably relieved to know we all made it to and from school in one piece.
However, we did manage to do our very small part in a much bigger effort that included an estimated 20 million people across the country, to help increase awareness of the fragility of Earth, an idea that had been gathering steam ever since Rachel Carson wrote about the dangers of pesticides in her book, "Silent Spring." Three months later the U.S. Environmental Protection Agency was born and the Clean Water and Endangered Species Acts soon followed in 1972 and 1973, respectively.
And here I am 51 years later, still sounding the alarm about the need to protect our environment, now focusing on Mirror Lake, the focal point of our community. How awful it would be if one day our lake became one of the many previously pristine lakes contaminated because it was taken for granted. You may already know this, but it's important to remember, as the most developed lake in the Adirondack Park, Mirror Lake lives precariously on the edge.
It has a lot of environmental pressures to stand up to every day, all year long. There is a long list of assailants: from road salt, to litter, to shoreline cutting, stormwater runoff, animal waste (think ducks, geese, and dogs), yard and garden pesticides, non-native plantings, harmful algae blooms, and the frightening possibility of invasive species which there is currently no remedy for and may easily and unknowingly be brought in on boat hulls and fishing gear. It's going to take a concerted effort to protect this treasure, and on Earth Day which is deservedly evolving into Earth Month, we should remember how much we value Mirror Lake.
It can be overwhelming to think about the environmental precipice we find our world teetering on, and so we must focus on what it is we can do as individuals and members of a local community that cares. We need to commit to living by, not just quoting, the words of Margaret Mead, "Never doubt that a small group of thoughtful, committed citizens can change the world; indeed, it is the only thing that ever has."
So, in celebration of Earth Month, we could locally think of April as a time to especially appreciate Mirror Lake. Ice out was April 9 this year, and within days, in spite of the dangerously frigid water, boaters were out in droves. Besides boaters, the lake has already hosted a loon, an otter, and a heron much to the delight of Northwood School Biology teacher and dedicated Mirror Lake Watershed Association board member, Marcy Fagan. How's that for a thriving ecosystem that deserves protecting?
There are many ways we might honor Mirror Lake this month. We could get a jump on Village Clean Up Day which has been set for Saturday, May 1. Maybe take a friend along to make it more fun. Unfortunately, we are seeing more litter than ever this spring thanks to the unprecedented number of visitors and others eager to shed their face masks. Why people don't carry them to the nearest trash receptacle is hard to fathom, but they can be found all over town and need to be collected. Dog walkers are not always vigilant about picking-up their pets' waste which, if close enough to the shoreline, gets washed into the water so helping with that unpleasant chore is another honorable contribution anyone can help with.
Owners of lakefront property can respect the health of the lake by not clearing vegetation all the way to the shoreline, not using pesticides and fertilizers on their lawns, and replacing non-native plants with native varieties. Additionally, they can do their part by cleaning-up their shoreline and making certain their docks are not losing foam particles. These bits of foam are not only unsightly; they seriously threaten fish and birds because styrofoam never fully degrades, obstructs their digestive tracts, and poisons wildlife with toxic chemicals. These chemicals can eventually make their way up the food chain to humans.
Once your work is done, there is something else you should do to celebrate this priceless resource; go enjoy it! Of course, there is the much-loved walk around the lake with its variety of fine scenery, but maybe you can't wait to fish or boat– with life jackets, please, until things warm up because you can't survive for long at the water's current temperature of 47 F. What's more, it's state law until May 1. Maybe, on one of the warmer days, you could take a child to the playground at the beach, read a book, write a poem, take some photos, or make a drawing or painting of this iconic place. Whatever you do, take time to remember why we all should bother to preserve this special body of water in the middle of our village.
To learn more about the volunteer efforts of the Mirror Lake Watershed Association to protect Mirror Lake, go to mirrorlake.net or join us for our monthly meetings on the second Monday of each month on the second floor of the public beach house or via Zoom.
(Sandy Edgerton Bissell is a Mirror Lake Watershed Association board member in Lake Placid.)