SAVOR THE SEASON: Indulge with turkey chili and crab plate for winter comfort food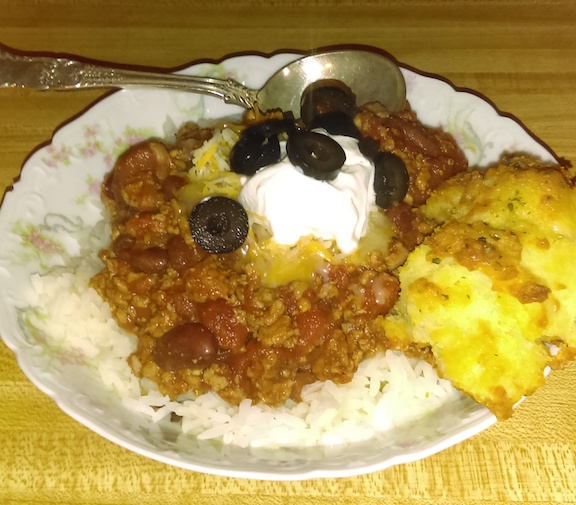 What to savor for winter? I relish the task of perusing and deciding what to share as much as I do making the recipes and writing the column.
I enjoy the dog-eared, smudged and worn pages these recipes are written on. They have eternal life, one that reminds me of people, places, family, friends, and all the occasions I've enjoyed the dishes.
For winter, I think of something hearty, warm, something to feed a crowd. Why not chili? Chili in general is a fairly forgiving dish. The basic ingredients and flavor profile is a pretty sure bet to success. This recipe in particular has a few unexpected ingredients that give it fantastic flavor. If you're skeptical about the Turkey, put your bias aside. The texture of cooked ground turkey is remarkably similar to ground beef.
—
Vanity Fair Turkey Chili
(This recipe is written on Vanity Fair Magazine note pad paper, no other name or attribution for the recipe, so I just call it Vanity Fair Chili)
2 lbs. ground turkey, cooked, drained
2 16 oz. canned whole tomatoes, undrained
2 15 1/2 oz. red kidney beans (dark or light), drained
8 oz. tomato sauce
1/2 cup chopped onion
1/4 cup dry red wine (optional)
1 teaspoon parsley flakes
3/4 teaspoon basil
3/4 teaspoon oregano
1/2 teaspoon black pepper
1/2 teaspoon cinnamon
1 clove garlic, minced
1/4 to 1/2 teaspoon red pepper flakes
1 bay leaf
In a large stockpot or Dutch oven, cook turkey through on medium heat until fat is rendered off. Drain. Add onion and garlic and garlic, stir, and cook for a few minutes to soften slightly. Add remaining ingredients and stir to combine. Cook over low-medium heat for 20-25 minutes, stirring occasionally, breaking whole tomatoes up as they soften. Simmer slightly longer for desired consistency and to meld flavors.
Serve with topping of sour cream, scallion, grated cheddar or cheese blend, chopped black olives or other condiments you like. I recently served this with cheddar biscuits, but any nice Italian or crunchy crust bread, or even saltines work well. Enjoy!
—
Crab plate
For something a little decadent, this appetizer was always my mom's go-to dish when entertaining at home or when she brought something to share to a party. It's festive, colorful, and absolutely delicious. This recipe is written in my "Cook's Notebook," given to me by my college roommate, longer ago than I care to admit. The pages have clever, pithy and many times humorous quotes from myriad authors, artists, chefs and personalities, about food and gastronomy. On this particular page, actor/director Woody Allen is quoted:
"For when we lose 20 pounds, dear reader … we may be losing the best 20 pounds we have! We may be losing the pounds that contain our genius, our humanity, our love and honesty."
8 oz. cream cheese, softened
2 teaspoon Worcestershire sauce
2 teaspoon lemon juice
5 teaspoons mayonnaise
1/2 smallish onion, grated
Dash or two garlic powder or garlic salt
1/2 bottle chili sauce
6 oz. crab meat (snow or king), flaked
Cream together cream cheese, Worcestershire, lemon juice, mayonnaise, onion and garlic. Spread evenly over a dinner plate. Pour chili sauce over top and spread evenly over cream cheese mixture, leaving a small border of cream cheese exposed (looking a bit like a pizza).
Arrange crab over prepared plate. Chill for a few hours, or overnight. Sprinkle with a bit more lemon juice over the chilled dish just before serving. Serve with Town House Crackers (others will do, but my family always served with these).
If you're wondering what to do with the other half of the bottle of chili sauce, just add a tablespoon of horseradish to taste, a tablespoon of small diced celery, a little lemon juice, and you've got cocktail sauce. Enjoy!
—
Here are some parting thoughts as we ring in 2020:
"Just because you have four chairs, six plates, and three cups is no reason why you can't invite 12 people to dinner." (Alice May Brock, American cook and restaurateur)
"It isn't so much what's on the table that matters, as what's on the chairs." (W.S. Gilbert, English author and librettist)