NORTH COUNTRY AT WORK: Leroy Peet on making paper in Newton Falls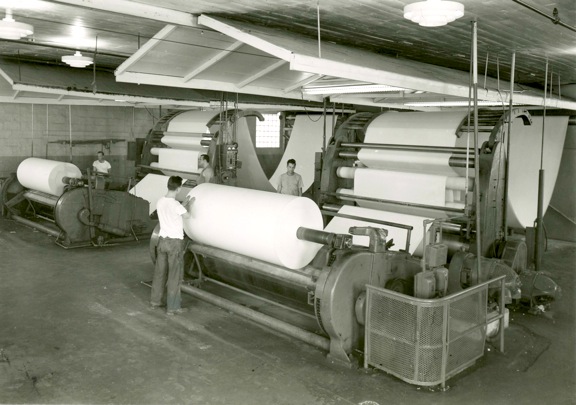 CRANBERRY LAKE – In the fall of 1968, Leroy Peet returned home from the U.S. Army. He spent some time as a forklift operator for Adirondack Plywood, but he wasn't happy with the job. The following spring, he was tipped off about open interviews at the Newton Falls Paper Mill.
It wasn't long before Peet found himself sitting in front of Gordon Black, who was hiring for the mill. The interview went well despite Peet not knowing he was supposed to bring an application. Black asked Peet to take an application and get references from some well-known people in the town, including the school principal and a town cop. Peet returned later that day with the references and was working at the paper mill a week later.
"There were people on that bench who had been going time after time. I was just lucky."
With more than 30 years working for the Newton Falls Paper Company, Peet had the opportunity to work a variety of jobs. His first was working in the company's labor pool, doing maintenance around the mill. As the years went by Peet held other positions. He did everything from being an inventory operator, working with the roll racks, an electrical switchboard operator, working with paper coating and more.
The mill wasn't always the safest place to work.
"There was one point – I don't like heights – they had me on a 30-foot ladder, reaching up painting. It was a wooden ladder, wobbled both ways. And there was a guy on the roof reaching down to me and he couldn't quite reach this one spot and I started to step up and I realized it was a broken rung. I said I'm not going back up there again."
Sometimes the machinery was fixed under questionable means.
"At the mill there's what they call a penstock. It's a huge water line that runs through, that feeds water to generators to generate power. We had to pour sawdust into that to plug up the holes."
Peet was even involved with a serious accident at the mill. At this point in his career he was operating forklifts and moving around heavy machinery. There were large trailers that were used to store company lift trucks. One morning Leroy and three others were to unload the lift trucks.
"We opened up the door; it was a brand new trailer. We could smell gas. It was four of us and I commented to Paul Smithers, I said "You better put your pipe out." We walked around and Jack Laplatney got on the lift truck and tried starting it. Nothing happened. We all walked out except for Jackie. He stayed on the lift truck. Neil went off to the side. I started climbing on a larger lift truck and Walt was behind me. Jack tried it one more time and the trailer exploded. He caught on fire. I was almost in the seat of the lift truck. It blew me back about six feet. And so we had to put Jack out with our hands."
Despite the danger, Peet worked at the Newton Falls Paper Mill until the very last day.
"Garry Ward and I were the last two people working there. The mill was down, and we were there answering the phone. That was in the year 2000, and I started looking for a job at 54."
After the mill, Peet spent the next year driving an ambulette and a bus.
He then moved on to Sunmount Developmental Disabilities Services, where he worked for 10 years until he retired.