Keene Central School unveils fall reopening plan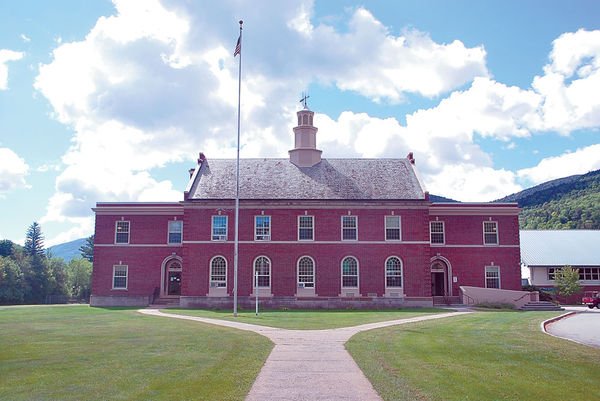 KEENE VALLEY — Keene Central School District officials this week unveiled their reopening plan for students, which includes a mix of in-person and remote learning for grades 7 through 12 and all in-person learning for the lower grades.
The plan was the result of work by the KCS Reopening Committee, consisting of 20 staff and faculty members who met multiple times in the latter half of July. The plan and parent survey were sent out Monday, Aug. 10.
"We're going to use that (survey) to kind of inform our moving forward, make any alterations to the plan if we feel we need to do so," KCS Superintendent Dan Mayberry said Tuesday.
The takeaway?
"That we are all in this together and it requires all of us to do our due diligence in order to ensure the safety for everyone," Mayberry said. "So it's not just about you; it's about all of us."
The 31-page plan is filled with health guidelines to keep students, parents, faculty and staff safe during the coronavirus pandemic. It was sent to the state Education Department and state Department of Health and approved.
It includes having students, staff and faculty continually monitoring any possible COVID-19 symptoms and daily temperature checks. Social distancing at 6 feet apart is to be done as much as possible, and face coverings must be worn at all times that social distancing is not possible.
Depending on the survey results from parents, specifics of the plan could change. For example, if a majority of parents feel safer having students wear face coverings at all times — even when they can social distance — that may become the rule.
"We've tried to plan for every situation, every type of environment, but as planning goes, some things will pop up that you're unsure of, so I appreciate people being patient and flexible," Mayberry said.
—
Schedule and attendance
Keene Central School will be following the legally required 180-day schedule (inclusive of superintendent days). The school year begins on Sept. 2 for staff and Sept. 9 for students.
Students through grade 6 will be in school daily, with Wednesday being an early-release day.
"We understand the challenges in trying to teach an elementary student any number of things," Mayberry said. "They need to work, and still carry on life outside of school."
It's easier to get elementary students back full time in school because groups are usually together throughout the entire day, according to Mayberry.
"When we get into the upper grades, it gets harder with electives and things like that, with students moving through the building and our variety of grade levels interacting in the same classroom," he said.
Students in grades 7 through 12 will have a hybrid model, with two days at school and three days at home, depending on their grade level.
Parents have the option of keeping their children at home for remote learning if they don't feel comfortable sending them to school, Mayberry said.
Teachers are able to social distance their students in the classroom mainly because of the small class sizes. A total of 156 students were enrolled on the first day of school last year.
—
Lessons learned
Students began distance learning at home on March 16 due to the pandemic and did not return to school before the end of the year. During that time, KCS officials learned what worked and what didn't, and they are making adjustments for the upcoming school year.
"One is we're consolidating onto one student management platform when it comes to online learning," Mayberry said, speaking of the Google Classroom software, which is use primarily by students in grades 4 through 12.
The school will also be setting requirements of what it means for students to be engaged. For the older students, that means more face time than in the spring.
"As the pandemic went on — and I'm sure other school districts found the same thing — students sort of started to check out a little bit more, the longer this kind of went in place," Mayberry said. "Our hope is that by having a hybrid model where the kids are in the building a couple of days at that upper level, and then they're doing remote learning, we're hoping we can have stronger engagement throughout the entire time of this process."
In order to be counted as an attendance day, remote learning days will require learning opportunities and student engagement, and attendance will be taken for all classes, whether in-person or remote.
—
Transportation, cafeteria
The cafeteria will be serving food, and classes will be called down separately so students can grab their meals and bring them back to the classroom for consumption.
Bus service is available for students, but not required. Parents need to let school officials know whether they want to use the bus service or transport their children to and from school themselves. Face coverings are required on the bus.
"We're only going to have one student per seat, unless it's family members, and family members will sit together on the bus," Mayberry said.
—
Extra programs
Some hallmarks of the KCS learning experience will be altered this year. For example, as in all schools around the state, sports are not yet approved. And extracurricular activities are not yet being planned.
"We'll evaluate those after we get the year up and running and kind of examine which of those can be done through social distancing or online type of interactions," Mayberry said.
KCS is well known for having a robust international student exchange program, which includes an annual International Night where the foreign students share their culture and food with the community. But that won't happen this year.
"We couldn't guarantee the experience, so we didn't want to take that risk and put people in less-than-ideal situations for such a valuable program," Mayberry said.
—
Senior experience
As students remained at home in the spring, they saw their typical senior experience fade away. No prom. No spring sports. No academic awards ceremonies. The school and community did what they could to make the 12 graduating KCS senior feels special. There was a car parade from Keene to Keene Valley. Photos of the seniors were placed on banners and hung on utility poles along state Route 73 in Keene Valley. And there was an in-person graduation.
"We really tried last year to get the students as close to a regular graduation ceremony as we could," Mayberry said. "Because we had small enough numbers, we could space them. We had an in-person graduation for them and a limited number of family members. The hope is that we could potentially could do that again on some level. In an ideal world, this pandemic clears itself up in a lot of respects and makes that easier. But, who knows?"
While Gov. Andrew Cuomo cleared schools around the state to reopen for in-person learning on Aug. 7, things can change depending on the number of COVID-19 cases. Once having the highest number of cases in the country, New York currently has one of the lowest number of cases among the 50 states. Yet COVID cases continue to rise in other states.
Listen to part of this interview on the "We are Lake Placid" podcast: https://www.lakeplacidnews.com/news/local-news/2020/08/18/we-are-lake-placid-podcast-dan-mayberry-keene-central-school-superintendent/.