SAVOR THE SEASON: New Essex County agriculture plan in the works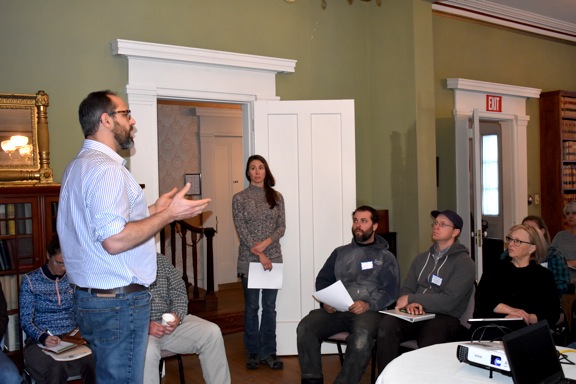 ELIZABETHTOWN – The Cornell Cooperative Extension of Essex County wants to map the needs of this county's farming community, and they need the public's help to do it.
The CCE has commissioned a group of consultants to work with local farmers, consumers and business leaders on a strategic plan that will identify the county's existing agricultural challenges – and opportunities for growth.
The plan, tentatively called the "Essex County Working Lands Initiative," will serve as a foundation for future grant applications, according to CCE Agriculture Resource Educator Carly Summers. It will also serve as a guidance document for the Essex County Board of Supervisors as lawmakers craft local legislation, she said, and will hopefully lead to the formation of a 10-year strategic plan designed to help remedy the ails that inhibit local farmers from growing and sustaining their businesses.
CCE hosted a kick-off event at the Hand House in Elizabethtown on Thursday, Dec. 19.
The process of piecing together this plan is expected to last more than one year and cost upward of $100,000, according to Summers. The state Department of Agriculture and Markets contributed $50,000 toward the plan. Essex County contributed $10,000 in funding and $40,000 through in-kind services.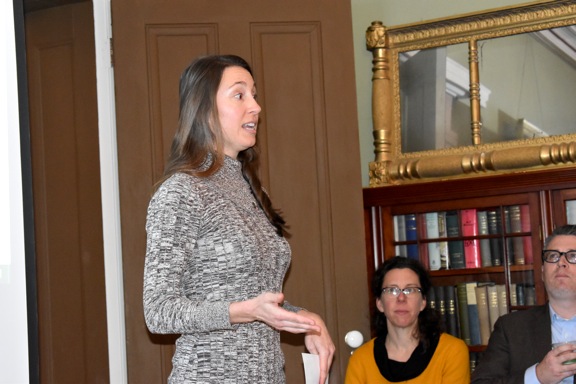 —
Aging plan inhibits
Essex County's last plan of this type was written more than 20 years ago.
Summers said the age of that plan has inhibited CCE's ability to apply for state grants to help local farmers.
"(Our grant applications) basically don't have any backing because we don't have any way to cite our current situation in a way that has actually been vetted by stakeholders and farmers," she said.
The last plan, published in 1997, "led to the formation and success of Adirondack Harvest, which has not only galvanized the small farms in Essex County but has grown into a 10- to 13-county successful system," said Essex County Board of Supervisors Chairman Shaun Gillilland, referring to a CCE program that markets and advertises local farms. "We want something else to come out of this plan. We want more ideas. We want to think big.
"As both fourth-generation and straight-out-of-college farmers know, farming is tenuous. There are challenges with farming in the North Country. This is going to be a kind of unification of the economic sector of agriculture, with government support and citizen support."
—
Planning kicks off
Over the next 18 months, consultants will be interviewing farmers, consumers and other people involved in agriculture, according to consultant Scott Sawyer.
"We're going to do a farmland protection assessment, we're going to evaluate the Adirondack Harvest website, we're going to develop a community engagement process that starts with an advisory group and a community convening, and focus groups on specific topics," Sawyer told a room full of local farmers at the Hand House in Elizabethtown Dec. 19. "We're going to think about how we can tell the stories in your food system better.
"We're going to keep talking to you. We're going to talk and talk and talk until eventually, someone is going to know what we're actually going to do."
Those interested in participating in this planning process are encouraged to call Summers at 518-962-4810. Sawyer said consultants are expecting to set up the first of many public meetings sometime in March 2020.
—
Tri-Lakes market
The Dec. 19 kickoff meeting for the Essex County Working Lands Initiative hosted by CCE drew dozens of local farmers and residents to the Hand House.
A top issue that emerged was the difficulty of connecting farms in the eastern side of Essex County to communities in the Tri-Lakes region that farmers say boasts a critical mass that wants to buy local food.
"Saranac Lake is a very good community for farm-to-table, and Lake Placid has a huge tourist economy that has truthfully never been adequately engaged in this process," said Adam Hainer, owner of the Wadhams-based Juniper Hill Farm.
Hainer said if restaurants and retailers were to divert just 1% of their spending from large distributors such as Sysco to local farms, that wouldn't impact their plate price. But it would "have a cascading windfall effect on all of our local producers."
"To set that forth in policy and work with the very large funding forces that do exist in the Lake Placid and Saranac Lake region. … I'd really feel optimistic," he said.
George Sayward, owner of Ridge View Farm in Willsboro, said distribution and organization remains a huge barrier for Champlain Valley farmers to reach the Tri-Lakes market.
Sayward said in the past, there was a system through Adirondack Harvest that connected farmers to consumers in Lake Placid, Saranac Lake and Tupper Lake.
"There was a lot of potential there," he said. "The people you were delivering your products to were very enthusiastic. It came down to the organization of the whole thing. I think that definitely would've taken off. Getting the people to do the work of organizing it and seeing it through was the problem."
Sayward said to survive, farms need to find more ways to begin to distribute their products outside of the area.
"The distribution issue, I think, is huge," he said. "There's only a limited amount of markets in this county. With smaller farms starting up, the market is pretty saturated, so it needs to get out of Essex County to reach its potential."
Essex County Cornell Cooperative Extension Agriculture Resource Educator Carly Summers introduces the Essex County Working Lands Initiative, the preliminary name for a countywide plan designed to outline local farmers' challenges and serve as the foundation for future grant applications. (News photo — Elizabeth Izzo)