SAVOR THE SEASON: Reber Rock Farm pivots strategy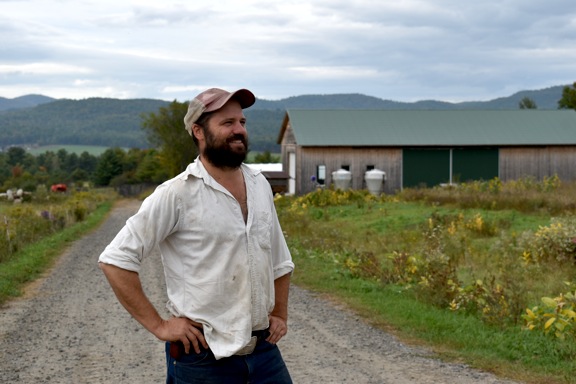 ESSEX – At Reber Rock Farm, the leaves were just beginning to change Monday afternoon, Sept. 23 – the first day of fall and deep into the harvest season.
In a small pasture by the farm stand, two horses shook their heads, blonde and brown hair flying upward. These rare Suffolk Punch colts – with a strong, hefty build and an ability to work long hours – were at the heart of Reber Rock Farm from its inception. The owners wanted to build a farm that relies on these animals to do the heavy lifting.
The farm operations are spread out across a vast swath of Essex. Nathan and Racey Henderson own 121 acres on Jersey Street, lease 70 acres and use another 150 acres owned by Racey's parents across town.
"We're not tilling that much," Nathan said, smirking as he looked at the pair of horses grazing in a small pasture.
Most of that land is used by the farm's animals for grazing. Over time, the Hendersons have slowly been shifting the farm's focus from grains to raising livestock, which is less dependent upon the weather and easier to do on their rocky property.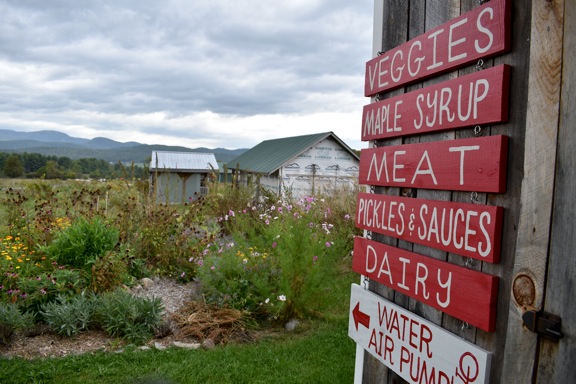 Still, between finding ways to bridge gaps in the local supply and distribution chain and finding a balance between work and raising two children, Nathan said running a farm here isn't easy. He's the lone full-time worker here. Racey works part-time there. She's one of the co-founders of Ndara, a company designed to support women in Central African countries by providing training, marketing and by selling products they produce. She still does some consulting work in Africa, and that's where she was this week while Nathan remained in Essex tending the farm and caring for the children.
Nathan and Racey both grew up in the Boston area, he in the suburban Hyde Park neighborhood and she in the farming community of Wayland, about 20 miles outside the city. But they didn't cross paths until they landed in the town of .
Nathan had a job as a seismic biologist in California, with stints in Spain and Ontario, and she was on break from working in Africa. They both got jobs at Essex Farm. She wanted to get her hands dirty, and he was looking for his way in the world.
The couple purchased their first 88 acres of land, the foundation upon which they would grow Reber Rock Farm, in 2013.
They both wanted to start a grain CSA using draft horses to work the fields, something Nathan said no one in the area was doing. So they started looking for property. A neighbor pointed them in the direction of a parcel of land on Jersey Street that wasn't technically for sale.
"We knocked on the owner's door and asked if he'd sell it to us. He said, 'Sure,'" Nathan said.
Buying land was one thing. Transforming that land into a farm was another. When they purchased the property, there was no infrastructure. There were two barns on site, but they were knocked down and unusable.
With help from another couple who shared their passion for agriculture and horses, Chad Vogel and Gwen Jamison, they built what stands today: a fully-functioning farm complete with a small butcher shop and a farm store.
In Reber Rock's first growing season, the couple started with dry beans and sunflowers. They brought in draft horses and tilled the land. But the weather was rough that year.
"It was a terrible spring," Nathan said. "We probably had 14 inches of rain."
The dry beans failed, but the sunflowers survived. They found a man in Vermont who owns a press and shuttled their crop there, cold-pressing the sunflower seeds and creating their first batch of sunflower oil. From around 2,000 pounds of seeds, they produced 55 gallons of oil.
"It's a novel product, and people think it's cool," Nathan said.
Sunflower oil is relatively common, but not in this form. When shoppers go to the grocery store and walk past the "vegetable oil," some bottles are likely being made with seed oil, whether that be from sunflower or safflower seeds or soybeans.
But vegetable oil is usually processed in such a way that it ends up virtually tasteless. Reber Rock Farm's sunflower oil retains a nutty, earthy flavor that's reminiscent of the seeds that it came from.
It's great for cooking with, Nathan said. It also works well on salads you'd normally put sunflower seeds on, as a marinade for vegetables, or in dressings and mayonnaise.
The product was well-received, and they still sell it, but scaling that business larger required marketing and business resources that Nathan said he didn't want to focus on. Over time, the farm's business model has shifted to focus more on cattle and perennial crops.
The land that Reber Rock Farm was established on is difficult to till or grow grain on. Like the name would suggest, there's a lot of rocky terrain. Caring for cattle and running a small butcher shop on site is less labor intensive, Nathan said, and less weather reliant.
The farm's on-site butcher shop is small – the size of a two-car garage – but it's built to be efficient. A hook and rail system provides seamless transport from the outer deck to a cooler inside, where the meat is left to age and is later cut up and processed. They process beef, pork, chicken and turkey there, both from their farm and others.
As the leaves begin to change, Reber Rock Farm is progressing into one of its busiest seasons. Their largest-grossing product is cattle, Nathan said.
"We are not slowing down yet," he said.
Reber Rock Farm sells its products online at reberrockfarm.com, from its farm store on Jersey Road and at the Keene Farmers Market at Marcy Field.