UP CLOSE: Alison Simcox is new marketing director at LPCA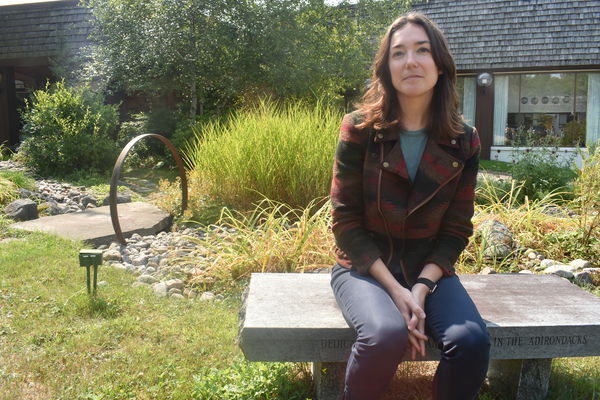 LAKE PLACID – Alison Simcox recently took the position of marketing director at the Lake Placid Center for the Arts, and while she's an artist herself and works for an organization that highlights culture, she said the business administration aspect is just as important as the creative part.
Working at her desktop computer, updating how her system keeps ticket buyers' credit card information safe, she chuckled and said, "It's not the most interesting thing, but we are just going to have to do a bit of a hardware change so that we can help keep people's information safe, which is super important. Of course, we care about that. I guess there are all these behind-the-scenes details that you wouldn't know that the marketing director has to think about in their day-to-day."
Simcox's job is mainly about getting the word out.
"Really simply," she said, "it's making sure that people know about what we're doing here at the center and helping to make sure that people know how our offerings are relevant to them because that's important to us. It's a big part of our mission."
The varied programming at the LPCA drew Simcox to the job, she said.
"You know there's education, there are live performances and there's residency work happening here, and certainly the setting is a big draw for me. To be a part of the Adirondack community is amazing."
Simcox is a classically trained cellist. While she's modest about her own skills, she did once perform with one of the most prolific rap stars of this generation.
"It feels like a very long time ago now," she said. "I was in college. I think I was a sophomore. I just received an email that a touring group was coming through and needed some string players, and yes, it happened to be our friend Kanye West. I responded to the email right away and got hired to play just one show there in Pittsburgh."
This was the old Kanye during the late 2000s, during the Higher Education Trilogy. Some of his highlights back then were "Touch the Sky," "The New Workout Plan" and "Flashing Lights."
"I was so thrilled by the chance to play such a different genre of music for a cellist that I felt for a time maybe I could be a hip-hop cellist as an ongoing career goal," Simcox said, "but I think that artists really pulled away from using strings as heavily after that, so I don't know if it could have ever come to fruition."
These days, it's hard for an artist to make a career for themselves just through music, paintings or acting, Simcox said. The product or spectacle might be amazing, but an artist needs to know how to promote themselves, book viewing spaces and write grants – things that aren't necessarily creative but still important.
"Yes, you very much have to be savvy about how can you support your work other than the stuff you need to do to support the art part of your work. I think hopefully in schools, they're turning the business of the arts aspect that they teach students on its head, especially when there may be fluxes in government funding through big organizations like [the National Endowment for the Arts]. You have to eat, right?"
Prior to moving to the North Country, Simcox lived in Washington, D.C.
"Almost polar opposite as far as environment," she said.
"I almost feel like it's hard to have a sense of the arts community in D.C. because it's more like arts communities. There's so much going on there, you know, from the [John F. Kennedy Center for the Performing Arts] down to independent artists who are just doing amazing work and not necessarily always tied to a big institution. I think maybe the LPCA here is a little bit of a secret to the broader national audience. People don't necessarily know that they have this incredible caliber of work happening here just because there's a smaller community and there isn't as much news, I guess, in the world about Lake Placid and about the Adirondacks. I think perhaps it's more prolific in D.C. just because it's a bigger city, but there's also really wonderful stuff happening here, too."
The world of arts and culture is an all-inclusive one, Simcox said. She thinks everyone can find a place in art even if it seems a little jarring or outside their comfort zone at first.
"What is most exciting to me about working in the arts is that they can tell you so much about yourself and the world that you're a part of or not a part of. To me, great art makes you learn something about someone else and then learn something about yourself, and that can happen whether you're the performer onstage or the person in the audience."