NHL, Olympic stars headline USA Hockey coaches symposium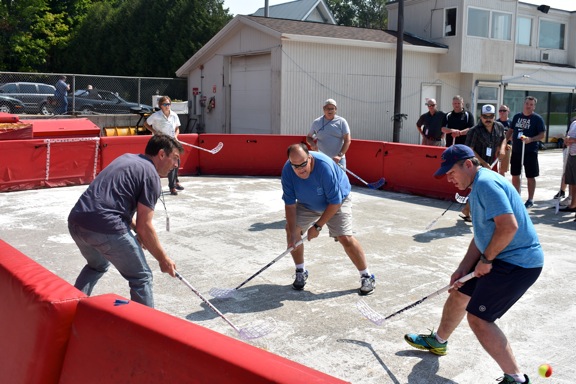 LAKE PLACID – The Olympic Center hosted the USA Hockey National Coaches Symposium from Thursday, Aug. 23 to Sunday, Aug. 26, and it included speaking sessions with a number of Olympic, National Hockey League and college hockey team players and coaches.
The biennial event is the largest of its kind in the United States, connecting youth hockey coaches, college coaches and professional coaches from throughout North America. The symposium is for aspiring coaches seeking to attain their Level-5 Certification, the highest level of coaching certification within USA Hockey's Coaching Education Program. There were about 450 coaches in attendance.
In addition to spending some time in the Olympic Center, some of the training was held on the Olympic Speedskating Oval.
Two years ago, the National Hockey Coaches Symposium was held in St. Louis, Missouri, according to the USA Hockey website. Rochester was the last city in New York to host the event, which it did in 2006.
USA Hockey documented the four-day symposium on its website through daybook entries. The quotes here are from those daybooks.
—
Thursday
Thursday's evening program began with remarks from Mike MacMillan, USA Hockey's national coach in chief; Chuck Gridley, coach in chief for USA Hockey's New York District; and USA Hockey's Lou Vairo, head coach of the 1984 U.S. Olympic hockey team.
Then it was time for a panel of four 1980 U.S. Olympic gold medalists: Mike Eruzione, John Harrington, Mark Johnson and Ken Morrow. All are regular attendees of the annual Miracle on Ice Fantasy Camp, which is held in Lake Placid every spring, the fifth one scheduled for March 31 to April 4, 2019.
During the Feb. 22, 1980 Miracle on Ice game, the U.S. team beat the Soviet Union 4-3.
"Players don't shoot enough today," Eruzione told the audience, according to the USA Hockey National Hockey Coaches Symposium online daybook. "Coaches, tell your players to shoot the puck. …
"When you coach kids, everybody handles things differently. Some kids need a hug. You don't know what's going on at home, or if they're having issues off the ice or in school. Get to know the players you coach. Understand what buttons to push that will motivate them and not turn them away."
Harrington reminded the coaches that it's important to be patient with players and to recognize the opportunity for player development after age 18.
"I improved more as a player at 19, 20 years old than at any other time in my life," Harrington said.
—
Friday
Friday was highlighted by talks from Detroit Red Wings Head Coach Jeff Blashill and Pittsburgh Penguins Head Coach Mike Sullivan and a panel discussion with Olympic and Paralympic coaches Tony Granato, Paul Mara and Guy Gosselin.
Blashill focused on individual skill development as a means to improve team performance, according to USA Hockey.
"What's the youth hockey anthem?" Blashill said. "That's right. 'Get it out!' 'Get it in!' I hear it all the time and it drives me crazy. How do you learn to make skilled plays if you're never allowed to do it? Trust me, they'll be better in March if you allow them to handle the puck, and they'll be way better in the long term."
Sullivan used examples of the Penguins' Stanley Cup victories in 2016 and 2017 to show how coaches make decisions while facing challenges.
"Passion is essential," Sullivan said. "Coaches have to create environments in practice that fuel passion."
—
Saturday
Saturday's speakers included USA Hockey Executive Director Pat Kelleher, Chicago Blackhawks Assistant Coach Kevin Dineen, Tampa Bay Lightning Head Coach Jon Cooper, former New York Rangers goaltender Mike Richter and John Vanbiesbrouck, the all-time winningest U.S. goaltender in the NHL. Both gave advice to youth coaches:
-Vanbiesbrouck: "Don't treat anyone like a backup goalie. It's on us to stop the evaluation and move into development of goaltenders, because it stifles the development process when there's constant evaluation. Put a little pressure on yourself as a coach. You're there to teach, to develop."
-Richter: "Today's goalies are so good at being technically sound, but in hockey, everything is Plan B out there. There's a lot of read-and-react that can and should be incorporated into the great technique teaching happening right now."
-Vanbiesbrouck: "Youth head coaches should give direct instruction to goalies. Don't make it goalie island. The goalies are wanting it from the head coach, not the goalie coach, because it's the head coach that's making the decision on who's going to start. Also, we've got to get rid of the 'goalies are different' stigma. Especially with kids. They don't know how to take that sarcasm. The growth in goaltending we want to create starts with how you treat them."
-Richter: "There's a reason that the game is difficult and winning is illusive, because you have to overcome the greatest challenge – and sometimes that challenge is yourself."
—
Sunday
Sunday's speakers included Lake Placid native Bill Beaney, who is the former head coach for Middlebury College's hockey team, and Nashville Predators Assistant Coach Dan Muse.
Retiring in 2015, Beaney finished his career at Middlebury College with 602 victories, a .686 winning percentage and eight NCAA Division III men's ice hockey national championships.
During his keynote address, according to USA Hockey, he asked coaches to think about what pond hockey could do for today's youth players.
"I'd like to see coaches bring back the pond hockey mentality," Beaney said. "Everything doesn't have to be ultra-sophisticated to be effective. …
"Time is the incubator of creativity and greatness. Don't give up on the late bloomer. Develop more, evaluate less."