Lake Placid artifacts celebrate sliding sports heroes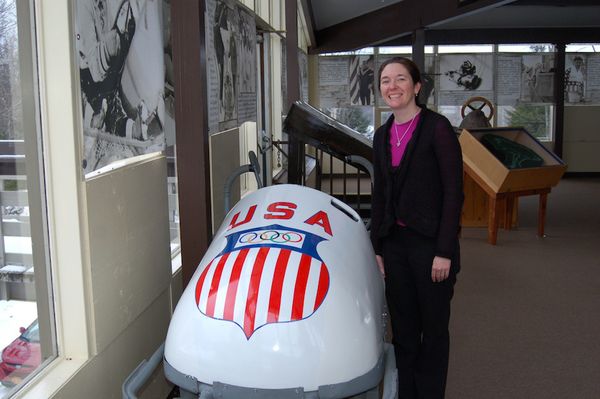 LAKE PLACID – When visitors descend on Mount Van Hoevenberg Dec. 13-15 for the FIBT Bobsled & Skeleton World Cup, they'll be surrounded by Olympians, past and present, and the ghosts of those who made this mountain one of North America's most cherished Olympic sites.
Artifacts and displays fill the second floor of the Olympic Sports Complex's James Lamy Lodge at the combined bobsled, luge and skeleton track, operated by the state Olympic Regional Development Authority. They help tell the story of this historic venue, which was home to bobsledding competition during the 1932 Olympic Winter Games; bobsled and luge at the 1980 Olympic Winter Games; bobsled, luge and skeleton at the 2000 Winter Goodwill Games; and numerous national and international competitions since the facility opened on Christmas Day in 1930. It was home to the first full-length bobsled run in the U.S., and history continues to be made here.
"This new track has created historical rides for several athletes here at Mount Van Hoevenberg," said Lake Placid Olympic Museum Director Alison Haas, who oversees the artifacts at Mount Van Hoevenberg's International Sliding Sports Museum. "In 2002, our local Jim Shea – who practiced for years on this track – ended up winning a gold medal at Salt Lake City (in skeleton). Since then, the U.S. has remained strong in skeleton, and most recently, Katie Uhlaender won the world championship in Lake Placid on the track in 2012."
The luge track – built in 1978 for the 1980 games – was demolished in order to construct the combined track, which opened in 2000. The original 1932 bobsled run was upgraded for the 1980 games and a portion of it is now used for tourist rides in the summer. The 1932/1980 track is an artifact unto itself, according to Haas.
"I recommend walking that portion of the old track," Haas said. "You can take it all the way to the summit and see the construction of the 1932 track with the stone work. It's incredible that it's still there for people to see."
This tiny museum is filled with sliding sports artifacts and displays and is lined with full-length windows so visitors can see the action on the modern track. A TV monitor shows athletes competing at various points along the course, from start to finish. Speakers, both inside and outside, pipe in audio of the track announcer. In a corner of the room, above the mantle of the fireplace, a TV monitor shows a video about Lake Placid's Olympic legacy, including the story of the "Miracle on Ice" hockey game during the 1980 Olympics. Lining the walls are photos and biographies of more than a dozen people who made Mount Van Hoevenberg the historic site it is today.
"These people are legends of Mount Van Hoevenberg," Haas said. "Everyone who is currently on display has either been an athlete who has contributed to the history of what the track means today or local people within the community who have assisted in saving Mount Van Hoevenberg."
One such person was former bobsled run director Alice Beckel, who led a crew to open the facility in the 1970s after the state of New York was forced to close it due to financial troubles. The Essex County Committee for Economic Development operated the venue from winter of 1972-73 to the winter of 1978-79. This was a crucial time for Lake Placid, as the bobsled run needed to be operational for the 1980 games bidding process. If it weren't for Beckel and locals like Jim Brooks, who were passionate about the Mount Van Hoevenberg bobsled run, Lake Placid may not have hosted the 1980 Olympics.
"She and her crew got together and were able to host the FIBT World Bobsled Championships in 1973 and 1978," Haas said.
Then there were bobsledders such as Jim Bickford, who competed in the Olympic Winter Games in 1936, 1948, 1952 and 1956. He also held the American flag during the opening ceremonies for two Olympics.
"He was actually a forest ranger by trade, but he won his first title in 1934 and brought victory to the U.S. in the first major AAU national two-man competition," Haas said.
The walls are lined with stories of many hometown heroes from Lake Placid to Saranac Lake and Keene Valley.
"Ivan Brown and Alan Washbond of Keene Valley were America's only gold medalists at the 1936 Olympic Winter Games at Garmisch-Partenkirchen in Germany," Haas said about the bobsledders.
Haas was standing next to a four-man bobsled from the 1956 Olympics in Cortina d'Ampezzo, Italy when she explained that it was piloted by Arthur Tyler to win a bronze medal during those games. William Dodge, Charles "Tom" Butler and James Lamy were in Tyler's crew.
"This was the 1959 World Championship gold medal sled," Haas added. The crew consisted of Tyler, Gary Sheffield, Parker Voorhis and Butler.
That was the last time a U.S. bobsled team earned a gold medal until 2009, when Steven Holcomb piloted a four-man sled to win gold at the FIBT World Championships in Lake Placid on the combined track. Justin Olsen, Steve Mesler and Curtis Tomasevicz were on Holcomb's team.
Holcomb is the latest bobsledder to be placed on the Mount Van Hoevenberg wall of distinction. He helped end a 62-year Olympic gold medal drought in bobsledding by winning the 2010 four-man title at the Vancouver Olympics. He also piloted a two-man sled to earn a gold medal during the 2012 FIBT World Cup in Lake Placid.
Holcomb isn't slowing down. On Nov. 29, he drove two-man bobsled to a gold-medal victory during the FIBT World Cup in Calgary, Alberta and followed up with a gold medal in the four-man bobsled Nov. 30. He will compete this weekend at the FIBT World Cup in Park City, Utah and next weekend at the FIBT World Cup in Lake Placid.
Haas said her favorite local athlete is a bobsledder, pointing to a photo of Katherine Dewey, the daughter of 1932 Olympic Winter Games President Godfrey Dewey. Haas spent three years cataloging the elder Dewey's archives and learned about his daughter's achievements at Mount Van Hoevenberg during her research.
"She was a pioneer of women's bobsledding," Haas said. "When everyone else was sledding as a man back in the 1930s and 1940s, there was Katherine Dewey sliding along with them. She won a national bobsled championship in 1940, and she was considered one of the top pilots of her era."
Below Dewey's photo is the medal-winning bobsled from the 1950s. It is just one of several in the room, including a non-painted wood-and-metal bobsled made in Germany that greets people when they enter the room from the first-floor stairway.
"You can see with this early style of bobsled that it's made of wood, and there's this incredible steering wheel," Haas said. "It looks just like a steering wheel that you would find in one of today's automobiles. Actually sleds now have these levers that you pull, and that's how you steer a bobsled today. It's interesting to see the progression of how bobsleds have evolved through the years."
Across the room, a few luge sleds and one skeleton sled are hanging on the wall in front of the windows. They are flanked by two children's toy bobsleds from the middle of the 20th century.
"This is what children used just hanging out in their yard, going down their little hills and ramps that they built," Haas said. "They're really cute. The sleds probably held about two or three kids. They're made of wood and have a metal cowl in the front with a little steering wheel."
Eventually this small collection in the International Sliding Sports Museum will include more displays and exhibits.
"Right now we are working on obtaining more artifacts so we can build upon our collection and create some really inspiring exhibits for the public," Haas said. "Hopefully the International Sliding Sports Museum will begin to educate both current and future athletes about the history and the development of their sports. The public will also be able to see that inspiring story that merges the past, present and the future."
For more information about the Olympic Sports Complex at Mount Van Hoevenberg, the FIBT World Cup on Dec. 13-15 or the Lake Placid Olympic Museum, visit online at www.whiteface.com.