SAVOR THE SEASON: Winter eats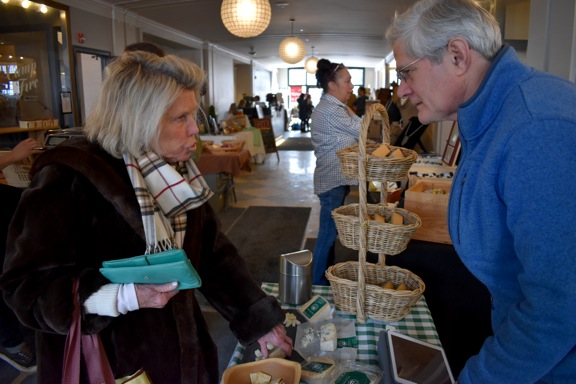 SARANAC LAKE – Saranac Lake's Winter Farmers Market was abuzz with Christmas shoppers on Saturday, Dec. 21.
Residents and guests intermingled around the lobby of the Hotel Saranac. They walked from one vendor to the next, sampling cheeses, smelling handmade soaps, and eyeing baskets filled with fresh produce.
Where markets are usually in the open air – in parks or fields – this one was surrounded by the Academy & Main gift shop, the Camp Fire restaurant and a spa.
Sugar House Creamery co-owner Alex Eaton joked about the latter.
"I chose this spot for a reason," he said, looking behind him to the pristine glass doors that led to the luxury accommodation.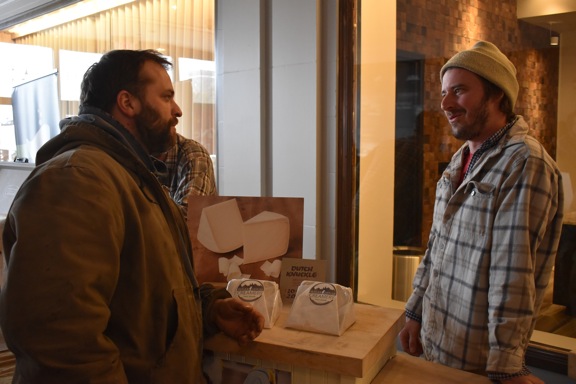 —
'Sales landscape changes'
As the winter descends and fewer people travel into the countryside to visit farmstands, some farmers face an obstacle in trying to connect with customers. Winter farmers markets such as this one at the Hotel Saranac offer a way for farmers to meet face to face with all kinds of people and not only showcase their products, but talk about their businesses.
"For our business, we're always milking, we never stop making cheese," Eaton said. "But the sales landscape changes all the time."
The Sugar House Creamery is located in Upper Jay. Eaton and Margot Brooks purchased the dairy farm in 2012, and they now offer a variety of unique – and popular – handcrafted cheeses.
Although the Sugar House Creamery has its own on-site farm store – and ships cheese to stores to New York City and Albany – in the winter months, the Saranac Lake market presents an opportunity to meet people locally.
"To be able to maintain some sales as we go into what is kind of a slow time of year is very valuable," Eaton said. "I think it's a good mix of the local people who come to the summer market, with the added bonus of being in a hotel. People walk down into the lobby, and we're standing in front of them. That's kind of what's made it a nice venue for this. There are people here anyway, instead of people very deliberately coming to the town hall or the museum, where it used to be. There's already traffic here, and that's great.
"And I really like that I can travel about 40 minutes away and connect with a whole different group of customers. By now, I feel very comfortable in Saranac Lake and I know a lot of people in Saranac Lake just by doing this market."
David Brunner, co-owner of Asgaard Farm & Dairy in AuSable Forks, agrees.
"One of the reasons we've supported this market from the beginning and loved the idea is because it's a needed end-of-season and winter market, and it's not easy to find good venues for that," Brunner said. "Everything slows down in the Adirondacks as we come into the latter part of fall and through the winter. (This market) is starting to get a following. We see a lot of local people come around, and it's just another way to provide access to customers. It's an opportunity to see the face of the farm directly in front of customers, as we do in the summer. So we're very glad to see this is working."
Brunner and Eaton both said their farms now table at two farmers markets in the area: Keene Valley Farmers Market in the summer and Saranac Lake's summer and winter farmers markets.
"We try to bring as much diverse product as we can," Brunner said. "The main thing we like to show at the farmers markets is the range of cheese that we make. We make seven to eight types of cheese and our (liver) pate are new this year."
—
Locals sustain
Asa Thomas-Train, who owns Mace Chasm Farm with his wife Courtney Grimes-Sutton, comes to the Saranac Lake farmers market every week.
He said his business is "sustained much more by locals" in the winter.
"We've got a good following of summer people, but in the winter I'd say our customers are 90 to 10, locals to tourists," Thomas-Train said.
Mace Chasm Farm, in Keeseville, specializes in livestock. They have cattle, sheep, pigs, turkeys and chickens that they process at the farm. They also sell eggs, sausages and charcuterie.
"We operate our own butcher shop, and we process animals year-round and summer is usually go-time," Thomas-Train said. "We started making salami in the winter, and in the fall and winter we process whole animals. We're looking to start making hot dogs next year."
Thomas-Train said "trying to run any business in the Adirondacks is a struggle," and the market is a valuable avenue to connect with more customers.
As he spoke, Thomas-Train's 13-month-old son, Billy, squiggled in his arms. The boy started crying, and after a few moments, Eaton took Billy from Thomas-Train's arms. He quieted down, and another vendor walked over and swooped Billy into her arms.
"And our kid is pretty much being raised by all of the vendors, which is pretty cool," Thomas-Train joked.
The Saranac Lake Winiter Farmers Market went on hiatus for the holidays after its final event of 2019 on Dec. 21. The farmers market resumes again in 2020 on Saturday, Jan. 4 from 10 a.m. to 2 p.m.