'Emotional roller coaster'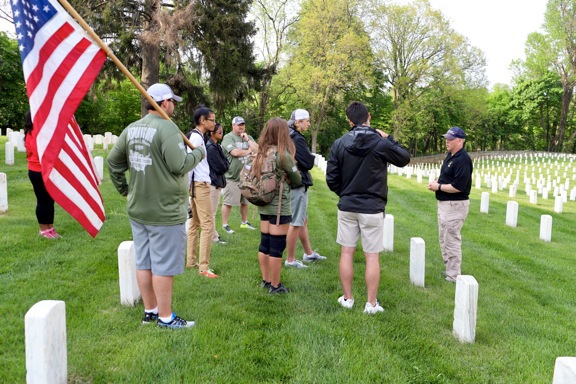 LAKE PLACID – As Stuart Hemsley was asking people to walk, bike or paddle 2.7 miles around Mirror Lake on Sunday, May 27 for this village's Carry the Load event, one of his former soccer players was finishing a 2,100-mile journey halfway across the country.
Ryan "Smiley" Grady, 23, walked a total of 318 miles and biked 70 miles as part of Carry the Load's East Coast Relay from West Point, New York to Dallas, Texas. It began on May 1 and ended May 27, the same day Carry the Load events were held around the U.S.
"Carry the Load was founded in 2011 by two Navy SEALS named Clint Bruce and Stephen Holley," Grady said Thursday, May 31, a couple days after he returned home. "They were just recently back from deployment overseas and they were at a Memorial Day barbecue. They were just beyond themselves that people as a whole here in America have lost the true meaning of Memorial Day, which is remembering and honoring our nation's heroes that passed."
In a YouTube video promoting Carry the Load, Bruce explained why this is a walking event.
"The classic military function is a road march," he said. "I went home and I pulled my pack out and I filled it full of weight, 1 pound for every person that I had lost. Then I started walking, and it was hot and it was heavy and it hurt. I needed that pain because good pain pushes out bad pain."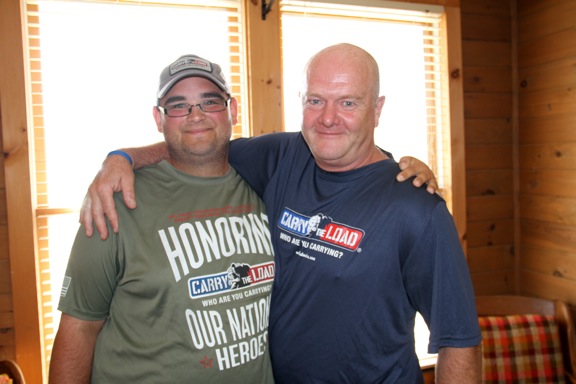 The first Carry the Load in 2011 began as a 20-hour and 11-minute Memorial March in Dallas, Texas. In 2012, the East Coast Relay was added, with relay captains walking with an American flag and backpack for 5-mile increments, sometimes biking for longer distances to make up time, 24 hours a day. In 2016, the 4,300-mile West Coast Relay was added from Seattle, Washington to Dallas.
The backpack is significant.
"Always, always, always have a great answer to this question: 'Who are you carrying?'" Bruce said in the video.
Carry The Load is a nonprofit event with a mission to restore the true meaning of Memorial Day, but it's not just about military veterans who have sacrificed their lives. It includes law enforcement, firefighters, rescue personnel and their families.
—
Smiley signs up
Ryan "Smiley" Grady was given his nickname early in life.
"Throughout middle and high school, I worked with the hockey team here in Lake Placid and Coach Clark nicknamed me Smiley because I was always energetic and had a smile on my face," he said.
Grady graduated from the Lake Placid High School in 2013, North Country Community College in 2015 and SUNY Canton on May 12 of this year with a degree in sports management. It fits well with the job he's had for the past eight years at the state Olympic Regional Development Authority, first as a rink rat and then as a Zamboni driver and helping out with major events such as the ECAC championships, Miracle on Ice Fantasy Camp and Skate America. Now he's done working at ORDA.
"It's bittersweet leaving, but every door opens a new path," he said.
Grady's new path is a full-time position at McWhorter Driscoll LLC, a global consulting firm owned by Mark "Dill" Driscoll and his wife, Susan. The company is based in Georgia, Susan's home state, but it has a satellite office in Lake Placid. That's because Dill has major ties to Lake Placid.
Originally from New Rochelle, New York, Dill graduated with honors from Northwood School in 1970 – being named a member of the U.S. Junior National Ski Team his senior year – and then graduated from St. Lawrence University before moving back to Lake Placid to work for Northwood School as a humanities and economics teacher and a coach for skiing, lacrosse and soccer. That was the fall of 1974. In the spring of 1976, he opened a sports shop – Equipe Sports – with his college buddy, Mike McGlynn.
It was Dill's ski coaching days that connected the dots to Smiley Grady. They were both at Anne Damp's memorial service on Oct. 14, 2017 in Lake Placid. Grady was with his dad, and a conversation with Dill ensued.
"Dill coached my dad skiing at Northwood," Grady said.
By January, Grady was interning at Dill's company, and that's where he learned about Carry the Load. When the East Coast Relay began in 2012, Dill was instrumental in getting it started, and he still has ties to the organization.
"I just happened to walk up to his office one day, my second week in the office, and needed to ask him something and he was just hanging up the phone," Grady said.
Dill was on the phone with Carry the Load Executive Director Debbie Wright, National Relay Director Matt Fryman and other board members.
"He looked at me and said, 'Have you ever heard of Carry the Load?' I was like, 'No.' He said, 'Go downstairs, Google it and come back up in 5 minutes.'"
So he did.
"I said, 'Dill … there you go. I'm doing it.'"
—
Preparing for the trip
Lake Placid's a social town, a place for hospitality, a host for tourists year-round. And that's what prepared Smiley Grady the most for his month-long Carry the Load experience. He took those social lessons from growing up here and applied it to the many stops the East Coast Relay bus would make throughout the trip. Living in Lake Placid – the home of the Miracle on Ice hockey game at the 1980 Winter Olympics – also mentally prepared him for the challenge.
"The love of your community, the love of your friends, the love of your family, the love of your country raises you," he said. "It's going to be tough, but it's totally doable."
Lake Placid's also an athletic town, but Grady's not quite an athletic guy. He doesn't look like he fits into the mold of the Lake Placid mystique of an Ironman or a marathon runner. Yet, after his 2,100-mile trek from West Point to Dallas, it's appropriate to call him an athlete.
Did he train for Carry the Load? Not quite.
"The day before I left, I hadn't been on a bike in 10 years," Grady said. "Of course, I told Dill that, and he said, 'You can't just hop on a bike in the middle of Tennessee and go!' I went up to High Peaks Cyclery. He said, 'Get a bike for the day! Ride it around town!' I rode a bike for about 4 miles."
Grady suffered the typical ailments of long-distance walkers: blisters, sore feet and sore knees.
"I'm nowhere near in shape," he said. "But the physical part was easy. The hardest part was just the emotional roller coaster."
—
The trip
Smiley Grady and the rest of the East Coast Relay crew were all young, between the ages of 19 and 24. There were 11 people staying on the bus, nine participants and two bus drivers, all male. Then there were three females participating in the walk.
"They were lucky," he said of the females. "They would get hotel rooms every night so they didn't have to deal with us stinky guys 24 hours a day."
With such a young crew, they found themselves sitting in the bus laughing and joking around. And then reality would hit. They were here to carry the load.
"We'd have to switch off as soon as somebody comes by and it's a family member that lost a loved one," he said. "Day one, we're set up at West Point and a funeral procession comes by and they're burying a general. That sets the tone very quick. Words are just so hard to come up with. You just learn so much about yourself and so much about the people that have laid down the ultimate sacrifice to keep us safe here at home to give us our freedoms."
Grady's bus traveled through 12 states: New York, New Jersey, Pennsylvania, Delaware, Maryland, Virginia, North Carolina, South Carolina, Georgia, Tennessee, Arkansas and Texas. They ended at Reverchon Park in Dallas.
"The saying, 'It takes a village (to raise a child)' comes out in full force in this relay," Grady said.
The journey was not designed to be a straight line. They made strategic stops along the way to meet thousands of people, many of whom walked alongside the relay captains. They were even given escorts along the way. Game wardens, for example, gave them an escort from the Texas-Arkansas line all the way to Dallas.
In addition to cemeteries, they stopped at fire departments, American Legion posts, schools, parks, farmers markets, community centers, fast-food restaurants, police stations, visitor centers, memorials, churches, rescue squads, gas stations, animal hospitals and airports. In New York City, they stopped at Liberty Park in Manhattan and the U.S. Marines Recruiting office and FDNY Rescue 5 in Staten Island.
"As soon as you walk into Rescue 5 in Staten Island, there's this case. It's a plaque and photos of their 11 members from that house that passed on 9/11 of fighting the greatest act of terrorism we've had in our country," Grady said.
In Philadelphia, they stopped at the Police 24th District station. In Washington, D.C., they stopped at the Lincoln Memorial and Air Force Memorial. In Richmond, Virginia, they stopped at the Virginia War Memorial.
Grady was touched by a quote at the Virginia War Memorial, attributed to Commander Paul Galanti, a U.S. Navy pilot who became a POW during the Vietnam War from 1966 to 1973.
"There is no such thing as a bad day when there's a door knob on the inside of the door."
"I just sat there looking at that and it's so true," Grady said. "Through all of this, you just learn that there's no such thing as a bad day here in comparison with what our police and fire and EMS, our veterans, our active members are doing overseas and at home."
Grady's first two-hour walking leg would start at 4 or 5 a.m., and he'd have to walk 5 or 6 miles. After a break, he'd walk another shift in the afternoon, always carrying an American flag and a backpack.
They generally didn't take interstates, but they had to when going from Memphis, Tennessee to West Memphis, Arkansas. Grady was on a bicycle at the time.
"I crossed the Mississippi River, and the bridge I was on had about a shoulder of 3 feet wide," he said. "And then there's tractor-trailers passing you."
Grady participated in the entire event, except for two days. They allowed him to go to his graduation in Canton on Saturday, May 12. By mid-afternoon the next day, he was back on the bus somewhere in South Carolina.
—
Grady's load
When Smiley Grady began walking for Carry the Load, he was carrying the load for his grandfathers who served in the Armed Forces during World War II and all the family members who have served in the emergency services. But that's expanded thanks to his 2,100-mile journey.
"You go in and you kind of selfishly think of just your family, but then you are talking to a veteran's wife and you look down and his two children that are both under 15 years old are telling you the story of how her husband and the children's father passed," he said.
Grady called it a humbling experience, one that taught him some lessons about himself. What did he learn?
"You can do whatever you put your mind to," he said. "Six months ago, if you asked me if I was going to walk 300 miles in 27 days, I'd laugh in your face. But now it's just like, 'Yeah, let's do it.' I'm ready to do it again. I'd do it again tomorrow."